Students earn minimum grade of 60%, even for missing work
Students, teachers struggle with fairness, effectiveness of Sevier Middle grade policy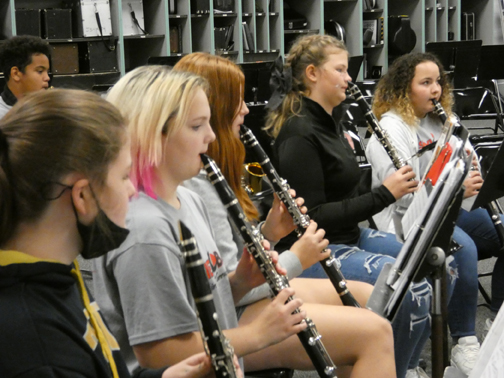 By Maddison Ball, John Sevier Middle School
February 1, 2022
John Sevier Middle has an unwritten rule for teachers: students cannot get a grade lower than a 60, even for missing assignments. This policy has caused a major controversy to erupt among students and teachers.
According to Kingsport City Schools Student Handbook, "the Board believes that the issuance of grades serves to promote continuous evaluation of students' performance [and] to inform students and parents of students' progress…".
Many teachers, however, believe that giving 60s creates an inaccurate picture of student achievement.
Sevier's grading policy can allow students to have a better chance of bringing their overall grade up in a class. A single grade of zero can have a major impact on a student's overall grade.
According to Edutopia, "school systems like Fairfax County Public Schools and the Philadelphia School District have adopted similar approaches in recent years, arguing that they give all students a chance to succeed".
Rachel Wagner, an 8th grade Language Arts teacher agrees with the approach in theory, at least.
"The philosophy behind this practice is solid; by giving a 60 instead of zero, a student can work his/her way to a passing grade," she said. "If a student has to go from zero to 75, the task is nearly impossible because in order to do this, the student must make nearly all A's."
This policy can also cause problems for students who do have better grades in school. Students who study and work during the school day may feel as though their work isn't paying off.
Kris Markl has been a Spanish teacher at Sevier Middle for the past 11 years. He does not agree with the 60s policy.
"It is absolutely an injustice to students who are trying their best but fall short," he said. "However, they would still receive the baseline 60 under this rule."
Rylie Zager is an 8th grade student. She's not a fan of the 60s policy, either.
"I think this is unfair," she said. "I think trying hard on an assignment and getting a lower grade than someone who doesn't even do it is not right, because I think effort is the most important thing, not a grade number."
Students getting grades above a zero for no work may discourage those students who work hard for a decent grade in a class. With this policy, students can do the bare minimum and still squeeze a passing grade out of their classes.
Ameilia Lockhart, a 7th grade student, agrees with Zager.
"I do not think this is fair, because the student who didn't take the test got a 60 even though they did not even take the test," she said. "The student that did take the test tried their best."
Many teachers feel, according to Edutopia, that "a no-zero grading policy allows students to do minimal work and still pass, pushes students forward who haven't mastered the content, and doesn't teach students the real-life consequences of not meeting their responsibilities."
Teachers who must follow the policy also believe it is not truly helping students.
"In theory, this seems like a very fair way to help redirect a student, however, many students are taking advantage of this and 'working the system' by knowing when to stop working," Wagner said. "The 60s put in place for missing work will equate to a passing grade. They can literally kick back and take off the last few weeks of the term and still keep a decent grade."
Markl agreed.
"High expectations quite often help to drive positive results," he said. "Having low expectations like giving the same grade to one student who refuses to work while another toils greatly for the same score is disrespectful of the second student's effort and ability in my opinion."
Although the policy has many negative aspects, it can greatly impact a student who is just having a hard time keeping up with the work assigned.
Traditional grading, however, is not the answer either for many teachers.
"The 0-100 scale is antiquated and unfair," Wagner said. "[It is a] scale that allows only a 7 point range for an A, 15 point range for a B, 25 point range for a C, but 74 point range for failure."
Markl disagreed.
"I believe that the former grading scale was sufficient," he said. "I also find it interesting that this new grading system came into effect around the same time that student-athletes started being held accountable for their academic performance."
Lockhart feels like not doing work deserves no credit.
"I think that we should give a zero for doing nothing," Lockhart said.
Many educators, however, believe that not doing work is a behavior first, and should not be reflected in a grade. Markl has his doubts.
"I believe that a better system is holding students who refuse to work or turn in assignments accountable," he said. "The citizenship grade is regularly ignored and, in my opinion, is an inefficient system."
Wagner agreed. She feels strongly that no work deserves no credit.
"A zero needs to be the grade for no work," she said. "If the student expresses the desire and makes the effort to correct work, complete work, re-do work, then the teacher can override the zero. If the student makes no effort, then they have earned nothing. Nada. Zero. This is a moral issue as well as an educational issue."
Some teachers believe that grades aren't needed at all.  Mark Barnes, author of the book "Assessment 3.0: Throw Out Your Grade Book and Inspire Learning", replaced traditional grades with self-evaluation and reflection. Not everybody is convinced that this would work in middle school
"Grades show parents if their kid is doing the work," Lockhart said.
Markl agreed.
"I absolutely do believe grades are useful," Markl said. "It would be quite a shock to go from absolutely no grades in middle school to a full-fledged GPA in high school that greatly affects a student's future post-graduation."
Wagner believes, as do many teachers, that a ten point grading scale is the best solution.
"A ten-point grading scale is more equitable and fair," she said. "A ten-point scale is also aligned with our end-of-year testing scores. 4: Advanced, 3: Proficient 2: Basic 1: Below Basic."
Eighth grade language arts and history teachers were actually chosen to pilot such a standards-based grading system, went to training, and even worked to make it appear in Aspen, the gradebook and student information system.
It ultimately fizzled out.
"Unfortunately, Aspen wasn't equipped with the ability to handle this as was promised to us," Wagner said. "We have received no support, and requested many meetings that were on the calendar which resulted in many no-shows with folks from the ASC, so our hands became tied and we were forced to abandon standards-based grading, even though we believe it is the best practice."
The one thing all teachers and students seem to agree on is that the 60s grading policy is not working.
"I feel that this provides students, and families, with an inaccurate depiction of their performance in a class," Markl said. "In my opinion, it is the opposite of a motivating factor for students and encourages them to take shortcuts and do less than their personal best because they'll get a 60% no matter what."
Lockhart agreed. She believes Sevier needs a strong, fair grading system.
"Some middle schoolers are very careless and don't care if they pass," she said.
This story was originally published on The Sequoyah Scribe on December 15, 2021.