FCPS goes to court with Gov. Youngkin on mask-optional order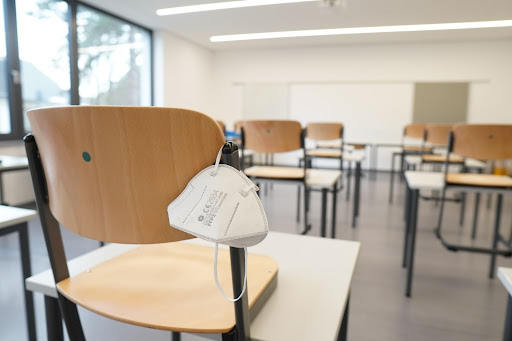 By Irene Si, Chantilly High School
February 23, 2022
Totaling almost 67 million cases and nearly 851,000 deaths, COVID-19 cases have surged in the U.S., with the Omicron variant making up nearly 98% of nationwide cases within the past 30 days, the Centers for Disease Control and Prevention (CDC) reports.
Despite high community transmissions and warnings from health officials, many states are moving to lift restrictions originally placed at the beginning of the pandemic. According to USA Today, as of Jan. 31, 38 states have fully lifted restrictions, including Virginia.
"It's definitely really scary to see how high the numbers are rising," senior Becca Marsh said. "They're higher than they have been before. I think it's more important than ever for us to be wearing masks. Considering that Omicron is one of the most transmissible variations that has come out, it's pretty awful that states are trying to lift [restrictions]."
On Jan. 15, Gov. Youngkin rescinded former Virginia Gov. Ralph Northam's mask requirement in all public K-12 schools with a new executive order, which states children enrolled in an elementary or secondary school are no longer subject to any mask mandate implemented at the child's school.
"Masks should still be worn by everyone," senior Ayham Elayan said. "I don't know how I feel about a mandate, but I feel like people should just be good Samaritans and make the choice to wear a mask all the time. Even if it's optional, [we] should still wear a mask because COVID-19 hasn't gone away."
The order went into effect on Jan. 24 but conflicts with current Virginia law, Senate Bill 1303. SB 1303 was signed by Gov. Northam on March 31, 2021 and mandates school districts to comply with CDC guidelines on COVID-19 mitigation strategies. The CDC currently recommends universal indoor masking for everyone at a K-12 school, regardless of vaccination status or transmission rates. Youngkin encourages individuals to get vaccinated and boosted, while still opposing strict vaccination and mask requirements.
"In places like schools, it feels appropriate to require vaccinations," Marsh said. "We do it for all the other types of [viruses]. We require meningitis, we require chickenpox—[COVID-19 is] no different."
In light of this ban on mask mandates, Youngkin press secretary Macaulay Porter has said the administration is defending the rights of parents and their authority over the upbringing and education of their children, according to the Washington Post.
"Enforcing a mask mandate for students in school has [nothing] to do with parents being able to make choices for their children," Elayan said. "It's a pandemic. Administration and governments are allowed to mandate masks for the safety of the children. I don't think parents should be offended by that. School feels like it's completely normal now, besides the fact that we just have masks on our faces."
Fairfax County Public Schools (FCPS) is one of 70 school systems in Virginia that are defying the new order by continuing to enforce universal masking within their schools. Seven school divisions led by FCPS, including Alexandria City, Arlington County, Richmond City, Falls Church City, Hampton City and Prince William County, have joined together to file a lawsuit against Youngkin's order, arguing it violates the Virginia Constitution and contradicts current state law. The lawsuit was heard in an Arlington County court on Feb. 2 at 1 p.m; as of Feb. 3, the judge's decision is expected to follow in a few days.
"I feel like [requirements] shouldn't necessarily be up to the state, but up to the county, because Fairfax County [probably] doesn't have as many cases as some county in Williamsburg, for example," sophomore Mae O'Neil said. "There's a fine line between using your power effectively and extensively."
The school boards' lawsuit is the second time Youngkin has been sued for the new order; the first lawsuit was filed by a group of parents of public school students in Chesapeake, Virginia for essentially the same reasons. According to ABC 7 News, parents of children with disabilities and serious health conditions have also banded together to sue Youngkin, reasoning that a ban on mask requirements would not only leave their children even more vulnerable to illness, but also violate the Americans with Disabilities Act and Section 504 of the Rehabilitation Act.
WTOP News reports that a petition circulating in FCPS asking the governor to revoke his order has received over 1,800 signatures from parents. The petition was sent to the governor's office on Jan. 21.
"I agree that masks should be required in schools, but I do see where people are trying to give others the freedom to make their own decision," O'Neil said. "It's about being respectful of others. At least in schools, where there are people who may expose others who [are unvaccinated to the virus], it should be required."
Parents in support of the new order have also been getting involved. Various schools saw a rise in parent demonstrations, including Loudon County schools, according to the Washington Post. An organization called Army of Parents planned anti-mask parent activities for 31 campuses in the district. At a middle school in Purcellville, parents gave donuts to students who promised to go maskless. At Woodgrove High School, a group of parents defended maskless students preparing to enter the building.
"It's not fair for parents to be using students as props in their own arguments," Marsh said. "Students are the ones in schools; students are the ones who should be making that kind of decision. Parents shouldn't be trying to sway children."
According to WUSA9, FCPS school officials will continue to require masks in school. If a student repeatedly chooses to not wear a mask, they will be excluded from in-person learning and continue their work virtually through FCPS' Learning Management System. Assistant principal Amy Parmentier says CHS will be following these expectations and hopes parents can understand where schools are coming from.
"
I would try to ask people to take a breath and say, 'Can we do this to take care of each other?' which I think is one of the things that CHS does best."
— Amy Parmentier
"One of the things I've always believed as a parent—and what I try to consider as my perspective as an administrator—is that when I sent my kid to school, I was entrusting my greatest treasure to FCPS," Parmentier said. "I felt they took that responsibility seriously, and that's how I feel about the students here at CHS. We know there are people in our community who live with an older family member or a baby sibling, and I would try to ask people to take a breath and say, 'Can we do this to take care of each other?' which I think is one of the things that CHS does best."
This story was originally published on The Purple Tide | The Knightly News on February 20, 2022.