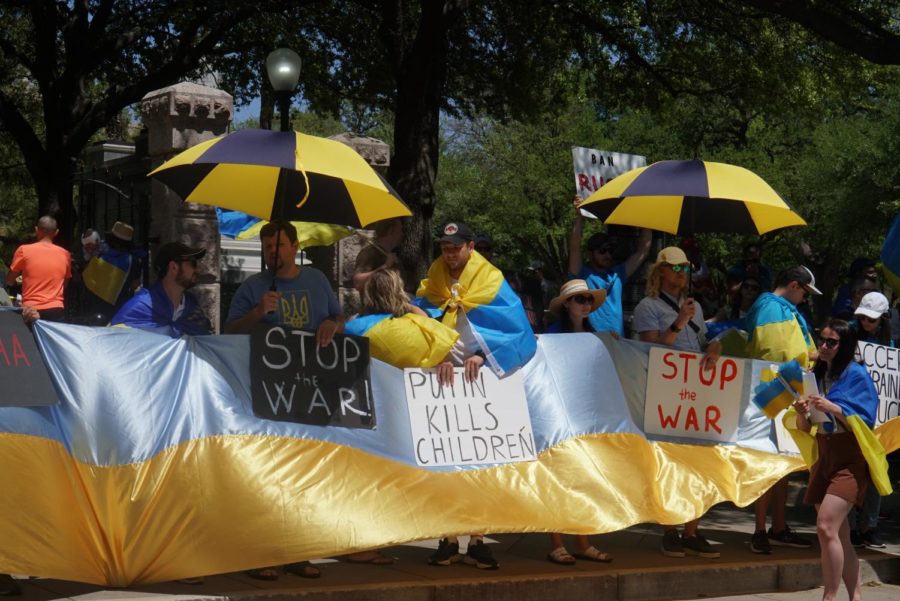 Lanie Sepehri
Since war broke out between Ukraine and Russia on Feb. 24, the Ukrainian community of Austin has banded together to provide support for their home country from afar. Despite a distance of over 6,000 miles from Austin to Kyiv, Ukraine's capital, Austin Ukrainians hope to spread awareness of the war with everyday rallies at the state Capitol and provide tangible assistance by organizing medical aid drives and events to raise donations.
Ukrainians in Texas heard about the war on the night of Feb. 23 due to the eight-hour time difference between Austin and Ukraine.
"Everyone was going to sleep and our families sent us messages that they were under shelling now," said Kateryna Voinova, who immigrated to Austin from Ukraine three years ago. "We were so shocked. Nobody expected this is happening. It was like a nightmare. Even in the morning, we woke up and were like, 'OK, maybe we had a nightmare.' It was really hard to believe."
The Ukrainian community in Austin had met several times before for different events, such as celebrating Ukrainian Independence Day together.
"We just woke and people started texting each other, 'What can we do? How can we meet?'" Voinova said. 
The community sprang into action right away, spurred by the need to be with fellow Ukrainians. They gathered at the Capitol on Feb. 24, the very day the war began.
"Obviously, you have feelings and you're shocked," said Darya Ledesma, who emigrated from Ukraine to the U.S. in 2011. "But it's more like, 'We must do something,' 'What can we do right now, immediately?' Every minute is so precious. And we've been staying in that mode since the 24th of February."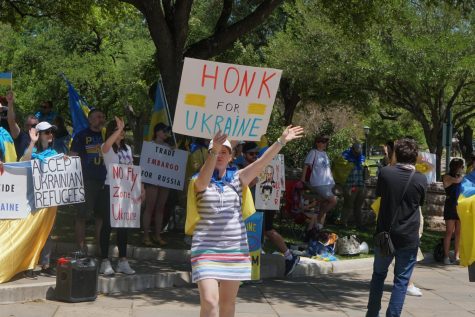 Voinova is one of the community's most active members. Voinova, who immigrated from Kyiv after her husband got a job offer in the U.S., is one of the main organizers of the rallies, along with Ledesma. Voinova also promoted Ukrainian startups at South by Southwest and communicated with local businesses to involve them in medical aid drives.
"I personally cannot stay aside," Voinova said. "I need to act."
For Voinova, her efforts to help her country stave off larger feelings of helplessness.
"I hope this helps Ukraine," Voinova said. "This definitely helps me. I want to believe that I and the other people from the Austin Ukrainians community are putting at least a percent into this movement towards Ukraine's victory."
The rest of Voinova's family is still in Ukraine. Although she is in constant contact with her family, Voinova believes it might be better if she could be there with them.
"I don't know if I'm saying goodbye to my mom when I speak to her," Voinova said. "I just don't know if we will speak tomorrow or in an hour."
Ledesma shares Voinova's fear. Constantly checking the news and her phone for updates from her family has become the new normal. And not just for her, but for every Ukrainian abroad.
"When I wake up, I don't go to have coffee anymore and have my breakfast," Ledesma said. "The first thing I do is check my phone to see if my family's still alive. That's been my morning routine and all Ukrainians' morning routine for the past 35 days."
For Voinova, this makes the Ukrainian community's efforts toward supporting their country even more important.
"[Ukrainians] see we're at the rallies every day and they're in the war every day," she said. "They didn't choose that. But we can still choose to support them."
While Americans can choose to be involved in the war, Voinova understands why many are ignorant of the reality in Ukraine.
"It takes some power to communicate with people and situations that are not connected to you," Voinova said. "It's like, you're reading the news and you see what is happening in Ukraine. Then you're just closing the phone or computer and watching the world around you."
While Ledesma understands this, she says that Americans have to understand how quickly the war could become personal if Ukraine were to lose.
"At the rallies, when I have the microphone, and I speak, I say to Americans, 'What will happen if Ukraine loses this war?'" Ledesma said. "Ukraine is and has always been the cushion between the West and Russia. That's why I keep saying we must stop this war within Ukrainian borders. It's tragic enough that Ukrainians are paying with their lives. But let's not have this war spread and other countries be devastated like this."
Austinites who want to help Ukraine can turn to the Austin TX Ukrainians Facebook group and website for updates on the war. The Facebook group provides updates on when and where rallies will be held, where to donate, what to give to medical aid drives, and other ways to support Ukraine from Austin. The group also has lists of reliable sources and organizations to donate to, which Ledesma says Americans have to be careful about.
Americans can also spread the word about the war on social media and lobby representatives in the local and federal governments for increased support for Ukraine.
"In America, we can use our voice," Ledesma said. "What's very important is that we let the government know what we want. We can write to them or call them and just say, 'Hey, we must do more for Ukraine. What's being done is not enough.'"
The biggest contribution Americans can make, however, is not to forget about Ukraine.
"The most important thing is to stay tuned," Voinova said. "Do not forget that there is war, now, happening, and it is still not finished."
This story was originally published on The Shield Online on April 9, 2022.