"Everything Everywhere All at Once" puts heart into comedy
Two hours of multiverse chaos makes for an unexpectedly meaningful film
Laundromat owner Evelyn Wang's failure to file her taxes tips into a multiversal war over a world-ending bagel in "Everything Everywhere All at Once," released in theaters nationwide on April 8. Directors Dan Kwan and Daniel Scheinert's latest genre-breaking film features Michelle Yeoh as Evelyn, a Chinese American immigrant thrown into a mission alongside her husband Waymond (Ke Huy Quan) to save the world from annihilation while navigating the mayhem of everyday life, including her fractured relationship with her daughter Joy (Stephanie Hsu) and an impending divorce. 
"Everything Everywhere All at Once" lives up to its name with a plot that weaves dozens of colliding timelines and a constant barrage of absurd comedy, ranging from one parallel reality where everyone has hot dogs as fingers to another where characters are sentient rocks. Action sequences have characters eating lip balm to hop between universes, where an unexpected conundrum surfaces through the discovery of alternate timelines in which different versions of Evelyn are successful and thriving. The complexity of the current universe's Evelyn, a struggling immigrant with a dysfunctional family, instills "Everything Everywhere All at Once" with both the depth of a coming of age experience and the eccentric humor of a family comedy, making the film relatable and entertaining to both teenage and adult viewers — though they should probably check the content warnings before watching.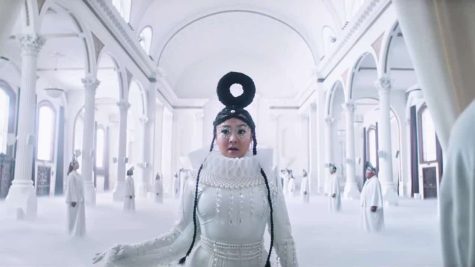 Among the film's other triumphs are its colorful settings and atmosphere. The chaotic sci-fi aesthetic is underscored by messy visual effects and a soundtrack that incorporates everything from traditional Chinese gongs to an indie duet by Mitski and David Byrne. Fight scenes are creatively choreographed, featuring characters battling with unlikely weapons such as a dog on a lasso, although an overuse of slow motion drags the tail-end of the film. 
Although sheer insanity is the defining trait of "Everything Everywhere All at Once," Michelle Yeoh's compelling performance is its highlight. Evelyn harnesses the opera singing, sign-spinning and kung fu skills of her alternate selves throughout the movie, but Yeoh's portrayal of her as a tired laundromat owner grounds the emotional aspect of the film in realism. Evelyn's regrets as an immigrant, as well as dialogue that blends Chinese and English in a way that rings true for many Chinese American families, are authentic and contribute to the film's successful incorporation of diversity.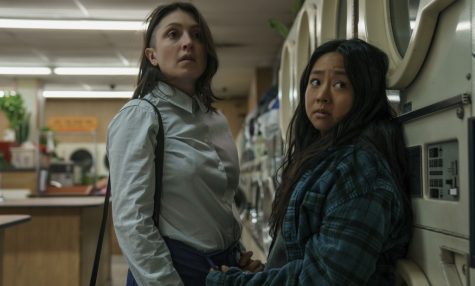 However, despite hitting the mark on visual brilliance and accurate representation, "Everything Everywhere All at Once" falls short in fleshing out its innumerable underlying themes. Evelyn's struggles with generational trauma, marital drama and the meaninglessness of life are hastily wrapped up, making for an underwhelming climax, and although the point may be to overwhelm viewers with literally "everything at once," the film's hectically paced plot is often exhausting and difficult to follow. 
Despite its flaws, "Everything Everywhere All at Once" is an imaginative and profound story that shatters the strictly defined boundaries between sci-fi, comedy and action. The film's combination of these genres, along with bizarre visual effects and an intense soundtrack, creates a jarring experience viewers are bound to remember while meeting the dazzling expectations of its title.
Rating: 4/5
This story was originally published on El Estoque on April 20, 2022.