A Special Return to Campus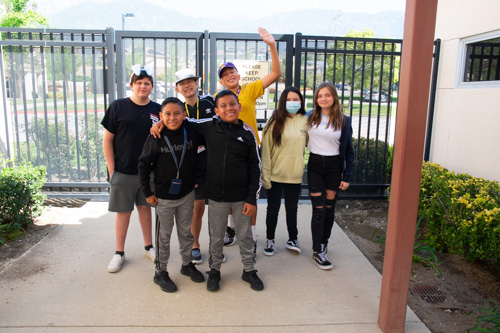 The past two years introduced a struggle unlike any other for students across Day Creek's campus. While everyone seems to have a story connected to Covid, few may have considered the impact on our special education students. With the pandemic's end in sight, how will this unique group of students adapt to a typical day on campus?
"The hardest part was getting back into the swing of school – the routine and the rules and the structure and the moving around from class to class, because they hadn't been in school since the middle of fourth grade," said special education teacher, Mrs. Hampton. 
It has been a challenge, not only for special ed. students, but also for their parents and teachers as well. There have been numerous bumps in the road in an effort to assure that these students receive the education that they need. 
"Being back on campus in a real classroom setting is much more advantageous because they get to interact with teachers and peers," said Mrs. Hampton, "It was really hard for students to be on a computer and get that same education." 
Regular education students may not have struggled similarly having had the ability to digitally communicate with their friends. Social time was available through Facetime and Google Meet. But special ed. children often lacked the technological ability to communicate with their friends during the pandemic. 
"When we were at home, that is one thing that [my child] was lacking. It was very difficult for her to be around kids her age. They had a class on Saturdays that worked on this and that got canceled [due to the pandemic]," said Mr.Troli, father of Isabella Troli.  
The pandemic made it more difficult for special ed. students to return to school because they had to relearn how to interact with peers. Most students' socializing skills were lost because of the lockdown, a significant detriment to their development on campus. 
"A lot of [the problem] was socializing. Some of our kids are already working on socializing skills. [Because they were] home for school, they didn't get that social time," said Mrs. Hampton. 
Even though these have been difficult circumstances, special ed. students continue to make a speedy recovery in their return to a school routine. With the help of teachers, parents, and even other peers, they are adjusting to the new environment. 
"It took us about two months to get back – one month to get them to feel safe and another month to get back into routine," said Mrs. Hampton.
Not only are they adapting quickly, but special ed. students are also taking pleasure in the educational environment. This is essential for their mental health, social growth, and educational success.
"She really enjoyed coming back. [Other students] might have had days where they don't want to come back to school. But that hasn't been a problem for her once," said Mr. Troli. 
Though all students have had to adjust to the unique experiences of the past two years, most students, including those in Day Creek's special ed. program, agree that a return to campus is for the best. 
"I like [being] here in person, because you can hang around with your friends and on Zoom, I couldn't really focus. Overall, I like in-person school better," said eighth grader, Josiah T. 
This story was originally published on The Day Creek Howl on April 22, 2022.