Courtesy Jordan Micek
Making hard work look effortless is, well, hard work. And when a dancer takes the stage, that is exactly what they need to do — make spinning pirouettes, landing an aerial or dropping into the splits look easy, with a smile on their face. Freshman Ani Yordanova modeled this to perfection when she took home the Teen Miss Dance Pacific Coast crown last month at the Dance Masters Pacific Coast competition. This means that she will be representing the Pacific Coast region at the Dance Masters of America national competition this summer in Nashville.
It has been a long journey to get to this point. Ani has danced at Los Altos Dance Academy (LADA) since the age of two, beginning with Mommy and Me classes. When she was seven, she met Jordan Micek, her current coach both at LADA as well as on the Los Altos High School dance team. Micek also choreographed the piece that won Ani her most recent title in addition to the title of Junior Miss Dance of California in 2017.
Ani's solo was in the lyrical dance style, which blends ballet techniques with theatrical and modern elements to convey a story. Lyrical is a favorite of Ani's, so she and Micek naturally gravitated to this style when choosing the song Ani would perform for her solo. They selected "When the World Was Mine" by Brandi Burkhardt — a dramatic, swelling piano ballad from the musical "The Count of Monte Cristo."
This piece resonated with Ani more than others she has worked on in the past because she saw a part of her own journey with both dance and life in it.
"[The song] talks about my moments in which I felt like the world was mine," Ani said. "So that goes back to winning Junior Miss Dance, which was one of my favorite moments before COVID. Through COVID, you feel down, you feel alone, so [the song is] just about building back those memories and feeling like the world was mine again."
But getting back that feeling wasn't easy. At competitions, dancers aren't just judged on rehearsed performances. Interviews are an important — and often nerve-wracking — component, as are evaluations, where contestants learn a dance on the spot and have to perform it right away.
"My acro evaluation was especially stressful because it's something you can prepare for," Ani said. "And with acro you get one chance, I mean – you either nail your front aerial or you fall on your face."
And yet, acro — which is essentially the floor piece of gymnastics — was one of her strongest performances of the weekend, with Ani being awarded the top score for acro in the teen division as well as for evaluations overall.
While she has performed in countless competitions before – and had won a title five years ago – approaching competitions this year presented different challenges than last time: Namely, she isn't 10 anymore.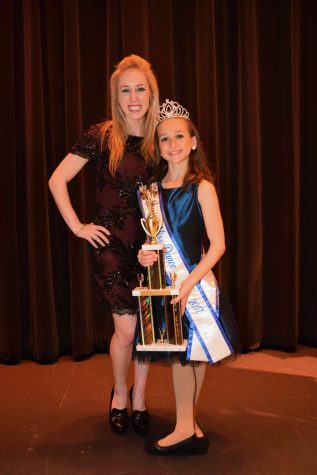 "It has been difficult because [when] you're a child, you're typically much more confident, you're willing to try a lot of things," Micek said. "You don't have that sense of getting hurt or that feeling that you can't do something. So that has been difficult, but [Ani] has really pushed through and grown in so many ways."
This hesitation also poses obstacles when approaching new skills and techniques, which Micek pushed Ani to do while learning the routine.
"I'm someone who loves to do things that they're good at, I'm not someone who likes to try new things," Ani laughed. "So with this dance, I definitely tried some things I'm not good at. I had to use my spine, my body, more."
She may have been nervous, but dance — as well as winning titles — appears to be in the Yordanova family blood, with Ani's younger sister Nikki winning Junior Miss Dance of the Pacific Coast this year.
"I was more emotional for her than she was," Ani said. "I started crying on stage when they crowned her."
The two sisters will be going to nationals together this summer, both with crowns in their suitcases, and hours and hours of practice under their belt — for Ani, 15 hours a week on average.
"By the time [you] get to competition, it's more about trusting your training and trusting that the work you put in — both mentally and physically — is part of who you are," Micek said. "You know, we're not cramming for anything. It's something that really is inside you, and so it's about taking deep breaths and feeling that confidence that you have what it takes to go out there and do it."
This story was originally published on The Talon on May 1, 2022.