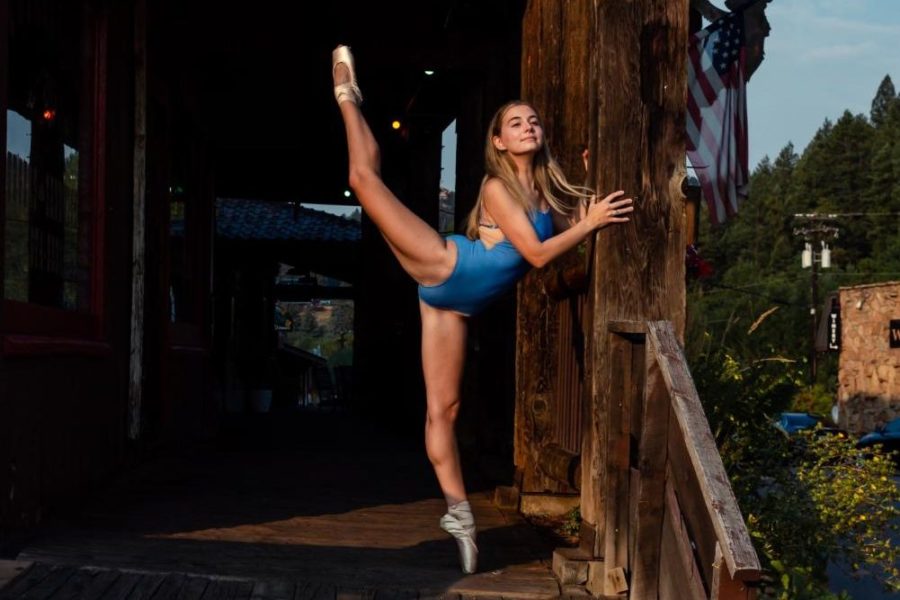 Photo courtesy of Ashley DeWeerdt
Ballet is one big juxtaposition. It is both a beautiful and a grueling sport that asks to fight with every muscle, and to balance just right on a block of wood no more than two inches wide just to appear weightless. Training for hours, drenched in sweat in order to perfect the arc of an arm or the angle of a leg, just for it to appear completely effortless, holding muscles tight and firm while making the body look soft and fluid.
Even after all of that training, the majority of ballet dancers have to retire between the ages of 25 and 35. However, even though to some it sounds like torture, to others, the soft wind of the fan at the entrance of the ballet studio is the very air they breathe, and that is certainly how it is for Class of 2019 graduate Melina Hudak.
"I've been doing ballet since I was three, so almost twenty years of my life has been spent in a dance studio. I dabbled in other styles including tap, contemporary, modern and jazz for some of those years, but most consistently stuck with ballet. My parents initially enrolled me in a ballet and tap combo class after I watched my sister go to her dance lessons and became obsessed. I spent most of my adolescent summers with other ballerinas in foreign cities, getting to experience a new company and new style as well as progress significantly faster from dancing all day every day for months," Hudak said.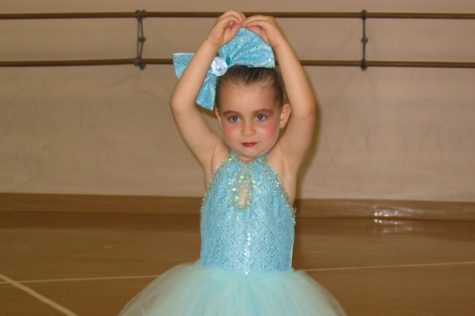 There are many reasons why Hudak adores her sport, but she said there is nothing like being able to communicate with the audience from the stage and being able to convey and share emotions with them.
However, not everything can be perfect. The performance world is ruthless, and ballet is one of the most rigorous forms of dance. Bending the body in ways it's not supposed to go and defying gravity itself are only some of the physical limitations. A large part of ballet comes from the mental limitations and competitions where every friend can simultaneously be the biggest competition.
"My least favorite [thing] is definitely the competition among dancers. The ballet world is extremely elite and difficult to be a part of, and you're constantly competing for a spot with even your closest friends. At the end of the day, it's about getting a role or a job and that can lead to a lot of toxic behavior. While many of my near and dear friends are also ballerinas, we will always compare ourselves with one another and the other dancers in our environment. Dancers are some of the best people I have ever met and also some of the worst," Hudak said.
Even with the physical, emotional and relational problems that ballet presents, it is still the thing that Hudak holds onto, the very thing that makes her feel alive and connected to the world.
"Ballet is single-handedly the most important thing in my life. It is the longest commitment I have ever made, and I've truly never loved anything more. When I graduated high school, I actually intended to retire. I'd gotten into a couple of ballet programs in colleges and ballet companies but inevitably decided to take a step back. It was the worst decision I'd ever made, and within a month and a half of starting college, I found myself dancing with Kansas City Ballet. It is truly the thing that keeps me sane, that I can turn to for anything, and has functioned as a significant outlet for everything in my life. When I am dancing, it is like nothing else exists in the world, no problems, no outsiders, just me and the choreography," she said.
Unfortunately, coming back into the world of ballet and starting with a professional company as a trainee was short-lived and Hudak saw the possibility that her dream very well could slip away entirely. Hudak said that she was dancing for a ballet company in Santa Barbara, California when she lost the ability to lift her left leg, effectively making her unable to dance.
After communication with her artistic director, she met with several doctors and learned that she had a condition called hip dysplasia. This diagnosis meant that her hip sockets were too shallow for her femoral head to fit nicely in place, and the repetition of high impact and extreme range of motion exercise that came with ballet had torn the labrum in her left hip. 
In December 2020, when she was supposed to be rehearsing for The Nutcracker, Hudak was in St. Louis meeting with a specialist about her hips. Within the next couple of weeks, Hudak learned that what she thought was a minor hip arthroscopic surgery that would only take her out of ballet for 4-6 weeks, would actually be two major reconstructive surgeries known as periacetabular osteotomies, or PAOs, where her pelvis would be broken to reconfigure the hip socket before the correction is held in by titanium screws.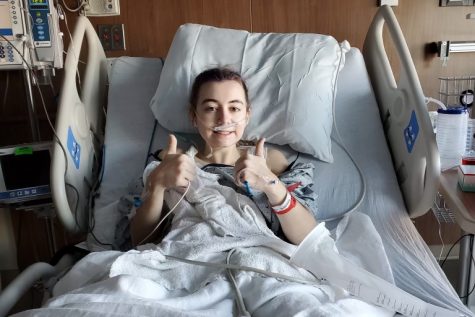 "I was told that the recovery time for these was 8-12 months and that I would lose a significant aspect of what made me good at ballet, my flexibility. I was given an ultimatum of either having these two surgeries now, or I would require bilateral total hip replacements before age 30. Initially, I was going to wait for the PAOs, so I scheduled my hip scope for the labral tear in March of 2021 and assumed I would return to ballet in May. However, following the labral repair, my left hip socket was too unstable to continue dancing on. My surgeon was extremely worried about dislocation and so the decision was made to schedule my first PAO," Hudak said.
Hudak said she was lucky to have had two surgeons in the St. Louis area that are considered to be experts, and on June 2, 2021, Hudak went into her first PAO for her left hip.
"It was the hardest thing I'd ever done. I was in the hospital for four days, only able to 'walk' with a walker and no weight through my affected leg, and I completely lost all of my independence. I relied on others to help me get up to go to the bathroom, help me get dressed, make me food and basically any task that didn't involve lying flat on my back," Hudak said.
After eight weeks of waiting and being waited on, Hudak was cleared to start physical therapy. After some time, she was able to bear weight on her left leg. Her hip healed well, and by September she was ready to start dancing again, at least in segments.
"When I made the decision to go through with the surgeries, we had a discussion on whether or not we would just do the left hip for now since my right hip was mostly asymptomatic, but, since I was already taking a year off of dance, my parents and surgeon felt it was best to go ahead with the right PAO six months after the left. In the meantime, I took as many ballet classes as I could, and was amazed to understand how difficult it is to reorient yourself in a body that can no longer do exactly as it did prior," she said.
Hudak's older sister, Callandra Hudak, has been been by her side every step of the way, struggling with the fact that this pain isn't something she can take away.
"As her older sister, who only wants to see her happy, healthy and living her dreams, it has been agonizing to watch her in pain and frustrated with the reality of the situation. Ever since we were kids, all I've wanted is to protect her from the monsters of this world, hold her and keep her safe. Although I think I've been an excellent spider slayer for her, hip dysplasia isn't something I can ball in a tissue and throw in the toilet, it's something serious and something scary," Callandra said.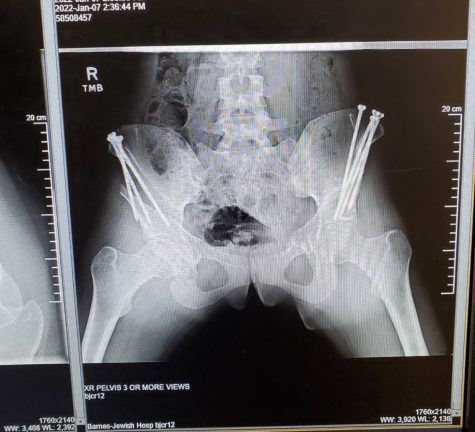 On December 8, 2021, Hudak had her right PAO, and that is where things started to unravel for her. She was in the hospital a little longer this time but returned home for the holidays and started through the same miserable process of recovery. Hudak said that at first things looked ok, but that was just until she had her first pre-operative appointment with her surgeon.
"I would learn that the biggest fracture, in my iliac crest, was not healing as quickly as they would've preferred. My next follow-up was the same and things continued to go downhill from here. I couldn't get off my crutches, was still experiencing extreme pain and was significantly behind in my recovery. I'm almost five months post-op right now and the fracture has not healed. I wish I could say that I was back to ballet and rehab was going well, but I, unfortunately, have what is referred to as a delayed union fracture which may create the need for another surgery. When you undergo such an invasive procedure, complications are definitely a risk, but I never thought that they'd take such a huge part of my life away. At this point, I will likely not be able to return to my company in California for the upcoming season and the decision has to be made about the reality of me being able to return to ballet. In the meantime, I've got seven screws in my pelvis which I guess are kind of fun to scare people with," Hudak said.
Not only did the surgeries take a lot of energy from her body, but they also took her independence, and at least for a while, her ability to dance in the way she has been for the last 20 years of her life, leaving her with both a taxed body and mental health.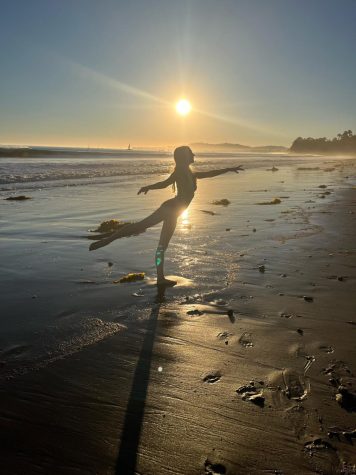 "When I learned my career in ballet was in jeopardy, I was heartbroken. There have been many tears shed over coming to terms with major surgery and the potential loss of my ability to dance, and it is still something I am coming to terms with. Ballet has effectively been my outlet for twenty years, and to suddenly lose that, not because you chose to, but because you physically cannot, is devastating," Hudak said.
Melina Hudak has an incredible support system around her, and despite what the doctors say, Callandra is certain her sister will dance again.
"Melina and I are extremely close, she's my best friend, and I have witnessed her immense strength and determination throughout each surgery. I can't imagine going through 3 surgeries, hundreds of hours of physical therapy, total frustration with the limits of her healing body, and yet she continues to persevere and prove how brave and resilient she is every day. I am so proud of her. Although her surgeons may scare her with the possibility of never dancing again, I know my sister. She is headstrong and can do anything she puts her mind to. I can't wait to watch her, back where she belongs, gliding and twirling across the stage," Callandra said.
Although there is a chance that she may never be able to walk into the studio again as a professional, Hudak still holds onto hope that she will find her way back to her career.
"I have effectively begun to age out of trainee programs and apprenticeship roles in the ballet world. That, alongside with surgical complications and having to take over a year off from intense training, makes it extremely unlikely for me to resume my role in a ballet company," Hudak said. "That being said, this is something I've wanted my entire life, so, if my right hip fully heals, my plan is to return to a ballet program and go from there. In the meantime, I've started working in healthcare and will continue that until I can hopefully return to the stage. At this point, I don't know what the future holds and I'm trying to stay optimistic that I'll get back to the only place I've ever really called home."
This story was originally published on The Lancer Feed on May 13, 2022.