"I've been goin' through somethin' / One-thousand eight-hundred and fifty-five days / I've been goin' through somethin' / Be afraid"
"Mr. Morale and The Big Steppers" is the fifth record released by critically acclaimed rapper Kendrick Lamar on May 13. Released five years after his Pulitzer prize-winning "DAMN," Lamar announced his latest record as his final one working with his record label Top Dawg Entertainment. 
Whether it be his explosive quality on "good kid, m.A.A.d city" or his cries for unity on "To Pimp a Butterfly," Lamar has managed to reinvent himself throughout his decade-long artistic career. In contrast, Lamar's socially-conscious rap stays relevant; his consistent message has been applicable for the past decade to the present day.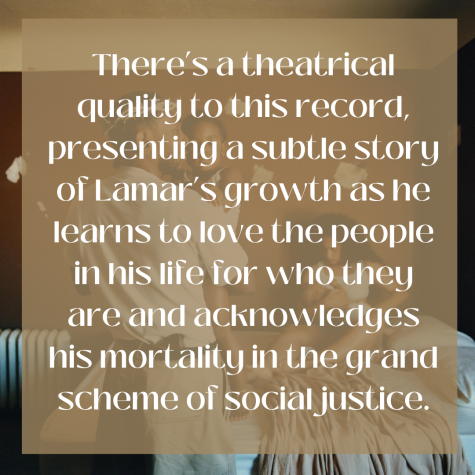 Signaling a new chapter of his life, "Mr. Morale and The Big Steppers" brings contrast to the stage: beat changes, emotional climaxes and abrupt ends come to battle with his meditations over pianos and strings. There's a theatrical quality to this record, presenting a subtle story of Lamar's growth as he learns to love the people in his life for who they are and acknowledges his mortality in the grand scheme of social justice. It's often hard to access at times, but a refreshing take regardless, as Lamar looks inward to find personal growth for not only himself, but those around him as well.
Story continues below advertisement
Lamar directly places his listeners on the frontlines of this battle of contrast on the album opener "United in Grief," where the unpredictable tonality and emotional weight is given major support by the song's often bizarre beat switches and instrumental licks. However, the instrumental quality ranges between angry and melancholic. Where the skeletal 808s of "N95" escalate his rage-filled societal criticism, his personal dealings with a fatherless childhood in "Father Time" combine with choppy pianos and grainy drums for an emotional presentation. 
This unpredictability, while being an important part, actually helps the record form cohesion as well. The double album format of the record showcases two different halves that seamlessly transition between each other. As the domestic dispute in "We Cry Together" raises the heat in its uncompromising and raw direction, there's a significant cooldown period right after in the form of "Purple Hearts," a more loose and lustful track that sets the tone of the rest of the record.
Where this emotional contrast rides high on the first half of the record, the second half presents a more contemplative feel. There's shades of black and blue on this part paired with more experimental sampling, such as the vox progressions on "Savior" or the clicky hi-hats on "Silent Hill." With this also comes a greater sense of reflection, where instead of Lamar figuratively tap dancing around his problems, he confronts them head on.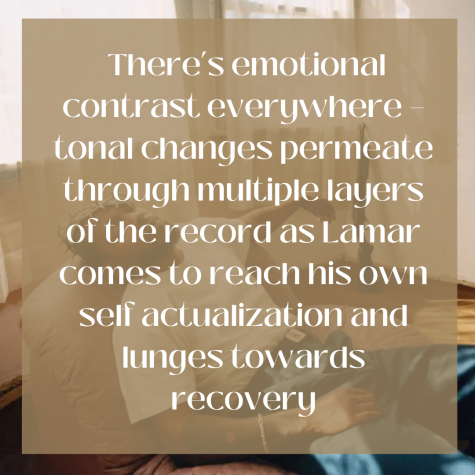 Although being emotionally resonant, the display of these confrontations is a mixed bag. Where Lamar deals with his own self, he's more compelling as he builds his story 一 tracks like "Crown" and "Mirror" combine this aspect with different vibes to prop up his self development. This collapses somewhat when Lamar deals with the people around him, with the track "Auntie Diaries" being the primary actor in this part. While it's a compelling track breaking down transphobia in the Black community, the track's misgendering and usage of the F-slur doesn't seem to work in the grander sensitivities of the song, being an unnecessary inclusion to a song that would have gotten its point across regardless.
Yet there continues to be holes that this record fails to fill with its overbearing message. The inclusion of rapper Kodak Black on "Silent Hill" is particularly strange, as the artist has been embroiled in a myriad of controversies, such as admitting to sexually assaulting a woman in 2016. Regardless of being placed as an empathetic figure in the record, it's still hard to ignore his acts even after considering the childhood which the rapper states contributed to his modern day actions. Lamar fails to fully justify this inclusion as well, and it proves to be a blotch on the record. 
"Mr. Morale and The Big Steppers" is an emotionally complex record that aims to study Lamar's insight through a more introspective lens than ever before. There's emotional contrast everywhere — tonal changes permeate through multiple layers of the record as Lamar comes to reach his own self actualization and lunges towards recovery. Yet alongside this complexity comes avoidable missteps that eventually take away from his message, and the failure to properly justify Kodak Black's part in the record fails to bring it to the level of his past discography. 
3.5/5
This story was originally published on El Estoque on May 21, 2022.