Chaplain publishes debut book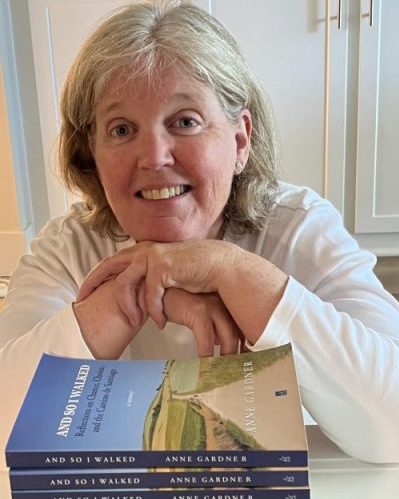 By Vasilia Yordanova, Harvard-Westlake School
May 27, 2022
Reverend Anne Gardner published her debut book, "And So I Walked," on March 1. In her book, Gardner recounts her 500-mile journey across the Camino de Santiago de Compostela in Spain and discusses the value of friendship, family and faith.
Gardner said she wrote the book as motivation to others and to further illuminate her appreciation for friends and family.
"The book is part travelogue, part memoir," Gardner said. "I hope it acts as an inspiration to those who might not think they are capable of such a feat [or] who wonder what walking hundreds of miles might be like. But I also wrote it partly as a love letter to my parents and to those who did the pilgrimage alongside me. Their continued influence on my life is immeasurable."
Gardner said she has always been interested in writing but struggled to find a topic at first.
"For many years, I wanted to write a book, nearly all my life," Gardner said. "Raised by a mother who was a voracious reader, libraries were like cathedrals to me, and books my most precious possessions. But somehow, I never stumbled on to an idea that seemed worthy of such a goal until I began to walk the Camino."
Gardner said she faced a variety of challenges throughout the writing and editing process.
"Like many other art forms, you need to develop somewhat of a tough skin to get the result to really shine," Gardner said. "Getting published through traditional channels is very challenging. Being tenacious is essential to all but the very, very lucky."
Upper School Performing Arts Teacher Mark Hilt said he enjoyed reading Gardner's book and speaking to her about it.
"Learning about the traditional pilgrim's walk in northern Spain in so much personal detail was fascinating," Hilt said. "I do not think I could do it. [Gardner's] tone in the book is striking. The complete honesty which is required in writing a memoir, if it is to be any good, is scary to me. The fact that she goes there consistently, with integrity, throughout the book is inspiring."
Emily Silkina '23 said learning of Gardner's memoir encouraged her own writing aspirations.
"I have a passion for creative writing although I am not planning to be an English major," Silkina said. "In the future, I hope to write my own book, so hearing about [Gardner's] book is an inspiration to me."
This story was originally published on The Harvard-Westlake Chronicle on March 25, 2022.