Over the past few years, WayCAM, a public, educational and government (PEG) channel located in Wayland, has continuously seen a decrease in cable subscriptions. Since WayCAM is a 501 nonprofit organization, it receives most of its funding from cable subscriptions, meaning the decrease in subscriptions has also resulted in a loss of income. To reach the minimum of $13,000 needed each year in order to run WayCAM, the station's staff have decided to offer paid memberships as compensation.
WayCAM will offer gold, silver and Wayland High School Student memberships, each including different costs and services provided. While there will be differences in each membership, all customers will have access to WayCAM's studios, as well as classes taught by WayCAM staff.
Recently, WayCAM has been losing approximately $5,000 each quarter of the year, resulting in the lay off of an employee in order to have enough funds to keep the studio running. WayCAM staff hope that the paid memberships will allow WayCAM to keep producing content, upgrading equipment and helping others learn the mechanics of producing videos.
"At this point, [the memberships] make the most sense [out of any other funding options]," WayCAM chair Elaine Donnelly said. "There's a target [for funds that] we're trying to reach in order to be able to sustain programming that currently is done for free. With [the memberships], people [will have] personal stakes in WayCAM and [will] raise the visibility [of what WayCAM does]."
Story continues below advertisement
To many students and members of the Wayland community interested in producing their own content, WayCAM has provided an opportunity to learn the basics of using equipment, filming and editing. For sophomore and honors script to screen student Brendan Hines, WayCAM has allowed him to follow his passion and get a head start in the filmmaking industry.
"I've always wanted to make short films because so many people who I look up to always said that they did when they were kids, but I never really had that many resources [to film with] or [anything] to edit with," Hines said. "WayCAM gave me more experience with how to make a real short film. I think having all this knowledge [and] experience, and even having a movie or two to my name going into [the filmmaking industry] definitely betters my chances [at succeeding]."
"
WayCAM is not a bunch of cameras and cables, it's people sharing their ideas, communicating back and forth and creating a community dialogue. [WayCAM] is a very particular and important tool for our community.
— Elaine Donnelly
To WayCAM producer Virginia Gardner, WayCAM has been extremely accommodating and helpful throughout the entire process of producing her show, Virginia's Views and Vibes. With WayCAM's help, Gardner has been able to gain confidence and experience in producing a show, while achieving something she is truly passionate about.
"[WayCAM is] the best," Gardner said. "They make the studio available to me and they seem really excited about the things that I do. They're [also] accommodating and make you feel like you're the only one there."
In addition, many feel that WayCAM has created a stronger and closer-knit community in Wayland, especially during the pandemic. Since local events are livestreamed on the WayCAM website, those who are not able to attend events in-person can still watch and cheer on their peers or family members online.
"This is a new kind of era for WayCAM and it's very exciting," Donnelly said. "WayCAM is not a bunch of cameras and cables, it's people sharing their ideas, communicating back and forth and creating a community dialogue. [WayCAM] is a very particular and important tool for our community."
Compared to many other towns in Massachusetts, WayCAM is a unique streaming service. According to the executive director of WayCAM, Jim Mullane, WayCAM is one of the last local streaming news sites, and is a key asset to Wayland because it allows every person to view local PEG events and experiment with producing videos.
"[WayCAM is] a really great thing that Wayland has that not many other towns have," Hines said "I'm incredibly lucky that I get to [gain experience in filmmaking through WayCAM]. I don't have much of a budget and I don't really have a real crew, but it's still ridiculously cool that I'm able to go around and make make something dumb just for the fun of it. I like having that [option]."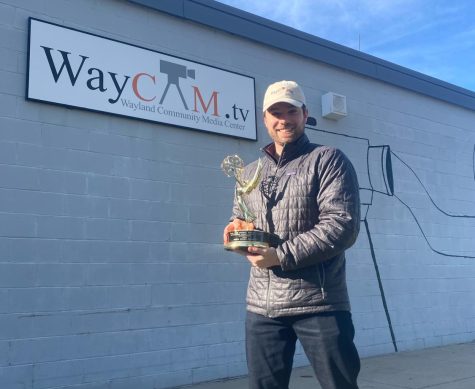 WayCAM has specifically supported WHS students for the past several years through offering opportunities like the honors script to screen class, submitting work produced by students for national awards and even awarding students with scholarships.
"[By supporting WayCAM,] not only are you helping your local community to record what's going on, you're also giving a lot of career opportunities for [WHS] students," Mullane said. "[Many] high schools don't have [the kind of involvement] we do. We have 22 international awards, [and] I also have a handful of students that have won Emmys."
However, none of these benefits to the Wayland community are possible for WayCAM to carry out without the help of funding and donations. Without the funding needed, WayCAM will not be able to provide as many opportunities for WHS students and other Wayland community members, not upgrading equipment when needed and limiting streaming services.
"There's only benefits [to having WayCAM], and by taking away those benefits I feel like [the community] would be much more closed off," Hines said. "There would be way less opportunities, like the WHS acting class would never be able to act in my movies and I would never even be able to even make a movie. [Losing WayCAM] would be really sad."
Since WayCAM has been working to assist the Wayland community for years on end, many believe that it is time for Wayland as a whole to return that help to WayCAM. The best way for anyone impacted by WayCAM's work to give back and support the local business is through funding options, such as becoming a member or donating to the studio directly.
"[WayCAM is always] willing to help everyone, and now the community needs to help them," Gardner said. "We need to be able to keep these small town cable stations, we can't lose [WayCAM]."
"
[WayCAM is always] willing to help everyone, and now the community needs to help them. We need to be able to keep these small town cable stations, we can't lose [WayCAM].
— Virginia Gardner
Because the Wayland community is so important to WayCAM, the WayCAM staff have decided to give the community more opportunities to get involved. Through purchasing a membership, customers will be able to attend classes, ranging from learning how to use the equipment, to learning how to produce an actual show.
"[I would recommend for everyone to] take a class," Mullane said. "You can't learn to be good [at something] unless you learn from your mistakes. The only way of doing something right is trying it. There's no wrong answer, [our feedback is] just a critique on how to make [your production] better."
WayCAM staff urge all Wayland residents to check out all that WayCAM has to offer, and support the local business. There are numerous different opportunities that WayCAM provides, many of which can cater to people's specific interests and passions, and can help them develop important life skills as well.
"When I first moved to [Wayland] more than 10 years ago, I took WayCAM for granted," Donnelly said. "Once I started getting involved, I realized how much behind the scenes [work] goes into making all of [the streaming and producing] happen, which is largely invisible [to spectators]. We have this underappreciated gem in our community, and this is a point in time where it becomes more important to collectively support WayCAM than ever before."
This story was originally published on Wayland Student Press on May 27, 2022.