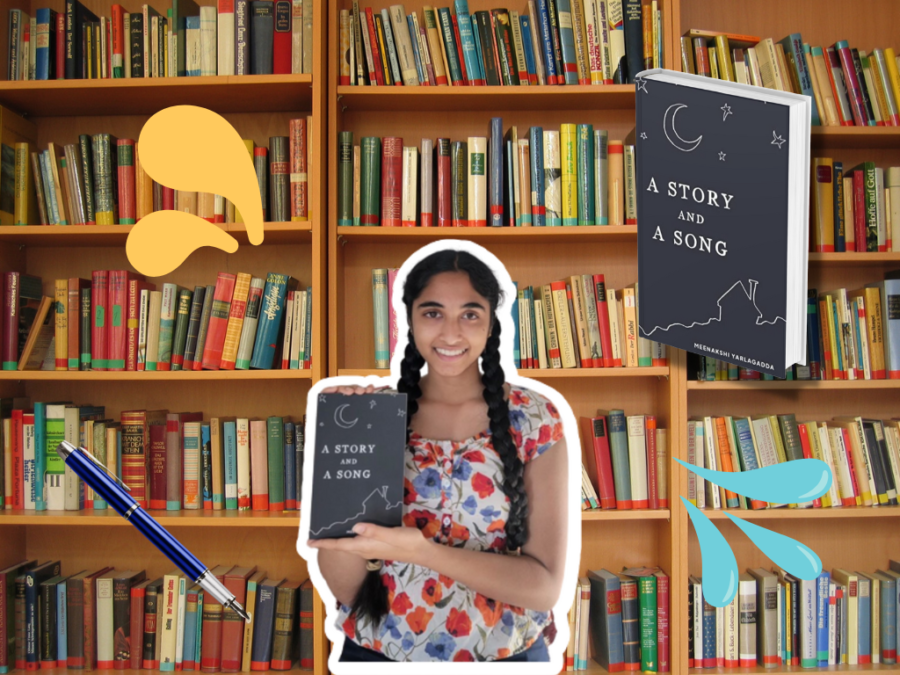 Carol Xu
Meenakshi Yarlagadda ('23) knew since third grade that she wanted to publish a book someday. Nine years later, the summer before her senior year, Yarlagadda's dream became a reality when she published her poetry book "A Story and A Song."
A collection of over thirty poems written over quarantine, "A Story and A Song" revolves around appreciating the minutiae of life and embracing what one has in the moment. 
Yarlagadda credits her third grade elementary teacher Ms. O'Connor, to whom "A Story and A Song" is dedicated, for introducing her to the broad realm of creative writing. 
"Ms. O'Connor was literally one of those teachers who genuinely cares about what their students do even after they graduate," Yarlagadda said. "She was really nice and really liked creative writing, so she made us do a bunch of creative writing assignments, and I realized I really liked it."
Throughout middle school, Yarlagadda wrote several short stories and novel-esque pieces, but it wasn't until she accidentally stumbled upon Edgar Allen Poe's classic poem "The Raven," that she decided to try her hand at writing poetry. 
Mesmerized by "The Raven"'s dark tale, haunting imagery, and distinctive storytelling style, Yarlagadda penned "The Girl Who Grew Up Missing Nothing," from which the title of her book lies. 
"It's one of my favorites because I wrote it right after reading "The Raven" and the way it's written is kind of similar, with the rhyme scheme and everything. It's one of the poems I worked the hardest on, so I'm the most proud of it," said Yarlagadda. 
Over quarantine and remote learning in the 2020-21 school year, Yarlagadda's creative juices flowed like never before. From her pen emerged whimsical tales, not unlike the short stories she started out writing, weaved with rich sensory imagery. 
Shuttered inside, she found flashes of inspiration in little snippets of life, from windows to perfumes to daisies. In poems like "Early Mornings," which, written at four in the morning, offers a reverent appreciation for the fleeting tranquility of dawn, Yarlagadda breathes magic into what seems mundane and quotidian.
By the time in-person school started again, Yarlagadda realized she had enough poems to fill up a book. So, she thought, why not publish a poetry collection? 
Her mother helped her connect with Tell Tell Poetry, a self-publishing company that specializes in supporting and producing poetry chapbooks. Yarlagadda worked with a team of editors to proofread her poems, and design the book covers. 
"I wouldn't say it was complicated at all," Yarlagadda said about the publishing process. "It was actually really nice working with a publishing company because it was all virtual."
"We would meet on Zoom occasionally, but most of it was through email. I'd send them my work and they'd edit it and get it back to me pretty quickly. I worked with some really nice people," she added. 
Yarlagadda officially published "A Story and A Song" before she turned 17, an early birthday gift to herself in a way. 
When she first got her hands on the physical copy of her book, she couldn't stop running her fingers over the velvet-smooth cover, still in disbelief she had really achieved her childhood dream. 
"I cried, I actually did. It was surreal," Yarlagadda said. "I'd been waiting to publish for years and years and years, and I knew I was gonna do it, so it was more like a matter of when rather than if."
Yarlagadda gave her official first copy to Ms. O'Connor. At present, "A Story and A Song" has sold over 60 copies on Amazon with an average 4.8 star rating and several positive reviews. 
For Yarlagadda, the most touching review came from her grandfather's friend in India, who bought her book after her grandfather's recommendation. The friend, who she had never met, praised her impressive accomplishment and predicted she would go on to publish more. 
"I felt that was really impactful because it's someone I'd never known before, so I was like 'people I don't know are actually reading my work, it's so cool!'" Yarlagadda said. 
She thanks her longtime friend and loyal reader Niyati Saxena ('23) for supporting her journey in publishing "A Story and A Song." 
"It's been an absolute pleasure to see Meenakshi grow as a person and as an author. I remember reading a little snippet of her writing back in seventh grade and thinking about how well she wrote at such a young age," Saxena said. "Seeing her [go] from writing short little stories to a whole poetry book has been amazing and I can't wait to see what she does next with all the talent she has." 
In college, Yarlagadda plans to head towards a career in science, but hopes to continue her endeavors in creative writing, a cathartic form of art that can resonate with and touch unlimited readers. 
"When I write I know other people are going to read it, so I like being able to read my work through other people's eyes, and I try to do it from different perspectives, which I feel like is the most fun part about writing," she said. "My heart is like a pen." 
"A Story and A Song" ($13) is available for purchase on Amazon.
This story was originally published on Amador ValleyToday on August 23, 2022.