'Traumazine' is a reclaim of artistic identity
Megan Thee Stallion's seventh album has the perfect balance of authenticity, fury and confidence
"I ain't perfect, but anything I did to any of  you –– y'all deserved it" 
Rapper Megan Thee Stallion unleashes a glorious thunderstorm of pent-up emotions in her seventh studio album "Traumazine." Released on Aug. 12 with 18 tracks — half of which are solo tracks and the other half of which are collaborations with artists such as Dua Lipa, Rico Nasty and Future — "Traumazine" offers an insight into Stallion's struggle following her mother's death, her being shot in 2020 and the ongoing legal debate against her record label. Compared to Stallion's previous work such as "Suga" and "Something for Thee Hotties," "Traumazine" uncovers a much deeper layer of emotions, serving as a unique addition to Stallion's discography.
Stallion incorporates an extensive range of lyrics and emotions into her LP — her iconic confidence shines in tracks such as "Her" and "Ms. Nasty", whereas "NDA" and "Not Nice" are centered around the downsides of her stardom. The grief from losing a loved one shines through within "Anxiety" and "Flip Flop," which both surround Stallion's heartbreak and sense of helplessness after the loss of her mother in 2019. 
Within the first verse of "Flip Flop," Stallion voices the impact that her mother's death had on her: "Ever since my mama died, 2019 / I don't really know who I can trust / I was lookin' for anything, anybody / Lookin' for somethin' to feel like somethin'." Stallion's vulnerable lyrics unveil a new layer of her identity, juxtaposing the rapper's previous lightheartedness in her past albums such as "Good News."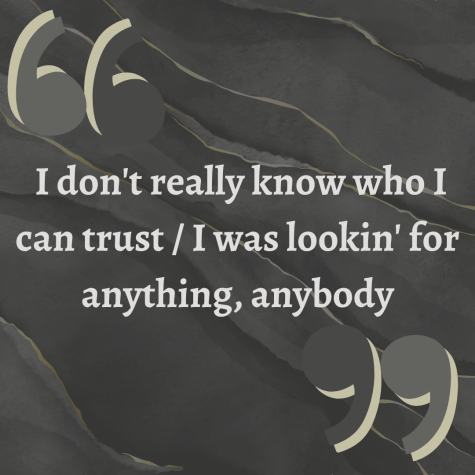 The album's diversity is also expressed through collaborations with Dua Lipa and Rico Nasty, who complement Stallion's voice and tonality. Every collaborator on "Traumazine" adds their unique artistic flair to the track, transforming it into a multi-dimensional duet — or a quartet, as seen in "Southside Royalty Freestyle (feat. Sauce Walke, Big Pokey & Lil Keke)".
In particular, Dua Lipa and Stallion's collaboration on "Sweetest Pie" birthed a track with an impressive blend of pop and hip-hop. Lipa's feel-good '80s synths and Stallion's dominant rhythmic beats merge together, making the track truly feel like a combination between the singer and the rapper. Furthermore, Lipa and Stallion's strong, engaging voices blend into one another, creating a powerful and groundbreaking track.
In the tenth track "Scary," Nasty's raspy, higher-pitched voice joins Stallion's stronger, deeper one to create a balanced contrast between them, adding a beautiful second layer and perspective to the track. Additionally, Nasty's trademark echoes, giggles and insertions of words such as "yummy" falls hand-in-hand with Stallion's iconic "blah" sound, transforming the track into a representation of both rappers — without both Nasty and Stallion,  "Scary" would have been uni-dimensional and bland.
However, the compositional diversity of the album is also one of its flaws. While some tracks in "Traumazine" stand out as incredibly memorable, others such as "Who Me (feat. Pooh Shiesty)" and "Plan B" are forgettable compared to Stallion's past work, blending into the background. The collaboration with Pooh Shiesty seemed forced in "Who Me," because Shiesty's voice and artistic style clash with Stallion's — while a contrast sounded nice in "Scary," the contrast in "Who Me" did not. A reason for this may have to do with the fact that "Scary" features an artist who, like Stallion, has defining artistic traits and is therefore able to shine alongside Stallion, serving as an essential addition to the track. Whereas in "Who Me," Shiesty's performance doesn't quite shine in comparison to Stallion's, and the song would have worked a lot better if it just featured Stallion.
"Plan B," specifically, is the biggest disappointment from the album. Verses such as "F— you, still can't believe I used to trust you (used to trust you) / The only accolade you ever made is that I f—-d you / You a b—-, if you get the chance, I bet you snitch / You'll never get a chance to tell me come and pack my s—- (blah)" are completely overshadowed by the track's awkward flow, making it clunky and awkward when it had the potential to be glorious.
Although not every song on "Traumazine" is jaw-droppingly perfect, chances are that at least certain tracks on the album will be enjoyable to those who like listening to rap. Hence, while the tracks on the albums are either loved or forgotten, the album itself is widely enjoyable.
"Traumazine" is Stallion's biggest release yet, reaching the number one spot on the US iTunes charts within less than 24 hours of its release. The singer explains she accomplished such an achievement despite her label's attempts to sabotage the release of the album. According to Vulture, Stallion posted on Twitter that "[her] cover art, pieces of [her] tracklist" and "a part of a song [she hasn't] dropped yet" all leaked, and her label was the only source that held this information.
The feud between Stallion and 1501 — her record label — is ongoing and stems from the contract that Stallion signed with them. Read through the timeline below for more information.
Not only is "Traumazine" a dive into Stallion's personal experiences and identity, this album also plays a key part in the fight to reclaim her artistic identity from 1501.
As an album, "Traumazine" is diverse, lyrically impressive and an essential addition to Stallion's discography. The LP is a masterpiece produced in the midst of a career-defining legal debate; it's powerful yet powerless all at once.
⅘
This story was originally published on El Estoque on August 15, 2022.