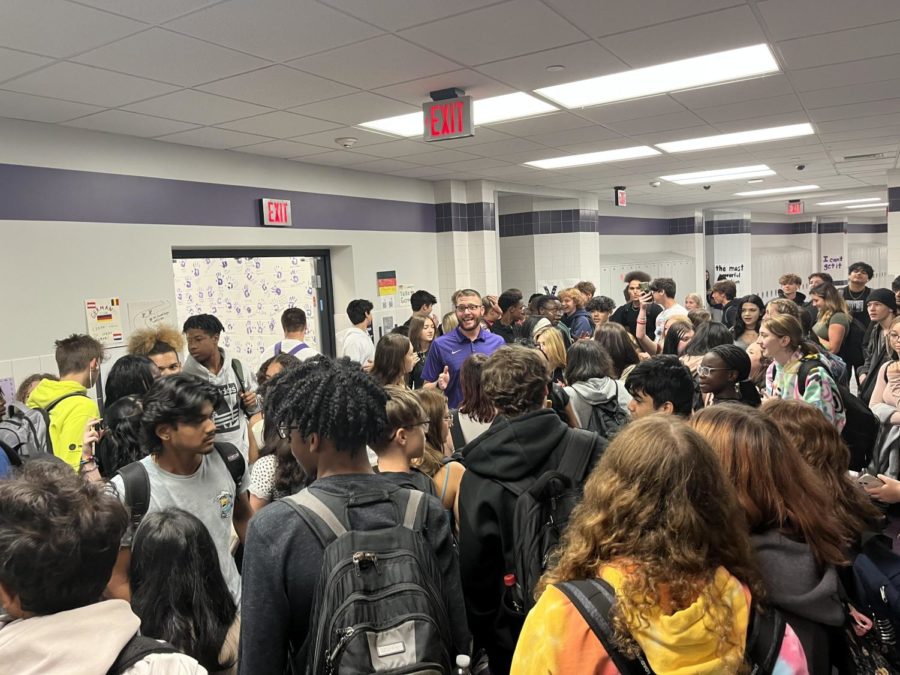 Olivia Rechtorik
Several dozen students protested the dress code during homeroom today, but Principal Shaun Tomaszewski later criticized their use of obscenities while protesting.
The students said they had been wrongfully cited for violating the dress code this past week and alleged that female students had been targeted.
Senior Kayla Copeland said the enforcement of the dress code results in the sexualization of female students.
"We have been 'dress coded' for our stomachs, shoulders, leggings, sweatpants – anything that is showing anything significant to our body, like our curves," Copeland said. "We shouldn't be dress coded for that. We shouldn't be in trouble for that."
"So I want to change that. I want to stop that," Copeland said. "It's not right to come to school and get sexualized every day. It's not right to come to school and get shamed every day," Copeland said.
She said she doesn't understand why girls are being sent home for what they are wearing.
"We should be able to come to this school and feel comfortable and safe," Copeland said. "At the end of the day, you make these girls extremely insecure and uncomfortable."
The protest occurred outside the main office and ran through homeroom and about the first 10 minutes of fourth period.
The dress code is a policy set by the Baldwin-Whitehall School Board.
"Spandex or other tight-fitting apparel, bare chests or midriffs, or half-shirts and other provocative apparel are not permitted," the school board policy states. "Tops must be long enough to tuck into pants, skirts, skorts, and shorts. Undergarments are not to be exposed. Extremely short skirts, skorts, and shorts are not permitted."
Junior Ariel Michael also spoke at the protest.
"You taking me out of class and sending me home because you feel like I need to change is completely disrupting my education," Micheal said.
Some male students joined in the protest.
"I'm here to support these women and their stories. It's a little funny, but it is really serious," junior Zach Dutko said. "I can wear a tank top to school and they can't."
Sophomore Samiyah Simpkins has started a petition about the dress code issue.
"Our stomachs are not distracting whatsoever. Sending us home is doing nothing but taking away our education," the petition says. As of Friday afternoon, there were 46 signatures.
During the protest, students began to chant "stop sexualizing us" and "petition!" But some speakers and crowd members shouted obscenities during the protest.
Tomaszewski said he respects the students' positions. But during a Google Meet broadcast to the entire school during eighth period, he said he does not approve of the way students went about expressing them.
"The group that assembled spun out of control, feeding off the negative attention of the cause, and legitimacy was tarnished," he said.
Tomaszewski urged leaders of the protest to compare the tone of their event with civil rights protests throughout history. The cursing throughout the protest was not acceptable, he said.
"Could you imagine in your wildest dreams Dr. Martin Luther King Jr. behaving the way we saw Baldwin students behaving today?" he asked.
Tomaszewski pointed out that another dress code issue had come to his attention last year, but had been handled in a far better way.
"Last year there was a student petition about students being able to wear hats and hoods that was shared with the school board properly, but today's protest in my opinion could have been done in a more tempered way," he said in an interview after the protest.
He said that calling faculty and administrators out for doing their job was unnecessary.
"We as a school need to follow school board policy. We don't differentiate between enforcing only some aspects" of board policy.
Also during the protest, a student in the crowd used a homophobic slur. Tomaszewski said this was unacceptable, even though it was not directed at him.
"Words have power. They have power to harm, heal and change, but you have to use the power of words very wisely," he said. "There was no attention given to words today. The small minority of the student body that assembled today let their emotions get the better of them."
Tomaszewski also said that, from their history classes, students should know how to effectively "engage in civic discourse."
"You have been taught how to make changes happen. In high school students learn how to become functioning members of our society. Your energy could have been used much better," Tomaszewski said.
An organizer of the protest had met with Tomaszewski on Thursday to tell him of the event in advance.
"I shared with the organizers of the protest that students will get written up for violating school rules (on cutting homeroom) and any use of obscene language," Tomaszewski said.
Dress code issues are often a challenge for schools, he said.
"I think it's challenging to balance freedom of expression and preparing students for professional life after high school," he said in the interview. "Schools have a lot of authority around governing the way students are allowed to dress and express themselves. We can listen to students' concerns and we can hopefully come to some sort of agreeable midpoint."
This story was originally published on Purbalite on September 16, 2022.