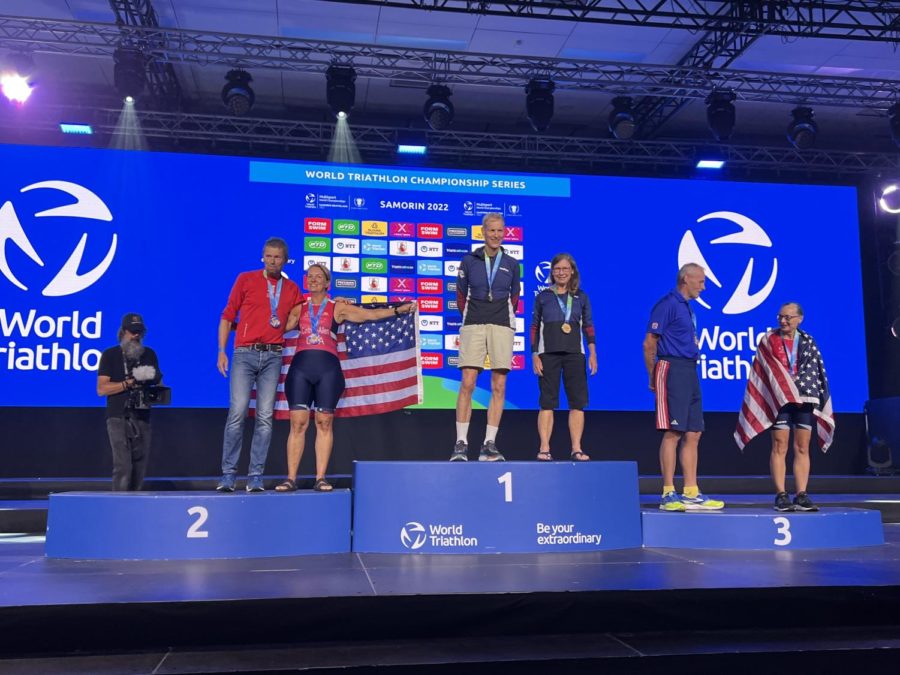 Bob Smartt
As another year passes, Bob Smartt, the Lady Panthers swim coach, has won yet another world AquaBike championship. After months of strenuous training, Coach Smartt proved himself as a force to be reckoned with in Slovakia. 
The race resembled a traditional triathlon. It included a 2,000 meter swim, 49 mile bike ride and a 800 meter run. The running portion is significantly smaller compared to the standard five kilometers in a typical triathlon. Smartt chooses the AquaBike alternative because it contains less running. 
"My strong events are swimming and biking," Coach Smartt said. "I have a hard time running against 5'8", 120 pound guys since I am 6'3". Also running is very hard on the body, and it is easy to get injured."
Athletes put in countless hours in order to compete at this level.
"I have been training for the worlds since mid January [of 2022]," Smartt said. "I averaged about 120 miles a week on the bike and 10,000-12,000 yards per week in the water. I try to go a little faster and a little longer each week."
To train at this intensity, Smartt utilized not only an intrinsic motivation but also an extrinsic goal: the podium.
"The International Triathlon Union does a nice podium ceremony for the top three athletes in each age group," Smartt said. "The podium motivates me to train with more intensity and more mileage." 
As a coach, Smartt sets an example of relentless effort and grit for his swimmers. His commitment to his training sets a precedent for his swimmers. 
"If you have full dedication to something, then it proves you can do anything you set your mind to," senior Grace Sapp said. "Coach Bob is living proof of this statement through his achievements each and everyday, including the World Championship."
Smartt spends time assuring that he is training with the latest research in mind. His approach to the Lady Panther swim team does not differ in the slightest. 
"I think he won because he trained smarter and harder than anyone else," English teacher and Lady Panther Assistant Coach Bailey Jackson said. "Bob has a great understanding of athletic training and what it takes to train champions. He's also constantly researching new techniques and training strategies. Everything he does in his own training and for our PHS Girls Swim Team is backed by science and cutting-edge."
This story was originally published on The Prowl on September 13, 2022.