As you head down the stairs of the gym, laughter seems to carry through the halls from the wrestling room. Whether it's riding scooters, doing yoga, or playing Human Pinball, Physical Education teacher Ann MacLean's PE Interactive class is an atmosphere of acceptance, compassion and inclusion.
"Everyone is exercising and having fun," MacLean said. "Everybody is always positive. Everybody always tries 100%. [There's] the sense of family in the class. It's just a fun atmosphere."
MacLean has been running the PE Interactive class for the better part of two decades; she also coaches both the Unified Basketball and Unified Track teams. Although it was never her intended path, the road to interactive learning was paved for her from the very beginning.
"As physical educators you'd always have to take classes in adaptive PE," MacLean said. "I was very lucky I was able to get involved in a program like this."
Story continues below advertisement
The class is made up of "Athletes" and "Helpers". Helpers pair with an Athlete for the week as they work to better themselves in the physical world. While Helpers are able bodied students, Athletes are "kids that need assistance in both the physical and cognitive world."
"It's not a physical disability, it's an ability," MacLean said. "They all have abilities, you just have to find what's going to work with these kids and do it."
Senior Reiley Devall is a Helper this year. This is Devall's second consecutive year being a part of the Interactive classes. Devall notes how students would "have a lot of fun with interactive classes."
"It's cool to be a part of that interactive piece," Devall said. "They're all so different from one another. Not only [are they] learning from me, but I'm learning from [them]."
Senior Owen Barth is another Helper that can be found in the gym this year. Although this is Barth's first year as an official Helper, it's not his first experience with the interactive programs here at the school.
"I was in another gym class, and I always saw them playing games," Barth said. "It seemed fun, and it really is."
The value of interactive classes, however, is never really taken advantage of. With about half a dozen of these interactive courses available, many students never seem to add them to their schedule. 
"A lot of people have fun with Unified Basketball, Unified Soccer, and Track, they do all that," Barth said. "But they don't do interactive classes."
PE isn't just all about the physical aspect of everything. MacLean finds some of the most important lessons come from the topics of patience, working with others, and modifications to help everyone be successful.
"With PE Interactive, you never know what to expect," MacLean said. "You might have a lesson planned in something, but then one of the students has a hard time listening, or might have behavior issues, which changes the whole setting. You have to be mindful as to what activities you pick for the kids."
But MacLean is not alone. She is backed by a "phenomenal" group of Helpers. The Helpers, mostly seniors and juniors, all mostly want to get involved in teaching or healthcare in their post-high school careers. 
"Everybody in their own way is very helpful to the class," MacLean said. "I have four seniors that will be going into special education. One is interested in chiropractic work, one is interested in speech. They take a lot away from this class."
Mya Gaspie is another senior Helper this year. Gaspie has always been interested in education, but found a love and appreciation for special education during her duration here at the high school. Gaspie is involved in not only the interactive classes, but Unified Soccer and Basketball, and Best Buddies.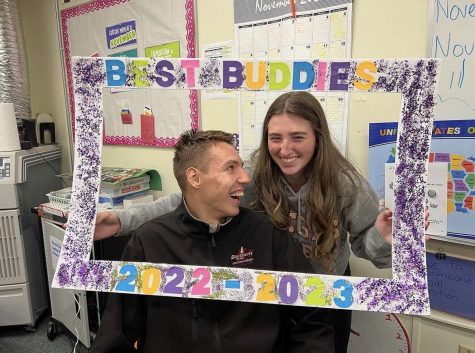 "Being able to help [the athletes] is probably the best part," Gaspie said. "You meet different people, nobody is exactly the same. You get exposure to people that are all different. They all have something that is special about them and to them that is nothing similar to the people you interact with on a regular day."
Gaspie, Devall, and Barth have been praised for their involvement with the athletes in class. MacLean says the trio are "positive, hands on, and intuitive."
"They're very good at getting involved with these kids," MacLean said. "They can see when a kid might be on the verge of a breakdown, or when a kid is being challenged with something, and they see the positives too. They're very mindful of that."
PE Interactive isn't a class just for the Athletes, however–it's for the Helpers as well. Devall says how this class is a welcoming change of pace from the regular everyday activities of the high school atmosphere.
"It introduces you to a whole other side of the school you probably didn't even know was there. It changes their lives so much, and it changes your life so much. It's so worth it to get involved in anything: Best Buddies, Unified, Interactive, all of it."
Barth echoes Devall's words, and says how the class has "a lot of opportunities" for everyone that gets involved in it.
"It's just a fun interactive way that you can always have fun," Barth said.
As Gaspie looks towards the future, she hopes that more people in the school will get involved in the opportunities that are available to them. 
"PE Interactive just introduces you to the people," Gaspie said. "But it's those people that you meet in this class that matter. You'll see them in the halls every day. They come up to you and have a whole conversation. They always put a smile on your face no matter where you are in the school."
MacLean notes that even after all her years teaching the course, she is still learning and growing from her students daily. 
"It puts everything in perspective," MacLean said.  "I've always known not to take people for granted, but being in these classes, you really get it. You see how people respond when positivity is around them. Everybody can be successful."
Even as she approaches the end of her teaching career, MacLean hopes that more people will take advantage of the interactive courses offered here at the high school, and how there's so much potential hiding in the halls.
"We have a lot of good things [at LHS], we just don't know it yet," MacLean said.
This story was originally published on The Lancer Spirit on November 21, 2022.