Flipping the script
Junior provides new take on 'Antigone' role
By Noah Braun, McCallum High School
November 28, 2022
While junior Chamila Munoz looks up to her mother, she didn't become an actor to impress her. She's always prioritized doing what she wants to do; still, that hunger for the spotlight runs in the family.
"My mom was an actor," Munoz said. "She was a dancer, mostly. So she was in a couple of music videos, and she'd do commercials and community theater. And I kind of followed in her footsteps. But it wasn't something that she forced me to do, it was like my own decision."
Munoz began her acting journey early on in life, starting in commercials before eventually working her way up to school theater roles and even parts in official indie productions. In her young career, she has managed to work alongside some high-profile individuals in the industry.
"There was actually a movie a couple of years ago called "Hot Air" with Matthew Gray Gubler and [Jere Burns], but I played a character's daughter, and that film won an award for best comedy of the year," said Munoz. "I wasn't a major part of it, it wasn't me who single-handedly won that award, but it was nice to know that I was a part of that."
"
I like to think that I'm really kind of giving them a kick in the butt for being a woman playing a traditionally male role, very much switching it up.
— junior Chamila Munoz
A couple of other upcoming indie films, "Touchy-Feely" and "One Inch Leather," are set to include Munoz as well, but her most interesting role on the horizon may be in the McCallum-produced "Antigone" by Sophocles. In the play, she plays the character Haemon, the fiance of the titular character and someone who traditionally has been portrayed as a man.
"For our production, we wanted to change things up a bit," Munoz said. "I think Ms. Brookby, our new theater director, just wanted to be really inclusive with all types of casting. She mentioned that she might cast the role as somebody who is gender non-conforming or gender neutral or as a girl; basically, whoever fit the role best."
The theater director in question, Bonnie Brookby, confirmed her thoughts that Chamila did indeed exemplify the role best, regardless of her actual identity. However, she also had philosophical motives for casting a woman.
"I felt that by making Haemon a young woman, the questions of gender, power, loyalty, and family raised in the play take on more nuanced significance, and we hope they will also be thought-provoking to the audience," Brookby said. "Haemon contrasts with both [King] Creon and Antigone in a key way: while both of them are extreme and rigid in their convictions, Haemon provides a rational, balanced perspective on the events. She is young, but wise; passionate, but clear-headed. Chamila brings her full commitment and thoughtful insights to every rehearsal. She is doing a fantastic job in this role, as is everyone in the ensemble."
In the past, Munoz has proven herself to be a talented stage performer and theater technician, having worked behind the scenes on five separate school shows, most recently assuming the role of Queen Belle in McCallum's take on Disney's "Descendants." She recalls two MacTheatre productions that she was a part of with particular fondness, the first being a creative adaptation of a popular musical.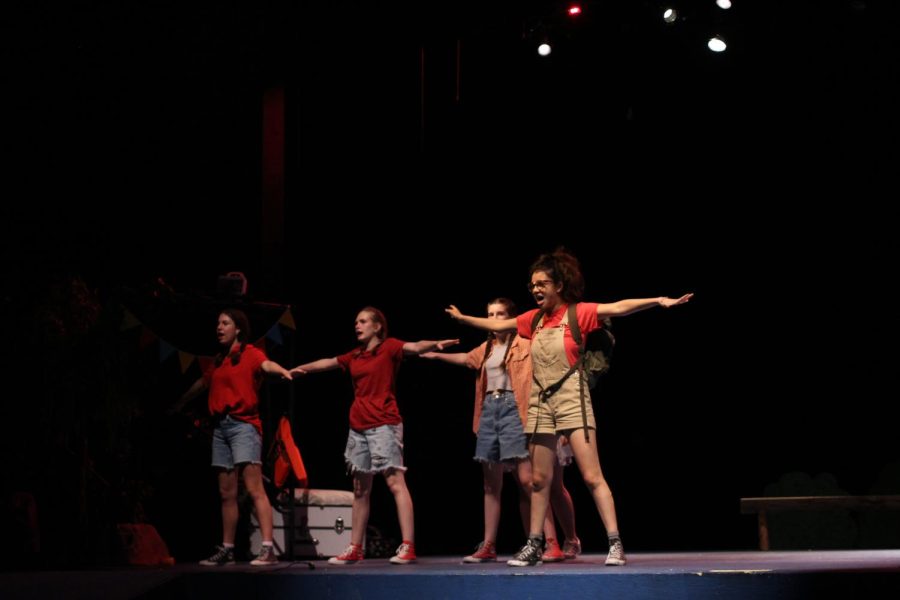 "My freshman year was chopped in half because of COVID, so the first show that I did here was "Urinetown," which was a very silly show," Munoz said. "It was out on the outdoor stage, and it was really, really fun. It was like a first sneak peek into what high school theater was going to be like."
The other play she emphasized was a one-night-only show in which she had her biggest role to date.
"I guess the student-written show that we did last year, 'Camp Jumbaline,'" Munoz said. "The one-hit wonder, if you will. It was a pretty big role. I had to rap in that show. It was so much fun. I mean, we had written that one so we could do whatever we wanted."
The reception of "Camp Jumbaline" was positive, according to Munoz, who hopes to see a similar audience reaction to "Antigone" this month and her part in it.
"I love to think that this is a very tight-knit community that's very accepting of all different types of ideas and just feelings all around, so I think that's really cool," Munoz said.
"
Chamila has been such a delight to work with throughout this production. She's very easy to play off of and makes engaging choices that make the whole process fun.
— senior Finn Sewell-McCann, Munoz's co-star
When looking at the play's bigger picture and her role in it, Munoz finds humor in the irony of how the custom of considering gender when casting actors as certain characters have changed over time. She points out that in ancient Greek times, only men could become actors, so even female characters were played by individuals of the opposite gender. This tradition was carried through theater for over 1,000 years, being seen again as recently as during Shakespeare's time in the 16th century. This behavior has shifted in recent years, as directors have begun to prioritize talent over appearance.
"Directors were like 'OK, guys, it's time to start making some changes,'" Munoz said. "I like to think that I'm really kind of giving them a kick in the butt for being a woman playing a traditionally male role, very much switching it up."
While she is excited to play her part, Munoz's co-stars are eager to see her in action as well. Senior Finn Sewell-McCann, who works closely alongside Munoz as Haemon's father, King Creon, has been impressed with the perseverance and talent he's observed from her during rehearsals.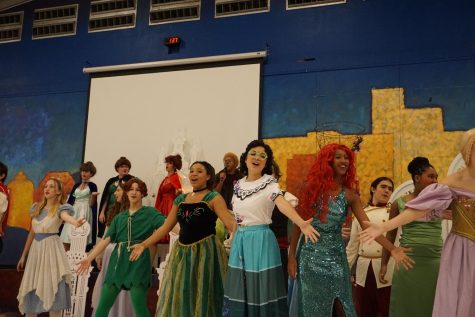 "Chamila has been such a delight to work with throughout this production," Sewell-McCann said. "She's very easy to play off of and makes engaging choices that make the whole process fun. I've worked with her a good amount in the past so we know each other pretty well already. She plays her role very well and puts her own unique spin on it, I'm excited for everyone to see it."
Munoz wants to continue pursuing acting far into the future, in any way she can. She says as an adult she'd like to get out of Austin and move to a place with more opportunities for her to pursue her passion. In her mind, college is not a must, but it could be helpful. She plans to build a resume by getting work in a film or community theater setting.
"I would love to keep doing this for the rest of my life," said Munoz. "I know things change, but I was really lucky in knowing what I wanted to do from when I was young. I would love to at some point write my own material and produce my own films and still be able to act in them, kind of like a Taika Waititi moment. I like the idea of being in charge of my own career and using my platform to get my own message across."
This story was originally published on The Shield Online on November 7, 2022.