The BVNW Unified Bowling team took sixth at the state competition last Monday, Nov. 14. A total of 14 teams across Kansas participated in the state tournament, with Northwest's team consisting of senior Elijah Henderson and his peer coaches, sophomore Bailey Kinkelaar and senior Dylan Eblen. The Northwest Unified Bowling Team was established last year, with science teacher Sarah Derks as coach. 
In a Unified Bowling event, a group of three players can bowl in a game. The score is determined when a trio bowls together; each team bowls six games in total. The team averaged about 137 points before state and regionals. At regionals, they scored a 145-point average, qualifying them for the state tournament.
Although Derks was hopeful the team might place in the top three at state, she said they still performed well. 
"Top six for me, after looking at the scores, is great [because] even our best score throughout the season wouldn't have cracked the top three," Derks said. "We were going up against people that had a really good day, and we just had a normal day."
Story continues below advertisement
Special Olympics Unified Sports combines people with and without intellectual disabilities on sports teams for training and competition. 
Henderson was diagnosed with Mosaic Trisomy 18, a rare chromosomal disorder, when he was two years old. According to his mother, math teacher Karen Stohlmann, finding activities that her son can participate in is difficult. 
"One of the things that's hard as a parent of a child with special needs is there are less and less things for them to become involved in," Stohlmann said. "But he could be in a bowling league forever."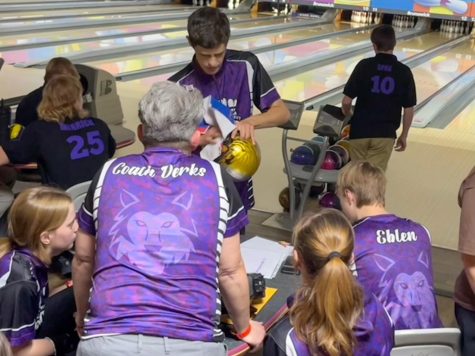 The Unified Bowling Team presents an opportunity for all students to get involved and work together to succeed in a sport.
"Having a unified team is an opportunity for our students like Elijah to be able to compete, [and] to see his peers that look like him compete as well. It's just super fun, and sometimes as a coach, it renews your sense of joy in the sport," Derks said.
This is Henderson's second year on the Unified Bowling Team. He also participates in the boy's bowling team during the spring sports season. For Henderson, the team is a fun and exciting way to get involved. 
"Well, I feel happy when I get a strike," Henderson said, describing how he feels when he bowls. 
Derks said Henderson has significantly grown in his performance as a bowler over this past year. 
"Elijah is a very precise, focused young man when he does anything," Derks said. "From last year to this year, he's done some bowling on his own. He's gotten some coaching and I've just seen a huge improvement."
Henderson also looks forward to the upcoming bowling season that will begin this spring, saying he enjoys the social aspect of the team. 
"I just look forward to hanging out with my friends," Henderson said. 
This story was originally published on The Express and Husky Headlines on November 20, 2022.