On Oct. 14 and 15, the Parkway West Speech and Debate Team kicked off the competitive season by hosting their first in-person tournament since 2019. While running the tournament, the raised money for Every Child's Hope (ECH), by having participants bid to see who gets to pie their executive board and coaches.
Fundraising for a charity at their tournament is a team tradition that precedes head coach Cara Borgsmiller, though their means of fundraising vary yearly. 
"[Donating to charity] was happening before I ever came to West. I inherited having the first tournament of the year [from the previous coach,] so when it comes to having a space come together to raise money, especially in debate, it was like teaching people how to use their weapons [of speech] for good. I decided to continue [the tradition] with the team," Borgsmiller said.
The charity used to be different each year and decided annually by the team, but they have donated to ECH for the last five years, to honor alumnus Haran Kumar, who battled depression and lost his life to suicide in June 2018. ECH was a resource that aided him in his battle against depression.
Story continues below advertisement
"When he became a victim of suicide, [Haran's] mom shared that he wished to donate a million dollars to [ECH], and it became not just a mantra for us, but [for] the entire Eastern Missouri Debate Community. It made us feel like we're doing something for him," Borgsmiller said.
Although the 2022-23 season is the first year that no students knew Haran personally, the debaters continue to focus on embodying his legacy. Junior Serpil Kucukkaya has been on the team for three years and advertised ECH while hosting her first in-person tournament. As a veteran debater, Kucukkaya hopes to send this message to first-year competitors.
"It's their first year competing, and debate can be stressful. Especially because this is the first time after the pandemic that we're in an in-person setting, so helping show the novice competitors that we are there for them and there are resources that will help them if they're in tough times is important to me," Kucukkaya said.
"
For the past four years, we've donated for Haran Kumar to keep his legacy going and show that we care for him even though he's passed away. It was such a great thing that he tried to do, and I'm so grateful to be able to help keep it going.
— Serpil Kucukkaya
Kucukkaya ran the concession stand, where she periodically advertised the fundraiser to competitors and coaches. She handed out fliers with information about ECH and spoke about Haran's impact on the community.
"I know that [mental health is] really important because debate, school or life, in general, can get stressful," Kucukkaya said. "Knowing that he wanted to help a good cause until the very end is very important, and it's really important for me to show the novice competitors."
Leading up to this year, the team hosted Penny Wars as their primary fundraising method. To senior San Kumar, counting pennies proved to be tedious and not as effective as intended. While brainstorming fun ideas with other board members, San came up with the idea to pie officers and coaches as an incentive for people to donate.
"It was so spontaneous — [I was thinking,] 'what would be motivating for debaters after 22 hours of debate over the weekend?' I figured that would give people motivation because we just came out of virtual debate, and public humiliation is funny," San said.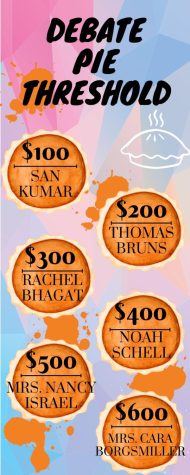 To promote their fundraiser, donations were set up in multiple locations, such as concessions and the judging table, but social media was the most effective way to get the word out. After their $600 threshold was reached early on the second day, the team advertised the fundraiser differently.
"We had two problems we had to solve: Who was going to do the pieing, and how do we keep people donating?" Borgsmiller said. "Another coach in the area came up with the idea of having people bid on who they want to pie."
The team raised $1,283 in two days but donated a total of $2,083.
"We opted not to give out trophies because it was something Haran hated. He wanted people to see that [speech and debate] isn't about winning but about the growth and experience, you gain. So, we give out seed packets, and we donate [the money allocated] to trophies to ECH, which is an additional $800," Borgsmiller said.
Though this is the team's sole fundraiser of the year, they consistently repost ECH's content on their page, even about things that go past mental health awareness.
"Everybody can go to Every Child's Hope. They provide free counseling services, but they also have an alternative learning center," Borgsmiller said. "And they provide parenting classes for mothers or resources for people who can't afford certain things. [What initially] came to me because of its mental health [resources], provides for so many other people."
Besides raising money for charity, Borgsmiller hopes her students take away a few things from the experience.
"I would like [my students] to see it's worth giving back to our community. Also, we all matter, and if they need to talk, just reach out," Borgsmiller said.
If you would like to support Haran Kumar's wish to give Every Child Hope, click here.
This story was originally published on Pathfinder on December 1, 2022.