'The Godmother of Punk' will live on: Vivienne Westwood's legacy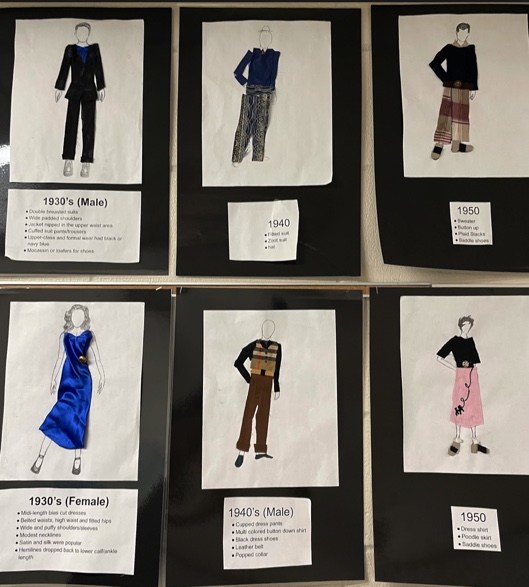 By Shobini Iyer, Pleasant Valley High School - IA
January 17, 2023
Fashion designer Vivienne Westwood subverted traditional British fashion conventions, built a global empire and practically invented nonconformity.  Known as the 'Godmother of Punk,' Westwood helped bring punk fashion into the mainstream and left a lasting impact on the fashion world.
Westwood passed away on Dec. 29 at the age of 81, but her barrier-breaking spirit will live on through her design label's transfer of ownership to her long-term husband and business partner Andreas Kronthaler, who has long made significant contributions to the artistic direction of the brand.
PV fashion design teacher Erin Hofer recognizes Westwood's legacy. "Vivienne Westwood was once quoted saying, 'I was messianic about punk, seeing if one could put a spoke in the system in some way.' I think that's exactly what she did. She will go down in fashion history as one of the designers that inspired the punk fashion phenomenon,'" Hofer said.
Throughout the 1970s and 1980s, Westwood ran a shop with her partner and manager of the Sex Pistols, Malcolm Mclaren. The shop, which became known for its evocative t-shirts and graffiti-inspired designs, also featured  the highly influential genderless Bondage Suit that played a major role in London's punk scene. 
After the disbandment of her initial boutique and in what became known as the "New Romantic" movement, Westwood popularized vivid depictions of history and art in her designs and reinvented how traditional fabrics, silhouettes and articles of clothing were used. 
Unlike her contemporaries in the international fashion arena, Westwood sought to keep her creations financially independent, without the security of other big names in the industry.  The icon's management team only consisted of Westwood herself and CEO Carlo D'Amario until Jeffrey Banks joined them two weeks prior to Westwood's death.
Throughout her 40-year-long design career, Westwood built a fashion empire with a loyal clientele, licenses and franchises. Based in England, Westwood's label continues to produce the most sales in her six UK-based boutiques, but her products are sold in more than 80 countries, with showrooms in the United States, France and Italy. Notably, the brand's "Made in Kenya" line aims to promote climate-conscious clothing.
Westwood's legacy has reverberated far beyond the world of fashion. Credited with coining the phrase "Buy less. Choose well. Make it last," Westwood was an avid anti-capitalist activist. She pledged her support for British civil rights groups and advocated for Julian Assange and Jeremey Corbyn. 
Above all, Westwood was a designer that cared for the natural world. The Vivienne Westwood brand prides itself on its use of recycled and organic materials and regularly publishes its carbon footprint.  
With her unconventional designs and rebellious persona, Westwood's brand name and identity are still culturally significant, standing the test of time. Hofer believes that it was Westwood's risk-taking that allowed her to leave such a lasting impact on the world. "As in anything, if people like what you have to say and what you stand for they will push you to succeed," Hofer continued. 
Westwood's signature Bas Relief Pearl Choker recently became a TikTok phenomenon, seen worn by men and women, young and old, ordinary people and A-list celebrities. The necklace features three hand-knotted rows of pearls and a pendant of Westwood's Swarovski crystal-encrusted Orb logo at its center. Blending tradition with punk, this necklace has surged in popularity among Gen Z.
Junior Margil Sanchez Carmona attributed Gen Z's adoption of trends like the "TikTok pearl choker" with the generation's greater acceptance of bold fashion as a whole. "I think younger generations have always been more accepting of unconventional fashion—think of the chaos that was y2k layering. With social media, a platform was given to unconventional fashion, and people jumped on it," Carmona stated.
As an independent businesswoman who wasn't afraid to make waves in the world of fashion and beyond, Westwood's legacy will be felt for generations to come.
This story was originally published on Spartan Shield on January 10, 2023.