Eden Ericson, Starkweather Academy senior and former Plymouth High School student, makes her way to Canton High School's library to attend Anime Club after school. At Canton, a short flight of stairs rests between the main hallway and the library, with a wheelchair lift placed a few feet to the left of those stairs. In her wheelchair, Ericson gets to the lift only to realize she cannot access the lift without a key. Although her club is shortly after classes end and many staff members are still in the building, none she can find has a key to the lift. Instead of using the front entrance to the media center, she must return to the main hallway and go around the expansive exterior of the media center to reach a door in the rear of the library in order to enter the space where her club is being held.
Plymouth-Canton Educational Park (P-CEP) provides a unique experience for high school students within Plymouth-Canton Community Schools (P-CCS). The nearly 6,000 students at P-CEP have classes throughout all four buildings on campus–Salem High School, Plymouth High School, Canton High School and Canton High School's Phase III building for athletics and musical programs. 
A spread-out campus can be difficult for students to navigate, especially so for students with physical impairments including disabilities and injuries. 
Students with physical disabilities have struggled with gaining accessibility to various spaces throughout all four buildings on-campus at P-CEP. From issues with automatic doors to a lack of ramps and hard-to-reach elevators, each building can provide their own difficulties to students with disabilities.
Story continues below advertisement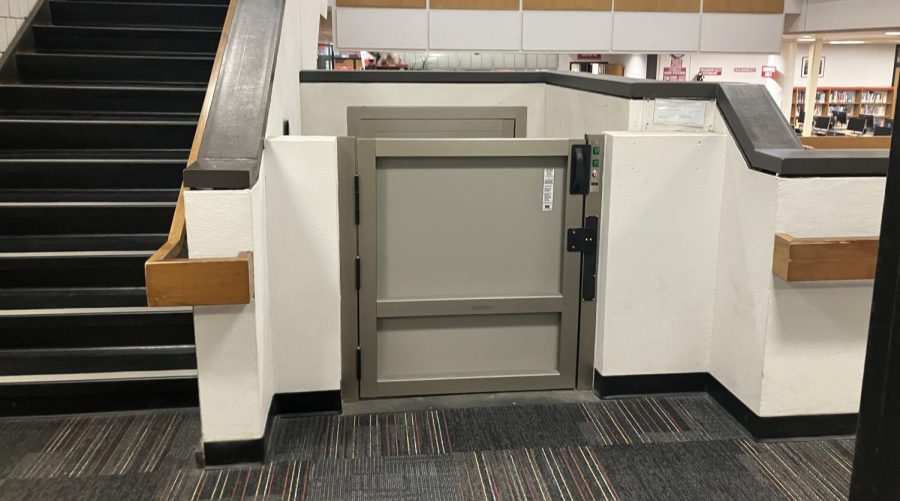 Every P-CEP building has its own hindrances to accessibility; even students who have an Individualized Education Plan (IEP), which may require them to have a course schedule that enables them to stay in one building on campus the entire school day, aren't immune to building inaccessibility at P-CEP.
Ericson attended Plymouth High School in the 2019-2020 school year prior to the COVID-19 pandemic; she transferred to Starkweather, P-CCS' alternative high school, for the 2021-2022 school year. Despite no longer being a P-CEP student, Ericson still frequently comes to P-CEP to attend extracurricular activities, including Anime Club located at Canton and the 88.1 The Park radio station located in Salem.
At Salem High School, there are three main entrances– those at the flagpole, the student parking lot and the cafeteria– as well as two additional entrances, both at the north and south stairwells on the west end of the building. Only two of the five entrances are wheelchair accessible; the other three entrances have a short flight of stairs with six steps but no ramp. Students must climb or descend steps to reach any classrooms.
The only entrance at Salem that is open after the majority of the administrative staff leaves the building at around 3:00 p.m. is the student parking lot entrance, which has a short flight of stairs within feet of the doors. Therefore in order for Erickson to enter the building, a radio station staff member needs to go to the wheelchair-accessible entrance at the flagpole to allow her into the building.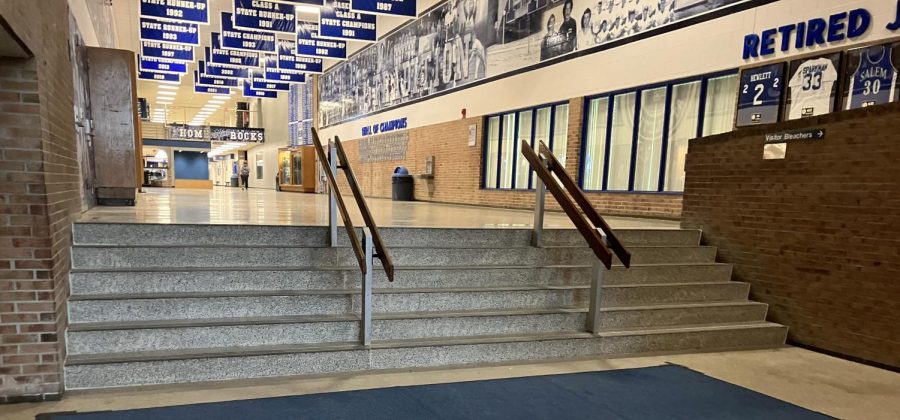 Accessibility issues around campus have remained problems for years.
Kelly Hermann, mother of former Plymouth student Maggie Hermann, reported the experience of having previously-filed complaints go without a follow-up from P-CCS officials. 
Maggie Hermann uses a wheelchair, which made it difficult to access Plymouth High School, where all of her classes were located.
One issue Maggie Hermann had during her time at Plymouth High School was with the front entrance of the building. Plymouth's front entrance features four double doors on each side of a vestibule of the building, accounting for eight total doors on either side. When outside, the intercom to buzz into the office to gain entrance, a safety feature added after the building was built to combat possible school violence, is located at the far left door, while the only doors with a handicap door push button are located at the far right of the entrance. 
Kelly Hermann first noticed the inaccessibility of this entrance during a tour she and her daughter participated in during the spring of 2018, before Maggie Hermann's freshman year. Kelly Hermann was told at that time by P-CEP administration, who were present at the tour, that the issue was on a maintenance work order.
In the fall of 2018, during Maggie Hermann's freshman year, Kelly Hermann was told by administration that the order was submitted to change the placement of the handicap door button. As of the time of writing in early 2023, as far as is understood, this is still on a maintenance work order and has yet to be changed.
Another issue exists with the front doors of Plymouth High School; as of the time of writing two handicap door push buttons, one inside the building and one inside the vestibule of the building, have benches placed in front of each of them, while the handicap door push button on the exterior of the building is blocked by a metal garbage can. Both obstacles are large enough that, for most wheelchair users, reaching the push button by themselves would be difficult if not impossible.
"If we try to put Maggie's chair there, there's no way she can even get close to it," said Kelly Hermann.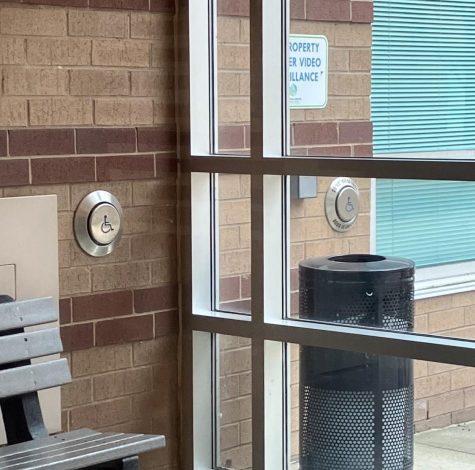 Lindsay Kursa, Plymouth High School teacher for students with cognitive impairments, was one of Maggie Hermann's former teachers and saw firsthand the issues with inaccessibility her student had to endure during her time at P-CEP.
"Maggie was not able to travel through the school independently, so she had to have a paraprofessional or staff member with her at all times," said Kursa. "Most of the travel took two people because there were no buttons to hold open [most] doors."
Students with disabilities are not the only ones who struggle to get around P-CEP. Students with injuries or other temporary impairments struggle with the same issues those with disabilities do.
Emma Patrick, Salem junior, used crutches for four weeks in October 2022 due to a knee injury during which all of her classes were in Salem. Patrick used the elevator in Salem when she could, but would often have to walk up short flights of stairs with her crutches.
"Sometimes the elevator wouldn't work so it was super difficult to be on time to classes," said Patrick.
During the times when the Salem elevator was out of service due to power outages or other technical issues, Patrick would have to walk up or down full flights of stairs to get to her classes which often resulted in arriving late even with the extended passing time she was granted due to her injury.
Patrick's experience was not unique.
Canton High School 2021 graduate Giona Decina had hip surgery in the fall of 2019 during her junior year. Decina had to use a wheelchair while recovering from her surgery. 
Since Decina's use of a wheelchair was temporary, her schedule was not designed with accommodations such as limited travel between buildings. Attending class meant traveling between campus buildings daily, providing her with additional challenges. 
These are just some examples of the struggles students with physical impairments have experienced at P-CEP. Many students and parents have voiced their concerns about the issues in regard to accessibility they or their children experience to P-CCS school officials, but often there is little to no change.
Although some complaints seem to get little feedback from school officials, others do get attention; during Ericson's spring 2019 walkthrough of Plymouth High School, she and her mother, Billie Wright-Ericson, noticed the soap dispensers in the restrooms at Plymouth were too high for Ericson to reach while seated in her wheelchair. 
Wright-Ericson reported this to school officials and by the beginning of the 2019-2020 school year, all bathrooms at Plymouth had at least one soap dispenser shifted low enough to be easily reached by Ericson and others who use wheelchairs.
When administration looks into inaccessibility concerns that they cannot be permanently fixed cheaply or quickly, they do attempt to make temporary remedies to inaccessible spots so all students can reach as much of the school as able-bodied students can; solutions include propping open certain doors that lack a handicap door button. 
Under the Americans with Disabilities Act of 1990, revised in 2010, schools and other facilities must be built to be considered accessible. However, existing buildings are not required to be updated unless the extent of renovations meet a certain threshold of changes–and then, only the portion of the building being renovated needs to follow the act.
Even with solutions being implemented, many students still struggle daily. 
"Overall, the schools were not designed with people with disabilities in mind," said Kursa.
This story was originally published on The Perspective on January 13, 2023.