KATE Sherwood project spreads statewide to inspire student-teacher connection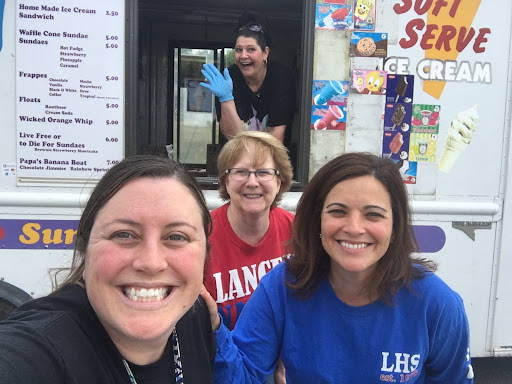 There are few people in this world that will make a long lasting impact on people's lives like Kate Sherwood's impact on students, staff and friends of LHS. Sherwood was a school counselor who worked in both House 1 and House 3 who unexpectedly passed away in February 2021.
"She's one of those people. Once she gets into your life it's like she's been there forever," said House 3 Assistant Principal Crystal Rich. "There are no hoops you have to jump through to get this kind of friendship up, to keep it going. She was always so much more than  a colleague. From day one it was easy to love her and accept her, and let her grow and shine."
And shine she did.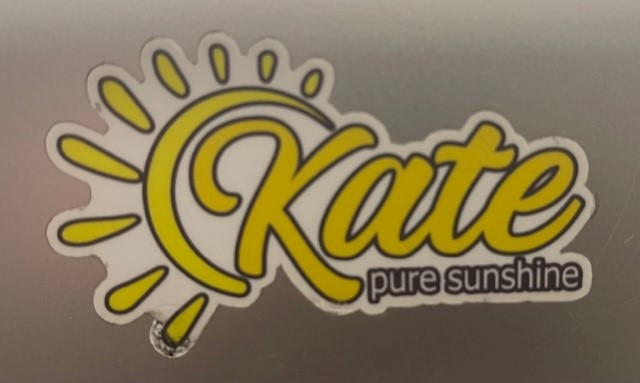 In fact, according to Melissa Fried, a long time friend of Mrs. Sherwood's and the Special Education Director at LHS, the only description that measures up her memorable personality is "a ray of sunshine." Inspired by this concept, Scott Sicard, who was an LHS English teacher but who is now the assistant principal at Matthew Thornton, even designed and printed a sticker saying "Kate, Pure Sunshine" with a sun around her name, which can be seen on many laptops at LHS.
"Her dedication to her students was just beyond measure," Fried said. "She dealt with every person like they were the only person in the world. She was an advocate for her students and she was compassionate."
Sherwood dedicated her life's work to the help and generosity of those in need. House 1 Assistant Principal Abbey Sloper said Sherwood would work above and beyond for the community, even after school hours.
"We would pool money—shopping was her thing—and we would send her to TJ MAXX and HomeGoods to buy clothes and backpacks and more things for kids," Sloper said. "She found out about the Backpack Program, so we would go around to apartments delivering backpacks or food with kids on Fridays."
Sherwood's life's work was to help students in need, so people like Fried wanted to continue this in her honor. In the time following Sherwood's passing, Fried read some of Sherwood's favorite books, her journals, and connected with her children. It was this desire to keep her connection to Sherwood that sparked Fried's idea of starting The KATE Project at LHS
"The KATE Project represents empowering students, which she was very passionate about," Fried said. "It's about connecting students to adults and giving an outlet for compassion, empathy, and gratitude."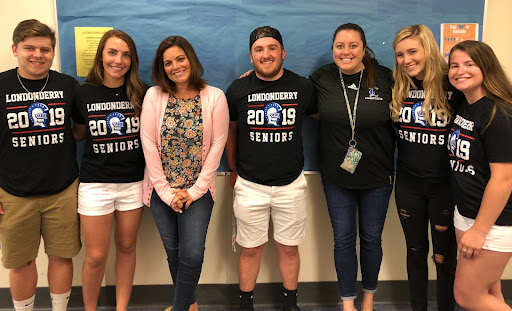 The project, now in its second year, consists of an anonymous support system between a student and any adult faculty member at LHS. They talk through handwritten journals passed back and forth for three consecutive weeks. After the period concludes, members get to meet who they were talking to. This year's project is currently into its second round of journals being passed back and forth between teacher and student.
Student council continues to work hard alongside Fried in preparation and execution for the Annual Kate Sherwood Walk-a-Thon and even presented their idea at the regional Student Council meeting this past November.
"[The other schools] really liked the project and wanted to bring it back to their schools," Fried said. "We are working on getting those schools up and running."
Inspired by Fried's presentation at the regional meeting, Londonderry Student Council and Fried were invited to attend the larger state meeting, which hosted about 150 students from schools around New Hampshire.
"We did two presentations," Fried said. "There were about 10 schools there at that point. All the schools there also want to participate so that's pretty exciting, so now I'm figuring out how to coordinate that effort."
The KATE Project going statewide provides opportunities for students to connect with their teachers and have an adult to lean on. Through this journal exchange between students and teachers, NH schools may change—all for the better.
"That would be really cool," Fried said. "If New Hampshire was really embracing the student ideas and student voice. That's something that Kate Sherwood was really passionate about—listening to kids and making sure that their ideas and their voices are heard."
This story was originally published on The Lancer Spirit on March 10, 2023.