Frequent flyer in training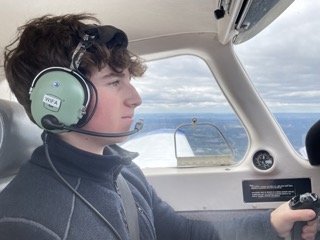 By Ari Blumenthal, CHARLES E SMITH JEWISH DAY SCHOOL
March 28, 2023
While most juniors are working on getting their driver's licenses, Yoav Amit is aiming much higher – literally. For the past few months, Amit has been preparing to receive his pilot's license.
Yoav began flying in non-commercial planes at the age of two. Inspired by his grandfather, a veteran of the Israeli air force, Yoav's exposure to flying at a young age instilled a lifelong passion in him. 
"His grandpa used to take him when he was very young on his flights," Yoav's mother Tali Amit, said. "I remember him starting [to show] interest young … and he was very excited about it." 
Yoav remembers his early experiences with his grandpa as a kickoff to his piloting journey. "[My grandpa] bought a private two-seater airplane when he retired … and he really encouraged me to keep on flying," Yoav said.
While he always dreamed of eventually becoming a pilot, Yoav was only recently presented with an opportunity to start the process at the Washington International Flight Academy. This came a little more than a year after his move from Israel to America.
"When I came here to the United States, I got a good opportunity to do it," Yoav said. "It's a lot cheaper here, first of all, and second of all it just makes a lot more sense to do it here rather than in Israel. I found a school that's mostly Israeli people so I decided to try it out and it was pretty nice, [and] I started around two months ago."
In order to get his pilot's license, Yoav must undergo a series of tests that include flying and landing without anyone else in the plane, and he must be at least 17 to do so. 
Yoav's ambitions go far beyond only a pilot license. Just like his grandfather, Yoav plans on using his piloting skills to defend Israel during his obligatory service in the Israeli Defense Force, and then continue flying later in his life. 
"Hopefully, I'll become a fighter pilot," Yoav said. "That's my main goal … I'm hoping to eventually buy a plane of my own like my grandfather did and just enjoy [it]."
While fear is not part of the piloting experience for Amit, members of his family have slightly different feelings when it comes to him flying.
"There's risk in flying, I'm aware of it and we hear quite often about an accident and there's always some worry, but I'm trying to think positive," Tali said. "I trust his grandpa, I trust his instructors, and we always want to believe and hope that everything will end up fine."
Ultimately, the special feeling Yoav experiences while flying overcomes any concerns his family has. Flying has become an essential and integral part of his life, and it is something that he will continue to pursue and nurture for a long time.
"It's just like a really cool experience to have… It's hard to explain, there's adrenaline because you get to control an aircraft and do whatever you want, but also you get to see the world from high up," Yoav said. "It's just so awesome and peaceful.
This story was originally published on The Lion's Tale on March 18, 2023.