Trusting in the tune
Judd sets new school record at Coppell Relays
Before the sun rises, Coppell High School senior high jumper Megan Judd laces her Nike High Jump Spikes and sinks down into the tattered olive school bus seats as she awaits the Flower Mound Jaguar Invitational.
She plugs in her headphones, returning down-to-earth after hours of training to clear the bar. She tunes into the melodies, but it is not your standard hype music. While positive affirmations flutter in the chamber of her mind, she quietly listens to classical ensembles, the likes of Chopin or Beethoven.
"It's so embarrassing," she jokes.
Despite the unexpected nature of Judd's pre-meet ritual, she finds comfort in the rhythmic blues and its simplicity. The music may not be electrifying like the rap or pop that resonates in various rows of the bus, but it takes her back to her roots.
Roots in the form of her sister, who spent years practicing piano, whose replications and rehearsals of canonical pieces have left an indelible mark in Judd's mind. To that end, family has been an invisible string throughout her career, tying training, meets, celebrations and even college visits together.
"Megan is, without question, a big inspiration for our family," Judd's mother Jennifer Judd said. "She has always been  responsible, self-sufficient and self-motivated, so there's never been a time where we had to push her to go to practice or stay on top of her studies, and supporting her is easy—just showing up to watch her shine has been a joy for us."
Stepping off of the bus onto mist-fallen turf, Megan is hit by a gust of chilly air, leaving her with goosebumps and the reassurance of her teammates.
"There was definitely a lot of complaining going on, but, for the most part, we were all just still excited to be there," Megan said. "That's what I love about track: everyone wants to compete despite the conditions. It was so cold, but it was so fun."
A week later, Megan would compete at her final Coppell Relays, a home meet hosted by the school that has been her second home. In liminal moments outside of training, Judd picks up budding literature from victorian-era romances like Jane Austen's Pride and Prejudice to science fiction.
That is to say that she appreciates track as an addition to her life, something to embrace and enhance it, and it was that very sentiment that led her to commit to Dartmouth College in Hanover, N.H.
"At Dartmouth, there's more to life than just track," Megan said. "Track is a great addition to life, but they really prioritize enjoying the experience instead of focusing on winning. Winning is amazing, and it enhances everything, but it's not everything."
"
"When you get on the track, you become a number. Having that negative mindset pushed me to decide that it would be better to be enthusiastic about everything""
— Megan Judd
In contrast to the Jaguar Invitational's overcast skies and chilly weather, Coppell Relays looked as optimistic as Megan's performance. With the sun beaming against her skin and a light breeze picking up with each stride she made, she seemed to float on the high jump.
The bar, at 5 feet, 9 inches, was no obstacle for her, but rather a benchmark, an opportunity.
At her home field, enveloped by the love of her family and teammates, Megan picks up her Nike High Jump Spikes and presses into the brick-toned track. Fast seconds leading up to the record-setting jump slowed down as she twisted her body in the air, arching over the bar.
Her feet kicked up above her chest, and, for a moment or two, the shock turned into celebration.
Megan had set a new school record, one previously co-held by herself and fellow senior teammate Sky Schuller.
"I just wanted to have a great experience at my last Coppell Relays," Megan said. "I was never going to get an opportunity like this again, to set a record at my high school, so I was really pursuing it."
For her family, the moment was unlike any other.
"We were beyond proud and excited when she jumped at the Coppell Relays meet," Mrs. Judd said. "We have never cheered so loudly, and being there in that moment to see her years of hard work and dedication pay off was, in a word, breathtaking."
From the outside looking in, the scene is picture perfect. But Megan knows it was a deserved culmination of years of training.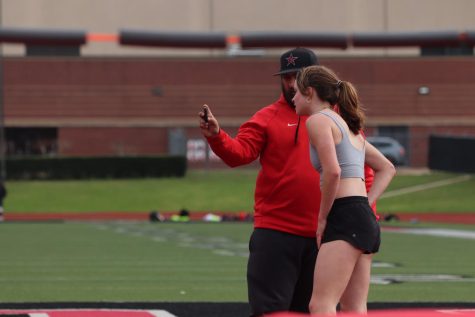 "Every single time at practice, [coach Zachary Gonzalez] is very meticulous, and he points out things I do wrong in a supportive way," Megan said. "I can feel myself getting better with every jump, and the general atmosphere of practice, both in high jump and in the sprints is just so positive, that it just felt like everything kind of culminated to that one moment."
From the pressures of previously being ranked No. 1 in the United States to the comparison that creates the foundation for track and field meets in the first place, Megan is a staunch proponent for positivity and trusting her training.
"When you get on the track, you become a number, and that number may be better than someone else's, but most of the time, it felt like I was worse," Megan said. "It was too much energy to constantly compare myself to other people, and, for a while, I felt a lot of pressure, even when I wasn't as good as I am now. Having that negative mindset pushed me to decide that it would be better to be enthusiastic about everything. At the end of the day, it's just a sport, it's something you're supposed to love, it's a thing you're supposed to cherish."
Through fervent friendships on the track and off the track, Megan has fostered connections that support and embolden her positive perspective.
"Megan and I have a great relationship in track because we push each other to do better and we are also each other's biggest supporters," Schuller said. "Cheering each other on between jumps and being able to joke around at practice with a friend has been critical to make sure practice and meets don't get too stressful and that we still love the sport."
And as one journey begins to come to a halt before another journey takes off in the Northeast, it is clear that Megan will put on her headphones and focus on the tune, taking one jump at a time, propelled by her unending love for the sport.
This story was originally published on Coppell Student Media on March 28, 2023.