Every hero has its origin story, and this Halloween hero's origin story began with a zombie. 13 years ago, Wayland resident Laurianne Bonadino saw a zombie woman decoration in Spirit Halloween and decided to display the decoration outside of her house. This one decoration ignited Bonadino's passion for Halloween decorating. Now, the exterior of her house boasts over 50 frightful decorations, establishing it as a must-visit Halloween stop for Wayland community members.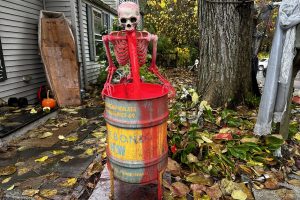 "Before that zombie, I was all about the classic Halloween decorations," Bonadino said. "Then I bought her and my house suddenly became the [spooky scene] that you see outside today. Every year, the decorations get bigger and scarier."
Halloween has always been an integral part of Bonadino's life. During her childhood, Bonadino remembers her father introducing her to the scary aspect of Halloween. Watching her father scare his friends with terrifying Halloween masks showed Bonadino that Halloween could be fun and scary at the same time.
"I've always loved Halloween," Bonadino said. "I love the dress up part. That was one of my favorite things [as a kid]. When I was young, I remember my dad always had these scary looking masks, and he and his friends would always try to scare each other, so I think it was him who got me into [Halloween's] scare factor."
Story continues below advertisement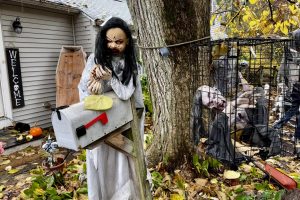 Utilizing post-Halloween sales, Bonadino and her fiancé, Sean Flanagan, try to stock up on half-priced decorations from Spirit Halloween. They purchase these sale items the day after the holiday to add to their decoration collection for years to come.
"We try to get the [decorations] as neat as we can downstairs, but [they] take up a lot of room," Flanagan said. "We're going to need to find a mini house to store it all."
Last year, Bonadino and Flanagan decided to embrace the continuous presence of Halloween decorations throughout the year as taking down all the decorations was a lot of work. Now, they customize their decorations year round to fit the respective holiday. They decorate the skeletons sitting in their front yard for holidays like St. Patrick's Day, Valentine's Day and Cinco de Mayo.
"I've always loved skeletons, and since we kept our skeleton guy out, I told [Flanagan] to dress him up according to the seasons," Bonadino said. "In the summer months, we dressed him up and put party hats on him for [my kids' birthdays] in July."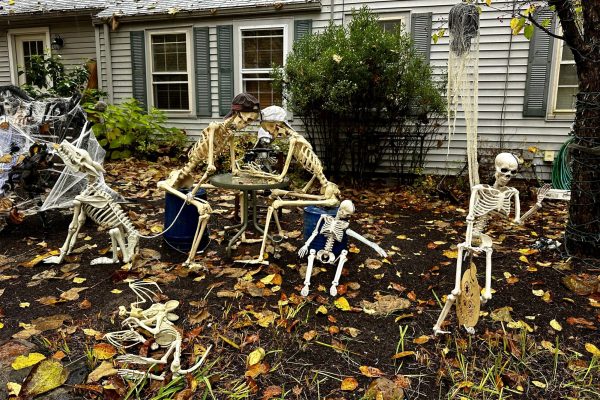 Although putting up over 50 decorations every year is a laborious task, Bonadino and Flanagan love the community's interactions with the house and find the work worth it when they see everyone's reactions.
"Each year we try to do something fun with our decorations," Flanagan said. "The little kids like our decorations and that's the best part. They'll come by and you'll see people in the yard posing for pictures and it's really cool to see the impact of our decorations."
In the Wayland community, Bonadino and Flanagan's Halloween decorations are seen as legendary.
"I was talking to this mom and son I had just met when I was out and she tells me her son loves Halloween," Bonadino says. "I say that I love Halloween too and that she should come by my house because I'm all about Halloween. I didn't even finish telling her about my house when she said, 'you don't happen to live on Route 30 in the corner just past Starbucks?' Those moments are the kind of thing that I get so excited about."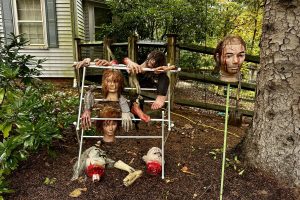 The Wayland community has shown their support and admiration of the house through heartfelt stories, awards and gift baskets. These gestures show Bonadino and Flanagan that their hard work does not go unnoticed.
"We came home today and there were gifts on the porch with little handwritten notes from kids saying [our house] is the scariest Halloween house," Flanagan said. "One year we got an award with a pumpkin gift basket and a skeleton."
Bonadino recalls a letter she received from a local commuter about her gratitude for their Halloween decorations.
"Last year, a woman gave us a card that said, 'I just wanted you to know we drive by every morning and when we're stuck in traffic, your house makes our morning so great,'" Bonadino said. "It's really amazing to hear because I just love decorating."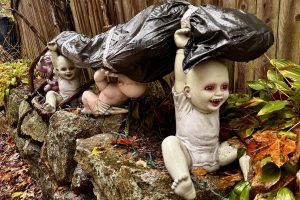 Behind the scenes, Bonadino and Flanagan begin planning the next year's Halloween decorations the day after the holiday passes, taking stock of the decorations they already have and brainstorming new themes to create. Bonadino and Flanagan always welcome decorations donated by the community as well.
"The day after Halloween, we're already thinking about next year's decorations," Bonadino said. "We'll try to use what we have and come up with different things. Last year, we did the babies on a tightrope and immediately thought [a circus would be perfect.]"
Due to the growing population of decorations at their house and community demand, Bonadino and Flanagan may create a haunted house through their backyard in the future. After hearing rumors that their house is haunted, the owners felt that creating a haunted house was more than appropriate.
"When I first moved here, my daughter said there was a ghost in her bedroom, but a nice ghost," Bonadino said. "A lot of people that have lived in Wayland their whole life have said that this house is haunted because it's from the 1800s."
Given the themes of gore and disturbing animatronics, Bonadino and Flanagan are surprised that younger age groups visit their house more often than teenagers and adults.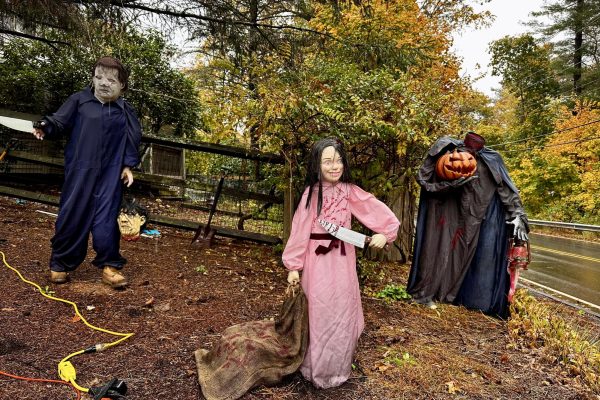 "I am shocked by how many young kids come to the house, especially some four-year-olds," Bonadino said. "They are obsessed [with Halloween] and the creepy dolls that we have set up in our yard. They love horror and jump-scares. Maybe they haven't been taught to be scared, which is good because this house should be plenty scary. You'd see this house in a horror movie."
There is no doubt in either Bonadino or Flanagan's mind that these Halloween decorations will go away anytime soon. The decorations serve as a creative outlet for the couple to express their love for Halloween and connect with the Wayland community.
"We will absolutely continue this Halloween tradition," Bonadino said. "I'll do this until we're done living in this house, and wherever we go I will do this at the next house. I will continue this tradition forever. It's so fun."
This story was originally published on Wayland Student Press on October 31, 2023.