An oppressive republic
On Sept. 16, 2022, Kurdish woman Mahsa Amini passed away in custody of the Iranian government. Amini had been arrested three days earlier for improperly wearing her hijab. Although Amini was only 21 years old, and her family denied knowing of any previous health conditions, the Islamic Republic of Iran claimed that her death was caused by heart failure.
Member of Speech and Debate senior Dana Zafarani has taken the last year to prioritize the voices of Iranians such as Amini through her speeches. Zafarani frequently focuses on women suspected to have been killed by the Iranian government.
"[Amini] died because she was beaten to death by the morality police at the Iranian detention center," Zafarani said. "[Her] family had to cover up her death with a lie."
Amini's case isn't the only one: many believe that teenager Armita Geravand was murdered for stepping onto a subway without a hijab on Oct. 1.
Story continues below advertisement
"It [had] been [reported] that [Geravand] was beaten up by the morality police. The Islamic Republic told her family to cover up with a lie. If they did not obey, they would be tortured [and] threatened," Zafarani said.
Due to her Persian ancestry, Zafarani holds a special place in her heart for the people of Iran. Any repression they face connects her passion for securing freedom for all with her love for Iran.
"The people of Iran are extremely brave," Zafarani said. "They are passionate about what they're saying when it comes to freedom [and] equality."
The Iranian government initially emerged through a revolution against progressive monarch Shah Mohammad Reza Pahlavi in 1978. The Shah's policy of Westernization had alienated many anti-Western or anti-autocracy Iranians, ranging from Islamists to communists.
Under the current government, elected representatives must first be approved by a Guardian Council; consequently, no Iranian woman has ever been permitted to run for president. Iranian officials were accused by the United Nations of many human rights violations, including their treatment of Amini. The UN called out Iran for violence against women and peaceful protestors while condemning the state for torturing Amini.
"I have family in Iran," Zafarani said. "They are affected by the government every day because [the Islamic Republic] changed Iran completely. Iran was once safe, and now it's life or death walking on [the] streets. Violence can happen whenever."
Jin, Jiyan, Azadî
Amini's death led many Iranians to take an active role in protesting their government. Chants of "Jin, Jiyan, Azadî" or "Woman, Life, Freedom" echoed during Amini's funeral, a moment that quickly became a movement. Acts of protest progress as citizens seek to prove that no amount of government backlash can silence them. This backlash has been intense; at least 530 protestors have been killed — seven by execution after being tried by the state — and over 20,000 have been arrested or detained by the government. However, the Iranian people have remained relentless. Women continue to uncover their hair in public and find small ways to protest, unwilling to let their voices be silenced.
The slogan remains a rallying cry for those seeking to support Iranian women. Its influence was amplified when Iranian songwriter Shervin Hajipour uploaded his song "Baraye," which centered around the slogan and became a viral protest. The song's lyrics are based on tweets from Iranians about the reasons why they protest. The song's title translates to 'because of,' meaning that it is because of reasons such as "the students and their future" and "my sister, your sister, our sisters" that Iranians do not tolerate their government.
"[Hajipour] created his own background, his own music, his own melody, and he made a story with the Iranian victims' tweets. I find it so creative of him to do that," Zafarani said.
"Baraye" won Hajipour the first-ever Grammy award in the Song for Social Change category — but with that came charges of anti-government propaganda from the Iranian government. Many believe that his subsequent claim that "Baraye" was not intended as a global political statement came under duress, and the song continues to be a powerful symbol for the "Woman, Life, Freedom" movement.
The Power of POI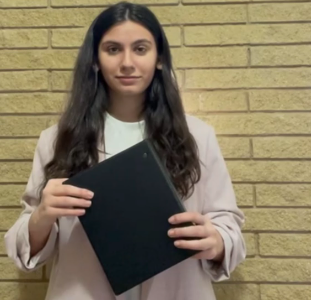 Whether on a Zoom call or in person, senior Dana Zafarani always brings her best for black binder interpretation events. (Dana Zafarani)
Program Oral Interpretation is a National Speech and Debate Association event requiring practitioners to synthesize different types of literature into a single piece centered around a thesis. POI (along with prose and poetry reading) is classified as a black binder event because the piece is read out of a black binder. Presenters must read their pieces before an audience while utilizing interpretive acting to make the piece cohesive and powerful.
Hajipour's song was a crucial part of Zafarani's Program Oral Interpretation piece during speech and debate season last year.
"Every performance of her POI, [Zafarani] would sing a certain part [of "Baraye"], and you [could] see the emotion. You [could] feel the emotion when she [was] singing, and that's super powerful," member of Speech and Debate sophomore Sravya Guda said.
Zafarani was drawn to the song due to a desire to protest in solidarity with Iranian women.
"[I sang Baraye] as a protester because so many protesters have been singing the song. It's been the national anthem for the movement. ['Baraye'] just shows the power of words, encouragement, passion and bravery. That is the anthem of battle," Zafarani said.
Interpretive events such as POI build soft skills in competitors, requiring them to make logical arguments and present emotional reactions through various points of view. An interpretive competitor may have to consider how a certain author or character would respond to a particular challenge or scenario. POI, in particular, requires bringing characters and perspectives from different pieces together into one, adding to the level of intricacy.
"In order to craft a compelling performance, you need to step into various characters' shoes and think deeply about how they might see, interpret and interact with the world around them. It requires a great deal of humility and selflessness — getting your own ego out of the way and focusing on the stories that communicate your argument," Parkway West alum and former Speech and Debate captain Paige Matthys-Pearce said.
"Baraye" was a great fit for a POI due to its human nature. The focus on the personal reasons people had to protest brought power to the song and to the piece.
"POI brings a strong emphasis on the humanity behind the topic. In the news, we often see statistics, reports and distanced opinions, but [reporters] don't [focus on] people's personal stories and innermost thoughts about a situation they're living in. POI reverses that by putting the personal stories upfront. POI often breaks the silence [and] voices the stories that have gone unheard for too long," Matthys-Pearce said.
The personal nature of POI allows for greater creativity and richer storytelling. The breadth of sources available unlocks greater creative freedom.
"POI gives me the opportunity to envision a story that I want to tell my audience. But mostly, it's a story that I'm giving myself. It's what I love doing. It doesn't have to be given towards an audience, but I just love the idea of creating a story through poetry [and] through different resources, [creating] what I love. It means [opening] the door to freedom and creativity," Zafarani said.
Zafarani uses her pieces to advocate freedom for all women through the lens of oppression in Iran. The Iranian struggle for liberty brings parallels that can be drawn elsewhere and used to empower others.
"[My POI this year will be about] the idea of freedom; not just Amini but the general concept of Amini and the idea of the Barbie stereotype, how women are treated as Barbie dolls, and how they're told what to wear and what not to wear. [The piece will be] for the world, for every woman," Zafarani said.
Zafarani's personality amplifies her empowering message. Her empathy and courage have made a lasting impression on others.
"[Zafarani] cares so much about her community and the world, and she clearly puts that care into her performances. She doesn't just do what she loves; she puts in the effort to keep growing her skills and using them for good," Matthys-Pearce said.
There is a strong tradition of POI presenters in the debate team, where new presenters are frequently drawn in by observing veterans. Zafarani's engaging performances of POI have continued this tradition by enticing underclassmen to give the event a try.
"[Zafarani] is honestly amazing. She puts so much effort into her motion when she's presenting. [Zafarani] definitely made me want to try [POI]," Guda said.
Zafarani's POI pieces have an undercurrent of longing for a future where all people are free. The urgency of this longing grants her pieces their power. Similarly, the people of Iran continue to demonstrate when they can, to go out without wearing hijab if they think they can manage it, to protest and fight their government at every opportunity, powered by a shared belief that no one can keep them down indefinitely.
"I see this ending with equality winning, with freedom winning. I know that we have been fighting for this for over 40 years, and it is a constant war. I know that the Islamic Republic will be overthrown someday, but it won't happen without the continuous protests, the continuous standing up. Iran before the [Republic] was all family. Whether you knew them or not, [everybody] would act as your family. I still look forward to [one day] walking the streets with my cousins and [being able to] dance and dance and sing out my heart," Zafarani said.
This story was originally published on Pathfinder on November 14, 2023.