Dynamic duet delivers live music, future hope right to your doorstep
Tired of incessant practice during COVID quarantine, junior violinists take their show to music lovers' backyards and raise funds for charitable causes
By Kate Boyle, McCallum High School
October 16, 2020
Beethoven, "Moon River," and "Amazing Grace" are heard from Beth Martinez's backyard. Her 87-year-old mother has been missing out on her trips to the symphony since COVID started, and juniors Lucy Hamre and Ileana Nicholson have found the perfect way to bring the symphony into people's yards.
The project is called doorsteps duets, where Hamre and Nicholson play socially distanced performances in people's yards. They play a range of music from songs that everyone knows like the Beatles or Louis Armstrong's "What a Wonderful World" to classical music.
These performances are donation-based and in just two weeks they raised over $1,000 for organizations including Mobile Loaves and Fishes, Austin Justice Coalition, CASA of Travis County and the Austin Symphony Orchestra.
"Over quarantine there was a really strong sense of activism between young people," Nicholson said. "It just felt really fitting that we do something that has monetary value to help organizations."
For Hamre, she had been seeing all these petitions to sign online and places to make donations to.
"It felt really difficult because I can't vote for any of that stuff. I didn't have the money to help the causes, so this was a nice way to use something that I have a skill for and I enjoy doing to kind of combine things that I was passionate about with helping."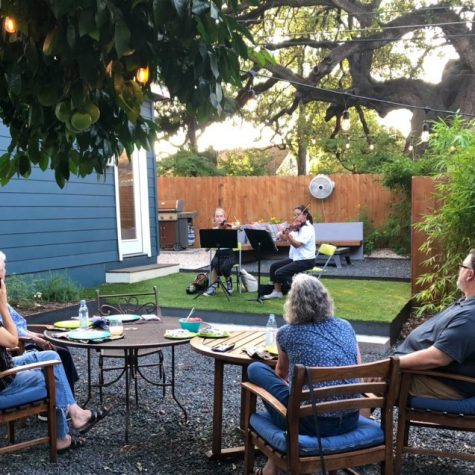 The performances are for those who are staying at home. The audience stays 12 feet away from Hamre and Nicholson at all times, and masks are worn before and after the performances.
Hamre came up with the idea. She's been playing the violin for 10 years, and practicing during quarantine without a performance to look forward to started to get boring. Friends of hers were teaching violin during this time, but teaching isn't really her strong suit when it comes to violin. She partnered up with Nicholson and soon they were putting together their doorstep duets.
One of their favorite performances was for Beth Martinez and her mother. They said that they saw how touched she was and thought that that was something special. Martinez said that her mother's been missing out on many of the joys in her life because of COVID, which includes her regular subscription to the symphony.
"It was so moving to see these girls using their talents to raise money for such important causes to our community, especially during these divisive times," Martinez said, "The girls not only brought us the joy of live music – they brought us hope for the future."
The joy of live music and hope for the future is what Hamre and Nicholson have been bringing into these backyards, and they hope to do so for as long as quarantine lasts.
This story was originally published on The Shield Online on October 12, 2020.