Over 15,000 acres burned, over 70,000 residents were evacuated, and sheets of ash blanketed cities throughout Orange County due to the Blue Ridge and Silverado fires this week.
The city of Brea issued a voluntary evacuation order in Carbon Canyon, just east of Brea Hills, on Oct. 26, due to the Blue Ridge Fire. A few hours later, the city called for a mandatory evacuation for the area, including the Olinda Village and Hollydale neighborhoods. 
Residents were allowed to re-enter their homes on Oct. 28.
During the evacuation, many Brea residents fled their homes to seek shelter, unsure of how long the fires would burn. But on Oct. 29, mandatory and voluntary evacuations in Brea were lifted after the fire reached 30% containment, and was no longer a threat to local homes.
Story continues below advertisement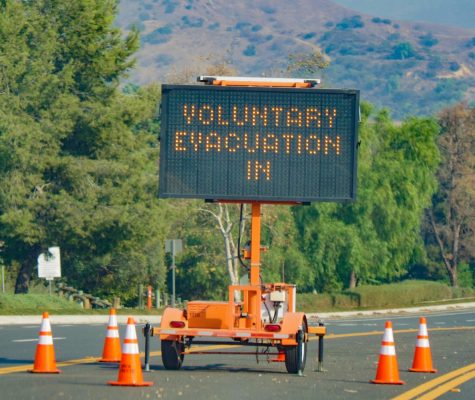 Alicia LeDoux, junior, was one of many Brea residents who had to leave their homes in the mandatory evacuation. "My mom woke me up around 1 a.m., and we just brought necessities like clothes and my cats, but I didn't really have any time to grab anything, LeDoux said. "The only thoughts going through my mind were that I really do hope the fire doesn't…burn my house down."
Some BOHS teachers, like Jennifer Collier, math teacher, opened their homes to family and friends who were evacuated. "My parents stayed in their house until 8 p.m. on Monday when a police officer knocked on their door and said they had to leave. They came to my house to stay for two days. Their streets were blocked by police and they would not let anyone in," Collier said. 
Bailey Rivera, senior, was working at Home Depot while the fire blazed just a few miles away. The building had to keep their doors closed due to the severe smoke and ash falling from the sky. Rivera noted that a lot of customers were buying emergency equipment like fire extinguishers and hoses. 
Yorba Linda residents and BOHS students Brooklyn Kame and Karis Choi, sophomores, did not receive a mandatory evacuation notice because they lived outside of the mandatory evacuation border; however, their families still packed necessities just in case the Blue Ridge Fire endangered their homes. 
The fire reached Yorba Linda High School freshman Iliana Perkins's backyard. "It was stressful because my mom, sister, brother, dog, and I had to go to my grandma's, and we had to evacuate because the police knocked heavily on my door," Perkins said. The family attempted to return to their home, but they were prevented by the police. When they returned home, they discovered that their entire pool was filled with ash, and the strong odor of smoke filled their home.
"
The only thoughts going through my mind were that I really do hope the fire doesn't…burn my house down.
— Alicia LeDoux, junior
Although the Blue Ridge and Irvine's Silverado fires have destroyed 15,000 acres of land, houses that were miles away were still affected by the ash and poor air quality.
Because of smoke from the Blue Ridge fire, BOHS had an asynchronous learning day on Oct. 27 with all BOHS Hybrid B group students staying at home.
Many teachers did not conduct a Zoom class on Oct. 27 due to some students unable to attend because of the evacuations. 
The air quality caused all sports to be canceled for the week. 
Irvine residents like Joy Bae, freshman, had a mandatory evacuation forcing people to stay with friends or at a local evacuation center. Smoke and blazes could be seen from Irvine schools and homes, and strong winds made the 15,000 acre fire difficult to stem for firefighters from cities all over Orange County. The Silverado Fire is currently 40% contained and no longer threatens Irvine neighborhoods and businesses. 
With the Blue Ridge Fire partially contained at 30%, BOHS students and staff were allowed to return to school on Oct. 28 to continue hybrid learning. 
This story was originally published on The Wildcat on October 30, 2020.