Senior Thomas Bigler relaxed his joints as he entered the upstairs shower, exhausted from a lacrosse battle in Kansas City. He fixed his focus on the relieving streams of water trickling down from the faucet, and thoughts of the looming admittance results from the Massachusetts Institute of Technology (MIT) did not drill into his mind.
Downstairs, parents Stacy and Sean Bigler waited for their son to launch into a series of excitable shrieks as a sign of his dream college's decision. Yet, as they heard the water falter to a few isolated drips and the door to their son's room close, no sounds permeated throughout the house.
Instead, both of their phones lit up.
"We were nervous and anxious and excited," Sean said. "There's no hooping, no hollering. Both our phones then go off. We look at our phones, and it's a screenshot of his acceptance letter with a message that said, 'I'm kind of tired, going to take a nap.' Of course, we're hooping and hollering, and we're excited. But it's pretty emotional. We were obviously very proud."
Story continues below advertisement
Out of the record 33,000 applicants, Thomas secured one of the limited 1,300 spots available. For years, he has dreamed of attending college in Cambridge, Massachusetts, to pursue aeronautical and astronautical engineering (operating with and building rockets and planes inside and outside the Earth's atmosphere). However, despite being accepted in mid-March, Thomas thought hard about whether to enroll in MIT and considered his options.
"I was shocked when I saw the acceptance letter, I wasn't really expecting to be accepted into MIT, and I was focused on the schools I got into, like Georgia Tech, Michigan and Purdue," Thomas said. "Once I got accepted, I had to figure a few logistics out like how am I going to pay for it, if I want to be there because of distance and if it was going to be right for me. I did more looking into it online, and now I'm really excited. I think it's going to be the best place for me."
These logistics led Thomas to finalize his decision more than a month after receiving his letter of acceptance, with his family serving as a support system during that time.
"He wanted to be an engineer for years," Sean said. "I told him, listen, it doesn't matter where you get in, it matters where you can pay for it to get in. He was able to apply to a lot of places with a great resume. When writing essays, I helped him with verbiage, clarity of idea and different advice. We just worked on it together, and I was really there to be behind him for advice, wisdom and support. Ultimately, it was his decision to decide where he wanted to apply and what path he would choose."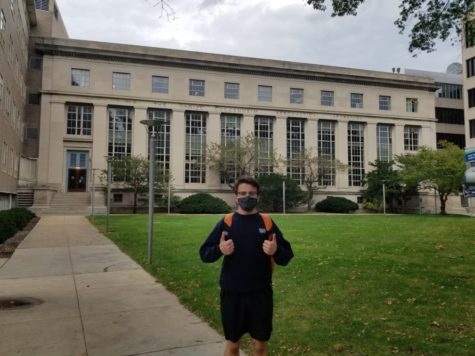 Now, Thomas looks to begin working in the aeronautical and astronautical fields at one of the best engineering programs in the world. The military will help pay for his exploration of different career paths, requiring four years of active duty service and one year of reserve service once he graduates from MIT. However, Thomas is currently focused on finding what engineering field is right for him.
"There's a lot of focused paths to go," Thomas said. "You can look at rockets: how it's shaped, how to reduce air resistance, and on the other hand, you can look at what can I build the rocket out of to make it the lightest and most cost efficient. There's also chemical engineering: making rocket fuel, one that can be burned faster or more powerful. There's a lot of different aspects that go together under the major. Right now, I'm not sure which one I'm looking at, but I'm going to take my time to see what interests me the most and go from there."
Although he's able to attend his dream college, this will come as a bittersweet change for the family that has supported his decisions and college process for the past year.
"We're excited and proud he's going somewhere where he's happy," Sean said. "Obviously, it's far away, and that comes with its own challenges and sadness, but we recognize he's really going off. He's really going to be on his own. On the one hand, we're excited for the opportunities he's going to have, but as a parent it's difficult, too."
Thomas is now setting his sights on the opportunities that have resulted from his hard work over the course of high school and is still focused on finishing his academic career at Millard West strong.
"It's kind of like the initial excitement and shock has subsided a bit, and now I'm more logistically focused on paying for it and what I should be ready for," Thomas said. "I'm in a little bit of a lull right now because of still focusing on school. I know as school ends and as fall comes, I'm going to be to the moon. I'm going to be so happy. I'm excited to go to college in general, let alone to be able to go to MIT, the top school I could possibly dream of getting into. These opportunities have just been lining themselves up for a great college experience."
Though uncertain at times, Thomas's journey to his acceptance of MIT's offer has concluded. Next fall, he will pursue his aerospace engineering goals at one of the most prestigious programs in the world and leave Millard West at the end of May with a future brighter than the stars.
This story was originally published on The Catalyst on May 11, 2021.