Students Raise Concerns Over Student Resource Officers
Since the murder of George Floyd in the spring of 2020, the Black Lives Matter movement has pushed for a re-evaluation of the systems intended to keep us safe. While traditional police officers were the focus of examination, Student Resource Officers (SROs) were also analyzed.
Kennedy student leaders Rahma and Raafa Elsheikh presented demands to the school board on July 13, 2020 about initiatives that would increase the quality of life for students of color in the Cedar Rapids Community Schools District (CRCSD). One of the requests was a removal of SROs in all CRCSD schools.
"It is no secret that Black people are systematically oppressed in the criminal justice system, in healthcare, and arguably most importantly education," Rahma Elsheikh, sr., said. "The CRCSD is not immune to this, nor has it been thus far what I'd like to say completely supportive of its Black students."
Despite these demands, the CRCSD is partnered with the Cedar Rapids Police Department. Superintendent Noreen Bush advocates for community discussions surrounding the relationship between the CRCSD and the CRPD as a support system for students in need.
"I'm a big believer in doing things together as a community with a common vision and supporting our kids together," Bush said. "When things live in compartmentalization and isolation, things live in a vacuum that way."
SRO involvement in schools means students can be legally prosecuted for illegal acts. Teachers are not qualified or trained to enforce the law.
"We are the education experts. We are the social and emotional learning experts. We are not law enforcement," Bush said.
Students facing punishment for illegal and violent crimes are not the biggest concern. Minority students are frequently arrested for nonviolent crimes, contributing to the school-to-prison pipeline where students are incarcerated and left without future opportunities.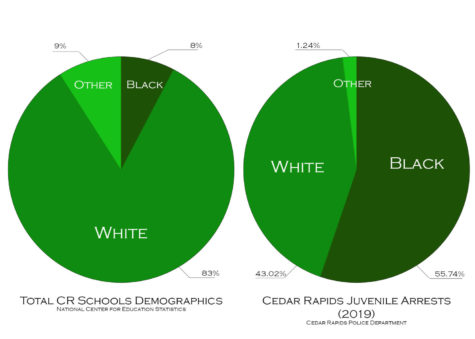 The Des Moines Public Schools (DMPS) found a similar issue when evaluating their SRO program. In early 2021, the Des Moines School District made the decision to remove SROs from all campuses. After looking at extensive data, the district decided mental health services would be better at stopping violence than spending around a million dollars on police officers.
"If you look at national data, there isn't any data that says SROs make schools 'safer.' The perception is that they do, and that's the narrative that mostly exists; SROs make schools inherently safer," Jake Troja, Director of School Climate Transformation in Des Moines School District, said.
The main push for this change in the DMPS was the Black Lives Matter movement. Student leaders saw minority communities disproportionately affected by SROs. After bringing the issue to the parent board, they decided the administration should make the final call.
"I'm not blaming the police officer on campus for that disproportionate outcome," Troja said. "I'm blaming the system we created in Des Moines Public Schools and the adults within that system that used the SRO tool inappropriately."
Nationally, statistics show policing and punishment hurts marginalized communities. Students across the United States are facing discriminatory incarceration.
"Fueled by zero-tolerance policies and the presence of police officers in schools … these excessive practices have resulted in the suspensions, expulsions, and arrests of tens of millions of public school students, especially students of color and those with disabilities or who identify as LGBT," the National Education Association posted on their website.
The DMPS turned to mental health, redirecting funds from SROs. Mental health is a preventative measure to avoid violence, but is not necessarily a full solution.
"We started going through these ideas and it led to the conclusion that we're inappropriately using SROs, disproportionately marginalizing students and no evidence suggests nationally that SROs provide safety to stop school students or disarm kids, so what are we spending a million dollars on?" Troja said.
This story was originally published on Kennedy Torch on May 20, 2021.