Golden girls: CHS offers girls' wrestling opportunities
Carlisle has joined the herd of schools and states across the nation to recognize girls wrestling as a sport, giving young women from grades K-12 the opportunity to excel in a sport that in the past hasn't shown much love to women.
However, now is a different story. Women's wrestling is one of the fastest-growing sports in the country and isn't slowing any time soon. Just take 5-time world and Olympic champion Jordan Burroughs' take on it:
If this last month hasn't inspired you to get your daughters into wrestling I don't know what will. All of the Burroughs girls will at the very least try wrestling. The most exciting part is that now more than ever, their wrestling heroes can be women. 🙌🏾🇺🇸

— Jordan Burroughs (@alliseeisgold) August 20, 2021
Two weeks into the Thundering Herd program, 18 girls have participated in workouts with head coach Vincent (Vinny) Anceravage. This is Coach Anceravage's first year coaching a women's team; he was previously an assistant coach at  Shippensburg University for 3 seasons.
Anceravage also had great success as a wrestler himself; he was a four-time PIAA state qualifier where he was a state runner-up his senior season. He then went on to wrestle at Shippensburg University.
"It's an amazing honor [to be the first women's coach in program history]," Anceravage said. "Girls wrestling is a growing sport, especially after such a great showing at the Olympics from our American women these young athletes look up to. It's amazing to get the program at Carlisle started."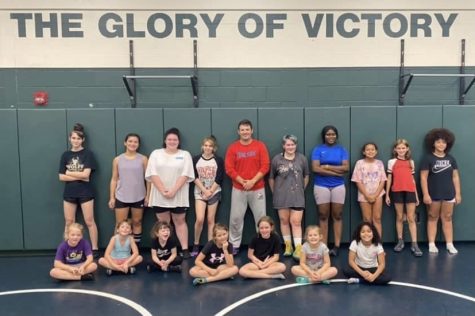 Anceravage was extremely eager to get things started when he was reached out to about the position. "This is something that I have been thinking about for a little over a year," Anceravage said.  "So thankfully Coach Wilson (head boys coach) reached out to me to get this started."
The main goal of the sport is to work towards equal opportunity and representation in the sport, one known for teaching life lessons such as determination, respect, and comradery. The girls on the team are just as excited as Coach Anceravage is.
Freshman Tobin Gross said, "It is such an honor to be a part of this first girls wrestling team at Carlisle […] I'm excited to learn how to defend myself and for the girls to get as much recognition as the guys."
Freshman Arelis Weaver agreed.
"This is something very important to me. I always loved wrestling and I'm excited for the opportunity to make new friends and do something that I love."
High school girls aren't the only ones getting in on the action; there are 13 young women in K-8 grade ready to compete, including Anceravage's daughter, Julia (1st grader).
"It's amazing it wasn't something I was going to make her do and she's doing very well," Anceravage said.  "I'm just excited to be able to teach her and the other girls here the values and life lessons that I learned in my 27 years of wrestling experience."
Although Pennsylvania is notoriously the best wrestling state in the country, the PIAA has yet to sanction girls wrestling as a sport.
"Pennsylvania has the best wrestling in the country and our girls are starting to become a national power too," head boys wrestling coach Joe Wilson said. "We have a good program with great young women that we want competing for a PIAA state title."
This story was originally published on Periscope on September 21, 2021.