The college conundrum
For some students, their high school years become a balancing act between their interests and what they believe colleges want from them.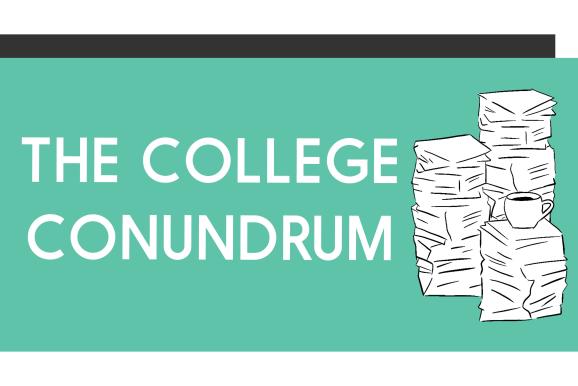 You fill with dread as your alarm blares repeatedly. Under the heap of honors homework and AP review books, you groggily reach out your hand to find your phone: 8:47 a.m. You feel panic threatening to curl up your insides. Last night you struggled to prioritize studying for three tests. After missing first period, you walk into your math class for a quiz, and your mind can't focus. It ricochets from thought to thought: when will I have time to study for the SAT and AP exams? I have a game tonight. I'm going to fail all of these tests. By the end of the day, you are so overwhelmed and fatigued by your responsibilities that you can only fall asleep, making it so you will be even further behind tomorrow.
High school is a busy time, marked by the stress of balancing a myriad of activities. When looming college applications are thrown into the mix, many students are unsure of where to start. This pressure is one many high schoolers will face, often with it starting before they even step foot into high school. The stress of building a good resume to perfect their college application can be an all-consuming focus that controls students' lives.
Student Stress
---
A multitude of factors including challenging course loads, extracurricular participation and a culture of competitive excellence at West converge to make the college application process a major stressor for students. Additionally, students are tasked with dividing their time in a way that allows them to follow their passions, but also pursue activities which colleges will approve of.
Maggy Owens '22 is one such student who finds striking such a balance challenging.
"It does get a bit stressful because I feel like I want to do all of this stuff just to make me look better on the applications, but there's just not enough time in a day. I burn out really quickly," Owens said.
Owens' schedule includes several AP classes and extracurriculars, such as Theatre West and a mental health club she founded. On top of that, she also works a part-time job and is preparing for the ACT. Even though Owens is interested in many of her chosen classes and activities, she also believes they are important to show colleges she is a well-rounded student. Still, she is concerned that this list may not be long enough.
"I just feel like I'm running out of time, and I haven't done enough at West and I just won't look good on the college applications," Owens said. "So as a senior, I feel like I've wasted all that time."
Similar to Owens, Matthew Bedell '24 worries about future regret.
"The most stressful part about it is if you didn't [do] enough or [have] regrets [about] what you could have done better … because it's not really anything you can change at that point," Bedell said.
With a motto of "Where Excellence is a Tradition," the competitive environment at West, where comparison with peers is commonplace, can be a catalyst of student angst.
"You hear kids around you all the time talking about these scholarships they've done outside of school, activities and programs and things that they're the leaders of, and I don't know if I've done enough of those things," said Amira Qidwai '22.
Qidwai is planning to study international relations and has focused on taking higher-level social studies classes throughout high school. While she is confident that she has shown proficiency in this area, she is still worried about staying on the same level as her classmates.
"I haven't taken any AP math courses or science courses which kind of gets to the heart of the issues at West because people would say those are the hardest ones and that you weren't really in that high-level AP group unless you're taking AP Chemistry, AP Calc or something," Qidwai said.
AP English Literature teacher Nate Frese has taught at West for 23 years. He has frequently witnessed students taking on more than they can manage and the costs of becoming overloaded with work.
"I think you have to almost [become overwhelmed] to realize that [you] can't be everything to everyone all the time, and especially to yourself. It's okay not to have 15 things on your plate and not be working towards this kind of uber child all the time," Frese said.
As college become even costlier, with students weighed down by thousands of dollars in debt upon graduation, applying for scholarships is another key part of the college process.
Josie Schwartz '25 is already worried about the cost of college. Even with the prospect of a reduced price of attending her dream school, Mount Holyoke, it's still too expensive.
"Is it worth it to go to a college that might make me broke for the rest of my life?" Schwartz said.
Seeking out scholarships can be yet another element that heightens student stress, as is the case for Jade Ritchey '22.
"You've got to write an essay [for scholarships], you got all these other things and I don't even know where to turn and where to look," Ritchey said. "I don't want to go through the mental battle of it every time on top of APs and my other classes that I need to get done."
Students are also burdened by how impactful choosing a college and major can be. Having to both select an institution which best suits their needs and decide a discipline of study can overwhelm students, who fear they could make the wrong decision.
"I feel like just jumping into a totally different environment with no direction would not be good for me," Ritchey said. "I don't want to waste money taking classes and things [to] end up finding out my junior [or] senior year of college that this is not what I want to do with my life."
Choosing a college has been difficult for Owens, who is deciding between the University of Iowa and the University of Northern Iowa. Planning to major in psychology, she has found both of the colleges' programs impressive and is concerned she will choose incorrectly.
"I'm just terrified I'm going to make the wrong choice," Owens said. "[I] wish I had somebody there to just push the button for me and tell me which one it will impact my future in the most positive way."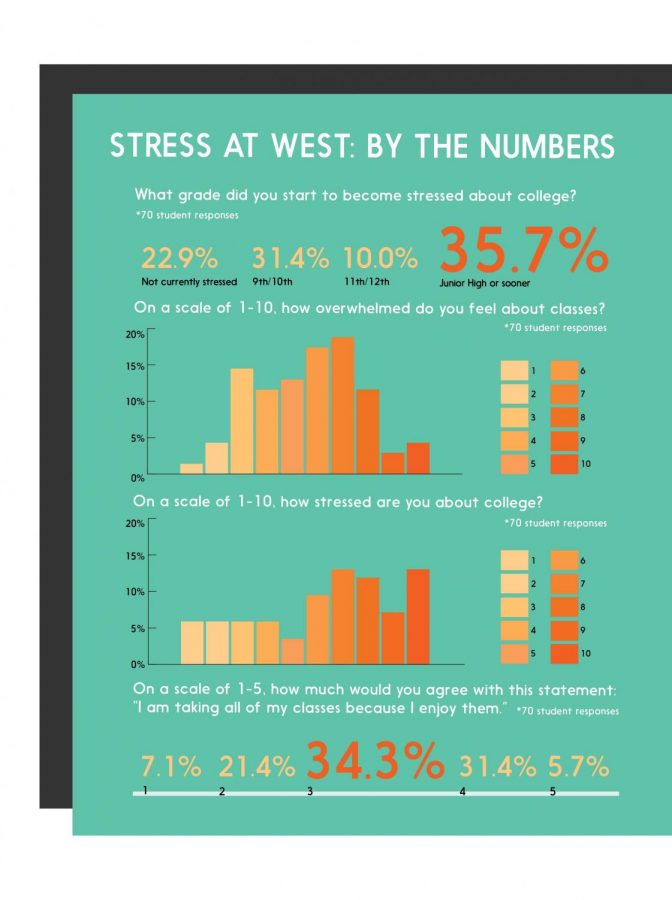 School Stigma
---
While deciding which colleges best fit them, many students feel stigma and pressure surrounding attending certain institutions, whether that be a community college, state school or more selective university.
Some at West voice the sentiment of wanting to get out of Iowa. West alum Amy Liao '21, who studies at Northwestern University, knew college was her chance.
"I've always wanted to get out of Iowa. I wanted to go somewhere where the environment would be different so I could have new experiences," Liao said.
Frese acknowledges the culture around certain schools at West.
"I've definitely noticed more students that kind of fall into that camp of 'why would I stay here? I've grown up here' or 'this isn't a big enough name,'" Frese said.
He instead urges students not to simply cross off the University of Iowa because it is the "hometown school" but to instead be more investigative.
For some, family expectations include attending a nationally ranked university. This is the case for Mayasa Hamid '23, a student who will be the first in her immediate family to attend college.
"Educational success is a really big part of our culture, which makes sense because my dad works a night shift … in the times that he's supposed to be sleeping. He doesn't want that for me, and I don't want that for me," Hamid said. "There is a cultural stress on my back, but also I want to be better for my parents and my sisters … to show them that anything is possible."
"
There is a cultural stress on my back, but also I want to be better for my parents and my sisters … to show them that anything is possible."
— Mayasa Hamid '23
Hamid also hopes to attend a prestigious college to fulfill her longtime dream of becoming a heart surgeon. At the top of her list is John Hopkins University and its renowned medical program.
Similarly to Hamid, Liao was influenced by her parents to attend a top tier university. Now, she understands that prestige isn't the most important factor a college has to offer.
"I realized that college is not all about prestige and location, you actually have to look at the quality of the programs that they have," Liao said. "If the college offers you reputation, but it doesn't actually benefit your education and your career, then there's no point."
Qidwai believes there is a lack of information at West addressing the variety of options students can pursue after high school that aren't the standard course of attending a four-year university.
"Sometimes I talk to kids who are talking about going to Kirkwood or talking about other options … and I'm like, 'Wow, you really got out of the mindset they've been pushing on us,'" Qidwai said. "I just think that it's kind of amazing to see kids who are taking this total opposite path they really did not make clear to us at all."
West alum Perla Dubon '21, who attends Kirkwood Community College, is an example of a student who has taken such a path.
"I love seeing all the diversity and people from different cultures there," Dubon said. "[My] teachers have been so supportive of others and look out for everyone. So have been the students … This was totally [the] college experience I have been looking for."
Application Advice
---
According to an email from the West Guidance Department, the college process varies greatly from student to student, but usually requires transcripts, standardized test scores, letters of recommendation and personal essays. The Guidance Department advises that students submit applications to between four to seven schools, with a few being "reach" schools, some priority schools and a few safeties. Programs such as the Common Application can make applying to multiple schools more efficient.
With the personal statement essay being very open-ended, the endless topic possibilities can be overwhelming.
"How far do I go into detail and what do I write about?" Hamid said. "I don't know where to start."
In his AP Literature class, Frese walks his students through how to approach writing personal essays for college applications. His main tips revolve around staying genuine, telling a true story and focusing on a few important qualities.
"What do you want the admissions officer to know about you when they're done with this essay?" Frese said. "I would tell students to be yourself and really focus on what is the thing that doesn't show up in the rest of the application that you want them to know about you and
make that your core focus."
Frese acknowledges that approaching such an essay can be difficult, especially if one isn't a confident writer. He suggests reading other people's successful application essays for inspiration and playing around with different styles.
"[Schools] want to see a variety, and they don't want to read the same thing over and over again," Frese said.
Guidance counselors are also a great resource throughout the college application process. They can help students devise a plan that best suits their needs.
"Many students believe that if they take a lot of AP classes, get a good ACT/SAT score, and do some volunteer work, that is their ticket into college. While that may be true for some, it is not always true for others. There is no formula to guarantee admission," the guidance department wrote. "Take challenging courses in areas you're interested in, get involved in things you love, and work hard."
Liao advises students to get started on the college application process early and not get hung up on the name or prestige of the college that accepts them.
"The number one thing, if there's anything that's going to negatively impact your application, is waiting to start it. But the stress, it's not worth it," Liao said. "What colleges you got into and didn't get into … genuinely says very little about you as a person."
"
What colleges you got into and didn't get into … genuinely says very little about you as a person.""
— Amy Liao '21
This story was originally published on West Side Story on October 5, 2021.