Moving to the US from Brazil
Marina Santos, sophomore, moved from Brazil to North Liberty, IA in 2020.
Marina Santos, sophomore, moved from São Paulo, Brazil to the US in August 2020 due to a new job her dad had gotten here in North Liberty. After 14 years in Brazil, Santos moved halfway around the world and was understandably both excited and anxious. Initially the move to a smaller US city town was a cultural and social shock, but she soon came into her own.
When she learned she was moving to Iowa, she was devastated.
"I literally did not know Iowa was a thing. I got really sad because I was going to miss my family and friends. [There's] just such a huge difference between living in such a huge city [like São Paulo] and living in Iowa," said Santos.
Before moving to the US, Santos lived in many different cities within Brazil. However, she spent the most time in São Paulo. São Paulo is the 5th largest city in the world according to US News. Reports of the city's population vary from 12-40 million people. Needless to say it is very different from North Liberty, Iowa with a population of about 20,000.
"[São Paulo is] a really big city. It has different things [to do] every weekend. There is much less to do [in North Liberty] in comparison… There is a ton of traffic in São Paulo… [São Paulo] is so big there are regions inside it. It is completely different depending on the region you live in," said Santos.
Making the transition between living in São Paulo to living in North Liberty was difficult for Santos. However, she had a few advantages, one being that she already knew English.
"My school [in Brazil] was bilingual so we had English classes every day… I have been speaking English since I was 9 and I think my school helped me a lot because I had contact with the language every day… I don't think I have [dealt with] any language barriers," said Santos.
Even so, one of the biggest adjustments Santos experienced when moving to the US was speaking English most of the time.
"The biggest shock has been the language… It's still easier for me to speak Portuguese… and sometimes I mess up the words in English," said Santos.
An additional culture shock Marina experienced was the difference between social norms surrounding friendship in the US vs. Brazil.
"I feel that latino people are closer to each other in their relationships than here, [in the US]. I used to be really really close [with my friends], touching and hugging [them] all the time. I think [in the US] people are more individual. I don't hug my friends [in the US]. But [in Brazil] when we meet in person we just hug them because that's how things are," said Santos.
A further cultural difference Santos had to adjust to was the difference between education in the US and Brazil.
"We didn't have AP classes in Brazil, but, at least in my school, normal classes were hard. We basically only took AP classes… However, in Brazil [the difficulty of your classes] depends on if you go to public or private school," said Santos.
Another difference between school in the US and Santos's private school in Brazil is that in Brazil she was not able to choose any of the classes she took. They were all predetermined. However, at Liberty, she has been able to further explore her interests, one being art. Last year, Marina's sophomore year, she took a drawing class. This year she is taking AP Art.
"Marina definitely likes drawing. She's good at it and she also really likes to learn, so she is a fun student to have because she's very coachable. She's looking to learn and listen," said Mrs. Saylor, Art Department.
Another difference between schools in the US and schools in Brazil is that schools in the US have extracurricular activities that are associated/run by the school. However, in Brazil, as in most countries, extracurriculars are not associated with school. Thus, the American way can often be romanticized. Though she had been to the US several times (to Florida, Disney World, Miami, New Orleans, Atlanta, Chicago, New York, Washington DC), most of Marina's notions of American high schools were based on movies and other media.
"The things I imagined [about American high school] were [based on] what I had seen in movies. I thought there were popular cheerleaders and football players which is not really true and I thought the food was going to be only junk food and I [do] think that's kind of true," said Santos.
This depiction of American schools was one of many things that influenced Santos to join cheer at Liberty. However, the experience of being on the cheer team is not exactly like it is in the movies.
"Cheer is really fun and it's somewhat what I expected it to be. The jumps, stunts, and uniforms are just like in the movies. However, the people and the team in general are much better in real life," said Santos.
Marina has met many friends through cheer, one of them being Rosie Terry, sophomore.
"I met Marina through cheer last school year but we didn't really become close until this year," said Terry.
Many people, even those who know Santos well, don't initially know she is from Brazil. This is due  to Santos' well practiced English and how well Santos has acclimated to life in Iowa despite the initial adjustment period. Terry only recently found out Santos is from Brazil.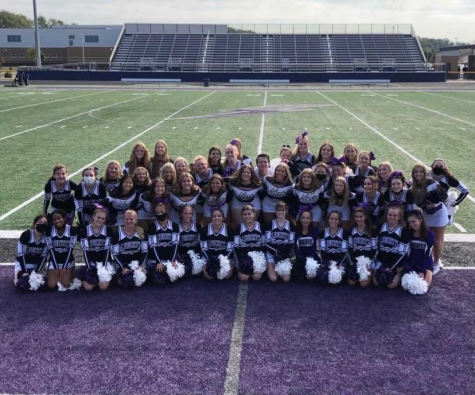 "I actually didn't know that she was from Brazil until this year. It was definitely a shock and I felt embarrassed I hadn't known sooner. I could tell she had a little bit of an accent and I knew that she had moved here from somewhere I just wasn't really sure where," said Terry.
When people find out Santos is from Brazil they are usually very enthused and interested to learn about her time there.
"I think the others on the cheer team were excited [when they learned Marina is from Brazil] because a lot of us have met immigrants who have come to the US but not many from South America…  we don't hear about the cultural differences between countries unless we or someone we know has experienced it first hand," said Terry.
Santos is also a competitive dancer at Nolte Academy. She takes classes in ballet, jazz, musical, and lyrical dances. She did dance in Brazil and looked for a way to continue doing so in Iowa.
Santos's experience with dance also has helped her in cheer.
"She brings a lot to cheer because she is also a dancer. It's really helpful for us when learning new dances because she learns it so fast that she can help anyone get it down," said Terry.
While the move from Brazil to North Liberty was initially challenging for Santos, she has found her place, participating in the whole spectrum of Liberty High activities from engaging classes, to cheer, and even contributing to the greater North Liberty dance scene.
Saylor speaks highly of not only Santos' art, but also of her character.
"She is a positive influence [on her classmates] because of the fact that she works hard and because of the fact that she is really delving into some deep ideas. That's just going to help others to be ok with or even encourage them to be more vulnerable," said Saylor.
Santos clearly brings a lot to the table. Both she and Liberty are benefiting from her move here.
This story was originally published on The Live Wire on October 14, 2021.