Leveling up a hobby
History Teacher Scott Victorine describes his passion for guitars
By Sonia Verma, Monta Vista High School
October 29, 2021
Above World History and AP Macroeconomics teacher Scott Victorine's desk rests an electric guitar with the Declaration of Independence printed on its body. It's one of many unique pieces in his ever-evolving collection of guitars. Victorine keeps one or two in his classroom's closet, but the rest of his collection of about 40 guitars resides in his home office, carefully placed in their hard cases.
Before the collection ever came to fruition, Victorine remembers developing a passion for the guitar in high school. Although received his first guitar from his father at the start of freshman year, Victorine considers his first guitar to be the one his grandfather gifted to him a year later, when he was 15.
"If my house was on fire and I could grab one [guitar], that's the one I would grab," Victorine said. "Largely because it's sentimental and because it's my first guitar, and I've spent a lot of hours on that thing. [But] also because my grandfather bought it for me [and] he supported me when no one else really did at the time."
Victorine attributes his "drive and hustle" to his grandfather, who saw Victorine's guitar playing as more than just a phase and gave him tips on how to run his own business.
Victorine didn't initially plan on collecting guitars, much less selling them. During the economic recession, in 2008 and only three years out of college, Victorine, started buying guitars on internet bidding sites like Craigslist and eBay. In a short period of time, he was able to pick up eight guitars. As he collected more, he decided to keep the ones he liked and relisted the others to try and sell them for profit.
Early in 2016, Victorine tried to buy a house but was ultimately outbid by a tech employee, prompting him to consider taking his guitar resale side hustle even more seriously and turn his collection into an active asset. His newfound determination drove him to buy and sell more guitars in the following six years.
"I started feeling frustrated," Victorine said. "I [couldn't] compete financially, in terms of homeownership as a public school teacher versus all the money that's in Silicon Valley. I remember thinking at the time that, well, if I can't buy a house, I'm going to do things that I enjoy and I'm going to focus on other types of assets which can still be profitable."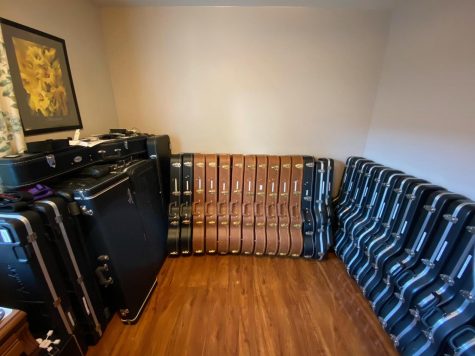 As an AP Macroeconomics teacher, Victorine observes that basic principles of business like supply and demand, as well as following market trends have come in handy when choosing which guitars to buy to potentially turn them into an asset.
"There are a lot of [guitars that] I really like the look of, so I just keep them for myself and I've been treating it like an asset in a way that," Victorine said. "I'll hang on to it. I'll see what happens in a few years. Or I'll pick it up right away [if] I know it's in demand, I got a good price and I'll try to turn around and sell it."
Recently, Victorine has sought out unique pieces to add to his collection, like ones from limited-edition collections from major guitar manufacturers, as he knows that "they almost always appreciate" in price.
Guidance Counselor Clay Stiver admires Victorine's "constant circle of buying and trading." He has seen the entirety of Victorine's guitar collection and appreciates the effort he puts into taking care of the sheer number of guitars he has in his possession.
"[He will] have one for a while, play it and then [sell] a couple of them to get a new one," Stiver said. "It's like a revolving door of different guitars and I think that's really cool for him because he gets to play and own more of them and really keep the ones that he loves the most."
Victorine notes that being connected to a community of guitar players has given him countless opportunities to play instruments he probably wouldn't have been able to play otherwise. As well as finding new guitars, connecting with clients on different platforms and meeting new people are some takeaways from his guitar resale experience. Victorine believes that building a good business ethic is what attracts more clients towards buying from and trading guitars with him.
The relationships Victorine has formed through the guitar aren't limited to just his clients — Victorine plays guitar with Stiver and Art teacher Brian Chow. Chow admires how Victorine has chosen something he enjoys and made it into a passion and hobby, showing his "creative and fun" character alongside his passion for teaching.
Stiver says their love of music has been something they've "always connected on over the years when [they] started working together in 2010."
After over a decade of Victorine's guitar resale side hustle, the idea of backing off for a while has crossed his mind. However, "something else comes up" when he considers quitting.
For example, a year ago, Victorine bought a guitar for his daughter in case she showed interest in playing someday. Coming across unique guitars, like ones that he sees would be "perfect for her if she does decide to play the guitar," is also something keeping him from completely laying his business to rest. Victorine has also contemplated passing his collection onto his daughter in the future if she would be interested.
For Victorine, all of it — the collection and side business — go back to his love for the guitar.
"I love playing, but there [are] times where I've been able to immerse myself in [the guitar]. I can play more and I'm reading more about different techniques or theories and things like that," Victorine said. "Lately, not so much because I'm a little more busy being a father too. But [the guitar has] kind of come and gone in different parts of my life. It's pretty much always been there."
This story was originally published on El Estoque on October 23, 2021.