Against The Odds: Tyrone Native Overcomes the Barriers of Generational Poverty
Despite a troubled childhood, Tyrone native Aden McCracken recently earned an academic scholarship to Stanford University
By Ellie Oakes, Tyrone Area High School
November 22, 2021
Aden McCracken spent most of his childhood in Tyrone, and likely would have been the 2021 Tyrone Area High School valedictorian if he had remained at TAHS for his senior year. But in the fall of 2020 McCracken transferred to Mercersburg Academy, a private college-preparatory boarding school for his final year of high school.
Born in Altoona, McCracken moved to Tyrone with his father at age five, where he attended Tyrone Area Schools from kindergarten through eleventh grade.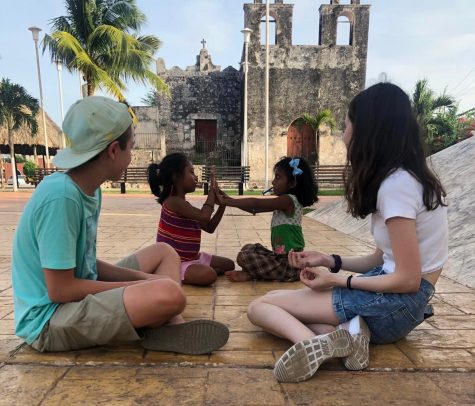 He was always a gifted student, excelling throughout elementary and middle school. By high school, he demonstrated extraordinary talent in math and science, quickly advancing beyond the usual course of study.
By the time he started his junior year, McCracken was taking AP Calculus and AP Chemistry as independent study.
Tyrone math teacher Michele Marasco described McCracken as "an extremely hard-working, conscientious student" with a drive to succeed in mathematics.
"When he approached me about studying AP Calculus independently, I didn't think twice. I knew he would excel, and excel he did," said Marasco.
McCracken completed two semesters of college calculus on his own, a major accomplishment for any high school junior.
"Beyond academics, Aden is so kind and willing to go above and beyond to help his classmates," said Marasco. "He even taught my calculus class one day when I had to go to a meeting. Knowing Aden's background, it is amazing that he overcame these obstacles to become the success that he already is."
McCracken was more than just academically gifted. He was also involved in numerous other activities at school. He was a member of Tyrone's POPS Extension show choir and he had a major part in the 2019 TAHS musical production of How To Succeed in Business Without Really Trying. He was also on the varsity swim team, was the vice president of YAN, a student service organization, and was an involved member of Aevidum, another student group at Tyrone High School that promotes mental health awareness.
When McCracken announced his plans to transfer to Mercersburg Academy, his friends and teachers assumed it was because of the elite boarding school's strong academic reputation and track record of getting students into the best Ivy League universities.
While that is true, it was not Aden's primary reason for wanting to leave Tyrone.
Aden had a secret.
Almost no one, including his closest friends, knew how much Aden was struggling at home.
McCracken's parents struggled with addiction, unemployment, and homelessness for much of their adult lives.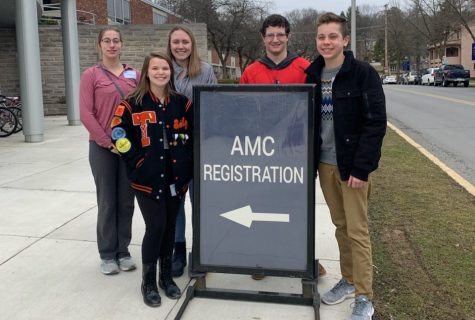 McCracken describes his home life as both toxic and complicated.
He recalls how his parents would leave him alone when they went to the methadone clinic. On occasion, they would even ask him to urinate in empty bottles so they could pass their required drug tests.
As a result of this unstable situation, McCracken left home at 14 and stayed with a distant relative until the end of his junior year of high school.
But his struggles didn't end there, as he continued to navigate his relationship with his parents and sisters, while simultaneously battling the power dynamics within his relative's home and constant discrimination against his personal values, religious beliefs, and sexuality in his new living situation.
While Aden's ability to overcome the chaos of his parent's addiction is rare, his situation unfortunately is not. It is a reality for many living in Tyrone and the surrounding areas of Appalachia.
The Opioid Epidemic
---
The opioid epidemic has seeped into rural communities across the nation and impoverished hundreds of thousands of people, tearing them away from loved ones, enslaving them to a life of fulfilling an endless addiction, and, in the end, killing them.
In her novel "Dopesick," Beth Macy discusses the origin of the opioid epidemic through the widespread push for prescription Oxycontin in the 90s in rural Appalachian communities and delves into the lives of those affected by it: the addicts themselves, those with addicted loved ones, law enforcement, and, even drug dealers.
Macy highlights the interconnectedness between addiction and poverty, and how rural Appalachia was a perfect place for the epidemic to spread.
Appalachia was among the first places where the scourge of opioid pills hit the nation in the mid-1990s, ensnaring the vulnerable working class.
Princeton researchers Anne Case and Angus Deaton found that mortality rates among white Americans in largely rural areas had risen a half-percent annually between the years 1999 and 2013 due to drug overdoses and suicides relating to the abuse of prescription painkillers and heroin.
The current efforts to address the ever-increasing death rates associated with opioid overdose, as even Macy has acknowledged, has left the most vulnerable population involved in this multifaceted issue forgotten about and even ignored: the children of addicts.
Macy writes that, "[As of now,] one-third of children in central Appalachia [live] with a non-parent adult, and 96 percent of the adopted kids weren't orphaned—they'd been removed from their drug-addicted parents by social service workers."
Studies conducted by the CDC found that adverse childhood experiences like parental substance abuse and associated factors like neglect and physical and emotional abuse can lead to disrupted neurodevelopment, emotional and cognitive impairment, and an increased likelihood of participating in health-risk behaviors leading to disease, disability, social problems, and early death.
Other studies have found that children with even one addicted parent are eight times more likely to develop an addiction themselves.
With all of the emotional, mental, and physical effects of parental substance abuse, children of addicts are seemingly trapped in the clutches of generational addiction and poverty.
They are left hopeless, digesting the idea that it is impossible to break free from the bleak destiny painted for them by a brush at the hands of Big Pharma who has given up their humanity in exchange for money.
But, one kid broke free. One kid endured the hardship of two addicted parents, the hardship of neglect, trauma, and abuse, and grabbed that brush and painted a new path for himself.
Making a Move
---
McCracken successfully hid his struggles at home through the persona he created for himself: that of a dedicated, hard-working student with no worries or issues outside of school.
Although this facade stood strong for a long time, he eventually reached a breaking point.
When things became too difficult at home to manage on his own, McCracken reached out to a few close friends for help and support.
Eventually, he also shared his struggles with a few trusted teachers and counselors to help him get control of his life.
After discussing his difficult home life and desire to do more with his education with Tyrone High School Guidance Counselor Tiffany Johannides, McCracken decided to look at other options.
Johannides helped him break his legal ties to his parents by deeming him as an unaccompanied youth under state law. He also applied to Mercersburg Academy with the hope of obtaining a scholarship.
When Mercersburg offered McCracken a scholarship, the choice was clear.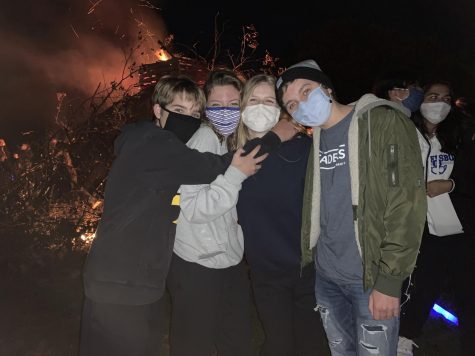 "I jumped on the chance to leave," said McCracken.
But leaving Tyrone was not without regret.
"Tyrone has always been my home, a home tainted with dysfunction and grief, yes, but my home nonetheless," said McCracken. "Leaving was something I never thought I could do, but as the struggles and insecurities I faced removing myself from my parents and trying to establish a stable living situation on my own increased, the only way to find peace was to leave the area completely."
The environment McCracken discovered at Mercersburg contrasted heavily with what he was used to in Tyrone.
In many ways, it was much better, but for someone who didn't come from a family with stability and money,  it presented another set of challenges.
"Mercersburg exists in its own world, its own 'little blue bubble'," said Mercersburg alum Aidan Ferrin, who was also Aden's tour guide when he initially visited the campus in January 2020. "There's a disconnect between what occurs on campus and what happens outside, no ways to prepare students for a world that isn't perfectly manicured grass, pre-salted paths in the winter, and a slew of people ready to help you at all times. The academics may be excellent and the campus may be beautiful, but the students graduate relatively helpless, in a world completely unlike that which they were led to assume was real."
McCracken joined the Mercersburg swim team and began making connections with other students.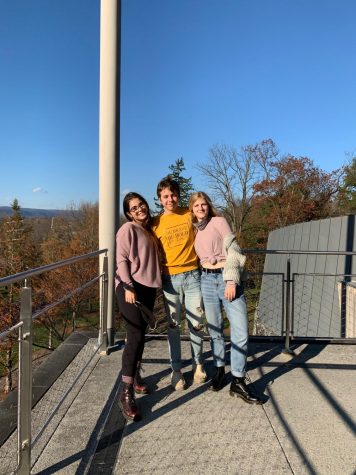 McCracken was placed into the Irving Literary Society, which became an important part of his experience at Mercersburg.
Mercersburg students are divided into two societies, Irving and Marshall, which function somewhat like the school 'houses' from Harry Potter.
Once per year, they participate in a series of athletic and academic competitions to earn points in hopes of being the victor for that year. The culminating event of this week is Declamation, a speech contest that is one of the most anticipated events of the school year.
Before Declamation, a rigorous audition process selects ten students —five for Irving and five for Marshall—to represent their society in the competition. McCracken was selected as one of the declaimers for Irving.
Though it is common for the speakers to select a piece written by a professional author or storyteller, Aden chose to write his own with the help of his friend Aidan Ferrin.
The piece, a collection of stories from McCracken's life, tells of the varied ways in which his parents' addictions affected his relationship with them and his upbringing in general; and, in the end, Aden forgives his parents for their actions.
Educating the Educated
---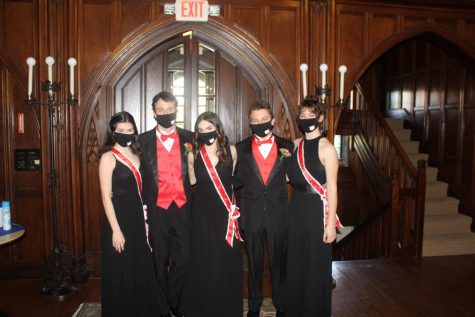 McCracken's speech sparked a conversation among students and staff at the school about classism and addiction.  The Mercersburg student body has very few students who come from low-income families.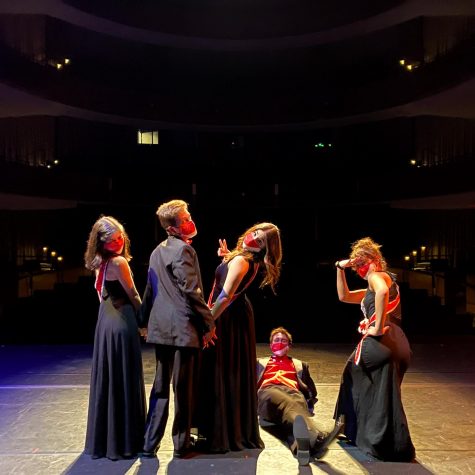 For many, McCracken's performance opened their eyes to the struggles of the opioid epidemic. Simultaneously, it also opened McCracken's eyes to the scope of the epidemic, as many students reached out to him to share their own stories about how addiction has affected their lives.
"The piece really highlighted to the student body how addiction can impact every class; even though it may be more of an issue for impoverished rural Appalachia, it showed how it can really affect anyone, regardless of socioeconomic status," said McCracken.
After Declamation, McCracken came to the conclusion that Mercersburg was not the right fit for him.
Like all schools, Mercersburg did not have a typical school year due to COVID. They changed between in-person, hybrid, and virtual classes several times.  The school began requiring weekly COVID tests and contacting tracing bracelets for all students on campus, while also limiting social interaction and preventing students from going outside a specified boundary.
The strict protocols and high-stress academic environment took a toll on McCracken.
An Unexpected Turn
---
Then another twist changed everything. Through an ancestry test, McCracken discovered that the man he knew as his father was not actually his biological father.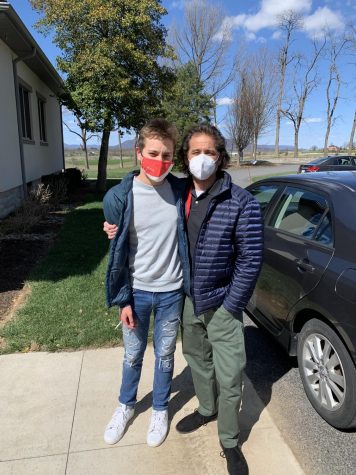 In an unlikely coincidence, his biological dad, Matt, was living in just 20 miles away from his hometown, in Altoona.
After grappling with this shocking news, McCracken began to develop a relationship with his biological father. The two connected over the adversity each had faced in life and the resilience they had developed through it.
While Aden was overcoming the hardships of parental substance abuse, Matt was on kidney dialysis for 13 years of his life, investing the majority of his energy into staying alive, but giving what he had left back to his community through his profession as a drug and alcohol counselor.
Matt and Aden had decided to create a plan to meet each other while he was at school.
McCracken began by discussing his potential plans with the school, offering strategies for visiting his father on weekends to meet and spend time with him. Throughout his conversations with the school, though, it seemed they were dodging his requests while making plenty of exceptions for other students.
McCracken felt that the school made it extremely difficult to accommodate his situation, but made numerous accommodations for students from wealthy families.
His situation was deemed "non-medical," and therefore he was not allowed to leave campus without fulfilling a long list of requirements.
"
I shared my story. I shared my truth. And, I hope it inspires others to do the same."
— Aden McCracken
In an email to Mercersburg's Dean of Students, McCracken wrote, "If we can't get answers before I leave on Friday to meet my father, I think it's best if I move out, stay with him, and go virtual for the remainder of my time at Mercersburg. Frankly, I am really hurt by the school's treatment of my situation, as it feels like I'm being overlooked. I hate to have to confront such a difficult dilemma within such a short time span. But, I know that I did what I needed to do at Mercersburg: I shed light on the flaws in how Mercersburg approaches and deals with situations that are hard, uncomfortable, and most often ignored. I shared my story. I shared my truth. And, I hope it inspires others to do the same."
Aden's Next Step
---
After leaving Mercersburg's campus for good,  McCracken temporarily moved in with his biological father and mother, before eventually moving to Montana for the remainder of the summer.
McCracken applied early decision to his first choice school, Dartmouth, but was deferred. He was also placed on a waitlist at Brown University and Stanford University.
He was accepted into the Leadership and Character Scholar program at Wake Forest University, which he planned to attend in the fall of 2021.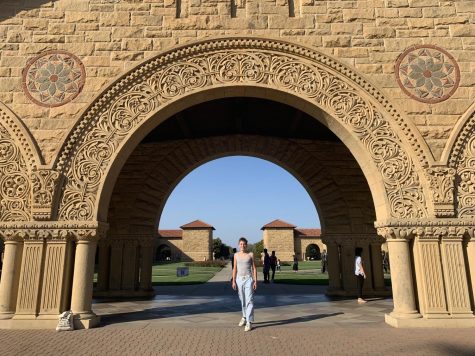 However, in mid-June McCracken was shocked to receive an email from Stanford informing him that he would be accepted on a full scholarship.
"I was in shock. To think one of the world's top universities could accept someone like me was unbelievable. Maybe it's weird to say this but, at that moment, I wasn't really proud of myself. I was so overwhelmed by the idea that someone like me, someone who started at the very bottom and was held in the grip of the great adversity faced by my community and people, could persevere and make it so far," said McCracken.
"At that moment, my mind was devoid of any thoughts surrounding my accomplishments, struggles, or journey to this point. All I could feel, think, and embody was hope. Hope for the addicts in my life. Hope for my family. Hope for the children of addicts around me. Hope for my sisters. Hope for the ignored, the abandoned, and the forgotten."
McCracken plans to major in public policy with a possible minor in economics or mathematics. He would like to use his life experiences and education to be a voice for those affected by addiction and poverty and advocate for them and their needs.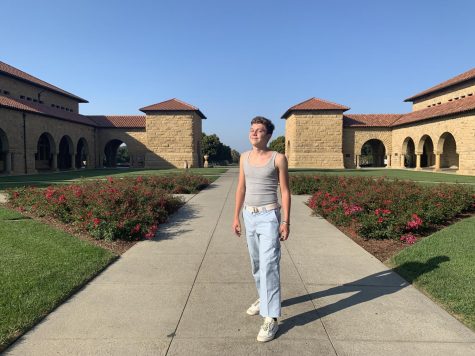 He is currently in his first quarter of classes at Stanford and is excited to explore the opportunities in this next chapter of his life.
"My life has been difficult, yes, throwing me in and out of situations that have taught me more in seventeen years than I thought I could learn in a lifetime. But, so much beauty and growth have come out of the adversity I have faced. I spent so long trying to avoid the turmoil of my home life by investing myself in school and running away from everything, and in the end, I found myself back home," said McCracken. 
"Life is never absolute. Everything around us and within us changes, moving us in and out of new landscapes to foster internal growth; and, in the end, we revolve, finding ourselves back where we began with a new appreciation for the most meaningful, yet complex, idea we all know: home."
This story was originally published on Tyrone Eagle Eye News on November 17, 2021.