Tokens of Lasting Thoughtfulness
The variety of gifts given to teachers at NASH is staggering, but they all share a common theme — gratitude.
By Sam Podnar, North Allegheny Senior High School
November 24, 2021
Math teacher Mrs. Volpe's room houses countless objects from her years of teaching. The corner by her desk is especially jam-packed with decoration, but one image sticks out: the face of Albert Einstein, featured on a whole host of ornaments and posters. Volpe's love of the physicist is well-known around NASH, but maybe to most students' surprise, the vast majority of her Einstein collection are actually gifts from former students. 
"Who needs three Einstein finger puppets, right?" said Volpe, with a laugh. "But I've got 'em. And I love them—because a student saw that and thought of me."
Volpe isn't the only one who proudly displays reminders of past students. All around NASH, teachers have stories of memorable gifts they've received over the years. Whether it's a gift card, a note, or even a verbal "thank you," teachers appreciate every gesture of gratitude, but some items and experiences stick out for their uniqueness and significance.
In the back of English teacher Mrs. Rhinehart's classroom hangs a giant inflatable whale, suspended over the desks in the last row and featuring several signatures, scribbled in black marker on the shiny blue plastic. The whale, nicknamed "Moby," was gifted to Rhinehart from students in an AP English Language class a few years ago. 
Getting the whale to school was a Herculean task — comparable to that of reading Moby Dick, the notorious novel from the 11th grade AP English curriculum in which the whale is a central element. 
"They brought the whale to school in the morning, inflated it, carried it through the school, and placed it on the floor in the middle of my room to surprise me," recounted Mrs. Rhinehart. "I was definitely not expecting to walk in my room and see an eight-foot whale, and I was incredibly amused but also touched. I had them all sign the whale and hung it from the ceiling."
Like the formidable summer read, the class tackled the transporting of the whale together, and now their efforts and gratitude are a feature of Rhinehart's classroom that future students will see every time they walk through the door. A more recent group of junior AP English students even drew inspiration from the gift and bought Rhinehart an inflatable ship, a reference to the vessel the Pequod in Melville's novel. It now sits on a filing cabinet in the back of Rhinehart's room, also emblazoned with student signatures and sharing the same literary relevance as the inflatable whale.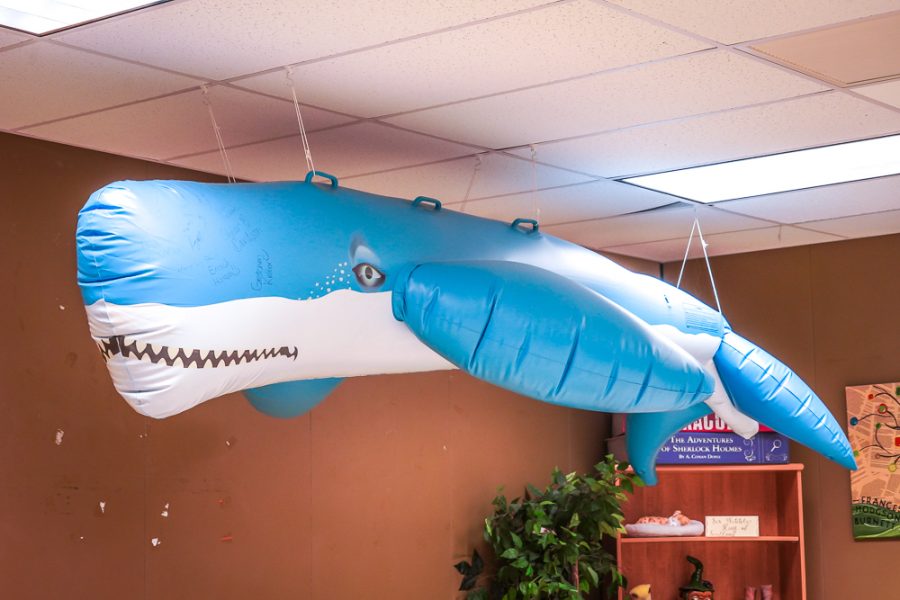 To find another noticeably large gift marked by the signatures of its benefactor students, head to AP U.S. History teacher Mr. Venezia's room. Behind his desk sits a clock a few feet wide with a polished wooden face, a major upgrade from the much more generic clock that used to hang on an adjacent wall. 
But the grand gift actually has a whirlwind of a story behind it. 
When Venezia came into class one day last year and saw that his (original) clock had gone missing, he questioned his first period class about the clock's whereabouts. In reality, it had just fallen off the wall and been swept up by a janitor, a realization Venezia arrived at after failing to pinpoint a dishonest student with an affinity for stealing timepieces. But the clock drama stuck with the class, and students kept attempting to take and hide the clock, returning it at their teacher's request.
"I was like, 'Give it!' and they'd give it back," recalled Venezia.
At the end of the year, a group of students chipped in to buy Venezia the impressive clock that now hangs on the APUSH classroom's wall, its large size intentional so that "nobody could ever steal [it] again," as Venezia described it. 
"It's that kind of stuff that sticks with you," he added. "Like every time I look at it and I see all the signatures there, I remember how that played out last year."
Meaningful gifts can also be much smaller in size. 
Physics teacher Mr. Neff, who coaches the NA Cross Country and Track Teams, still uses an object given to him by a former athlete. It takes some knowledge of competitive running jargon to understand. "Spikes" are pointy pieces of metal that screw into the bottom of racing shoes, and athletes have to replace them multiple times each cross country or track season, a process that can be tricky when performed by inexperienced hands. 
Neff's most memorable gift was from a student athlete who shared Neff's skills in spike handling.
"He and I used to share the duties of getting spikes out of shoes the day before meets. When he graduated, he got me two really nice pairs of vice-grips (locking pliers) to use.  I still use those tools today to do that same job, and I think of him every time I use them," said Neff.
Mr. Allen, who teaches AP Biology, remembers a student bringing in a homemade cake featuring a tombstone for Allen's 40th birthday and a group of students who all chipped in to get him a gift card to the hunting, fishing, and camping store Field and Stream. 
Gifts don't even necessarily have to come in a form that can be hung on a wall or proudly displayed on a desk—Allen was invited to a student's graduation party and enjoyed a "fantastic Indian food feast" that he greatly appreciated. 
Government teacher Mr. Maddix also recalls being treated to a memorable meal by a former student. Maddix, who teaches an elective class on East Asian history, explained that it's a tradition in China for students to invite their teachers to dinner as a matter of appreciation. One student—at the insistence of her parents, who "really embarrassed" the student, Maddix said—brought this practice to NA, inviting Maddix, economics teacher Ms. Keats, and now-retired Mr. Caldwell to her house. 
"We went to her house and had a fantastic meal, and we were able to learn a lot about Chinese culture," said Maddix.
He received another gift related to East Asian culture that now brightens his classroom. A koinobori, or "carp streamer," is a Japanese decoration flown during Children's Day; Maddix remembers them from his time living in Japan as a child. 
A small koinobori hangs at the front of his room, and when senior Emma Scott saw it, she was reminded of a decoration she got from now-retired Mr. Hildenbrand, whose classroom had its own koinobori, each a few feet long. Scott took one home at the end of her sophomore year, not knowing at the time that she'd eventually pass it to a future teacher's hands.
"Mr. Maddix was talking about how he had a fish, but this fish was like a quarter of the size," said Scott. "So I was like, 'Do you want a much better, larger fish?'"
Maddix loves the gift, which now hangs a few feet away from its original inspiration.
Mr. Morris, who used to teach AP English, recalls one gift whose story makes it especially memorable. 
On the last day of school, a student gave him a wrapped package and rushed out the door with a handful of gifts to deliver elsewhere. Morris was perplexed after opening the gift: a coffee mug featuring the line, In the beginning, God eiπ + 1 = 0, or some similar math equation.
"I racked my mind all summer thinking about the meaning behind that gift," said Morris. "What had I said in class that led the student to that gift? Why that gift for an English teacher? Then again, was it even a gift? We often discussed philosophy in AP—maybe he wanted to have the last word in a debate I'd long forgotten? Regardless, I couldn't get to the bottom of it."
After months trying and failing to unlock the gift's secret meaning, Morris returned to school for the first in-service day of the next school year. Neff, an AP Physics teacher, got his attention and handed him a mug printed with Shakespeare quotes, still in the box. "I think this must be yours," Neff said, and Morris rushed to his own room to grab the mug with the mystery math equation, delivering it to its rightful recipient. The accidental switch-up created an experience that Morris still laughs about.
Morris is also one of several teachers linked together by a series of gifts—colorful, intricate origami peacocks—made by former student Patricia Chen. The handcrafted figures each feature a design related to the subject of the teacher to which they were given—Venezia's has an outline of the United States, Morris' features a whale image—another reference to the Moby Dick—and AP Statistics teacher Mr. Lester's says "STATS" in pale blue letters. Take a look around NASH's classrooms, and you'll spot these intricate paper birds perched on bookshelves and resting on the corners of desks, a reminder of Chen's paper-folding skills and lasting thoughtfulness. 
In fact, all of these unique gifts, in addition to conveying gratitude to teachers, serve to create a legacy for the students who produced them—a legacy that is both individual and collective. Each present has a standalone story that sticks with both giver and recipient for years, and with their role in brightening classroom walls and catching the attention of each new class that goes through the school, the NASH community would be incomplete without them. 
Despite the incredible variety in what they've received from students, NASH teachers have emphasized how much they appreciate thoughtful, personal gifts. 
Volpe, who admits that she's always surprised by what she receives from students every year, said, "The best gifts for me are ones where kids write personal notes so that when I'm having a bad day, I can look at that note to say, 'Oh my gosh, sometimes I am not bad, I'm not horrible.' And so I appreciate those notes more than anything."
Allen expressed his appreciation for the outpouring of gratitude he receives from both current students and alumni.
"The volume of thank you notes, emails, and even just 'thanks' in person every day means so much," he said. "Every year, I also receive a number of emails from graduates, who are in college, grad school or even their profession, and every single one of these makes me smile!"
Venezia echoed this sentiment, adding, "The best gifts, I think, are those that are of a personal nature and demonstrate the shared experience that teachers and students have had together." 
This story was originally published on The Uproar on November 24, 2021.