Making it in modeling
Senior Cash Peters discovered a new passion, modeling for some of the most well-known clothing companies
By Dylan Ebs, James Bowie High School
January 6, 2022
The opportunity happened because of pure chance.
Veronica Canto-Ponce, a director at ONE Management in New York, has a sister who's a real estate developer in Austin. Her sister had just bought a house from senior Cash Peters' friend's mom. When they sold the house, modeling came up during a conversation.
All it took was one look at Peters' Instagram account. Canto-Ponce's sister told her that Peters would be a great fit for modeling, and Canto-Ponce agreed.
That experience changed senior Cash Peters' life, to say the least. He's signed to ONE Management and models for major companies, including Nike and Gap.
"I was kind of iffy about it and didn't really want to do it because modeling wasn't really my thing," Peters said. "It just didn't seem 100% appealing to me. I guess that's gone away as I've continued to model but for the most part, I'm really kind of an awkward person when it comes to taking pictures."
His mom had a different view.
"She was really pushing for me to do it or at least give it a chance," Peters said. "She's just like, 'Are you an idiot? It's probably the easiest money that you ever make in your life. And you might as well do it while you still are young and in good shape.'"
His doubts about modeling changed as he began his first photoshoots. He credits the photographers and their assistants with helping him ease into modeling.
"It's actually completely different than I expected," Peters said. "Everybody's super nice. You know, like you watch the movies or anything, they're all mean and everything. But they're super understanding and tried to help me and make me feel more comfortable."
Peters credits senior Nate Morgridge, his best friend, with supporting him during his modeling journey.
"Cash is a decent looking guy so I think pursuing modeling is a great idea for him," senior Nate Morgridge said. "His modeling career hasn't affected our friendship at all. I am just very proud of him for pursuing something big like modeling for Nike and companies like that."
A typical photoshoot for Cash starts around 8 am. With a full breakfast and his outfit selected, Peters gets on stage. He starts with a warm-up before the pictures start, which helps him get ready for the photoshoot.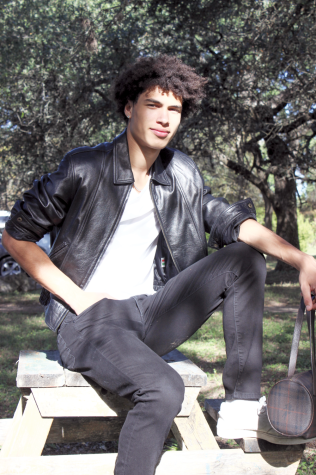 "You wouldn't think you'd have to get warmed up for taking pictures, but you get the awkwardness out," Peters said. "And it gets easier as you go along."
One particular modeling experience that stands out for Peters was a campaign he did with Spiritual Gangster, a yoga and lounge-wear clothing brand.
"That was pretty fun because I got to model with other people and it was more outside," Peters said. "So I wasn't just inside a building standing there and you get to do more of your own thing. We also did videos for the campaign which was pretty fun."
Peters faced a difficult decision this year because of his love for football. His love for football clashed with his desire to start modeling, so he had to pick between the two.
"I wasn't able to do any modeling during the whole football season," Peters said. "And my coach said that either I would have to quit the team or model. I had to choose between the two so it's like only six months of football. I'd rather do football for my last year than model, which I have plenty of time to do in the future."
For now, at least, Peters sees modeling as a part-time thing, not a full-time job.
"It's a side gig until it blows up and gets super big and then I do that," Peters said. "As of right now, I'd rather just get to college, like do something and see if anything interests me and I can always do this on the side."
His agent, Canto-Ponce, attests to his work ethic and effort that Peters puts into modeling.
"He's been modeling really well, and this is just the beginning," Canto-Ponce said. "He's great, he's professional. My goal for him is seeing him on billboards and campaigns. He's that good of a model."
This story was originally published on The Dispatch on January 5, 2022.