Reaching New Heights
Defending state wrestling champion Lexi Shannon looks to repeat her title while also earning her pilot's license.
Lexi Shannon stood outside of the plane before her first solo flight. Her dad waited for her to ask the same questions his other flight students always ask.
"Are you sure I'm ready?" they ask him. "Are you sure?"
His daughter was different though.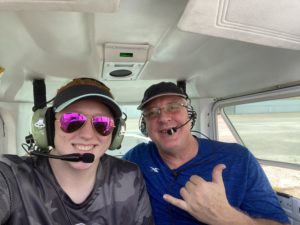 "Get on the airplane, dad! I'm ready to do this thing!" she told him.
Pat Shannon said his daughter's drive and confidence sets her apart from other student pilots. He loves teaching her about aviation and seeing her succeed.
That success extends far beyond the airport. The 2021 state wrestling champion is working to defend her title while also earning her private pilot's license, taking advanced academic classes online and playing cello in the orchestra.
"In all avenues she is very focused, very driven," her mom Ronda Shannon said. "She's very disciplined and very obedient to the process."
A typical day for Lexi is to go to first period wrestling, return home to do schoolwork and then go to the airport for three or four hours of flying. When she gets home at night, she does more schoolwork, club wrestling and maybe relax before bed.
Lexi said her coaches and teachers have been very supportive and flexible with her as far as her assignments and her schedule. Her parents have helped her stay focused on her goals, and pushed her to do her best — despite being very hands off. They let her decide what she wants to do and when.
"She has a very good work ethic and skills that can take her very far in life," Ronda Shannon said.
Pat Shannon became a flight instructor in 1989 when he was in his early 20s. However, he dreamed of being a pilot ever since he was 5.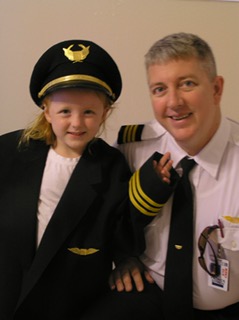 Pat still remembers standing by the mailbox with his mom as she told him he could be anything he wanted to be, like the president of the United States. Yet, as a plane flew over their heads, he said, "I wanna fly one of those. I wanna drive one."
When Lexi started to think about a focus in college and a career, aviation was what she leaned toward. They decided it was a really good career path since she had an opportunity to start in high school, which is something most people don't have.
With her father as her instructor, flying school was a lot less expensive to do now.
"She just jumped up on the opportunity," Pat said.
Teaching family members is sometimes less than ideal. A lot of times it's easier to teach strangers. Yet, Lexi and Pat were able to focus and work together.
"Lexi is wise beyond her years… I'm glad I get to spend time with her," Pat said. "It builds a strong bond between student and instructor in any way to fly, so with her it's a hundred more times special."
Lexi has about 50 hours of flying completed and is really close to getting her private's pilot's license. She doesn't want to stop there. She plans on getting her initial rating, then a commercial license and eventually become a certified flight instructor.
Pat said Lexi's interest in flying came from being around aviation her whole life.
"We have pictures of her when she was a little kid in cockpits and airplanes and with a pilot uniform, in a giant coat and hat, so she's been around it," Pat said.
With the amount of time she needed to spend learning how to fly, Lexi chose to do classes online.
"I had to put in a lot of work, not just on the mat but everywhere," Lexi said, "In school, in my personal life and just how focused I was, and there was work that had to be done everywhere."
Lexi, who was in-person last year, misses being in class.
"It's definitely weird because I don't get to see people very often and I don't get to be involved in all the activities that happen in school… it's just different," Lexi said. "I love in-person classes better."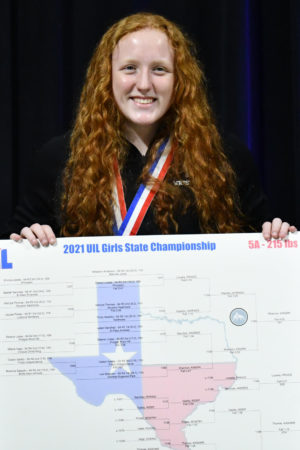 Both of Lexi's parents agree that if it weren't for the virtual option in school Lexi would have had to choose between wrestling and flying. They are all very grateful for the virtual option, although it can be hard at times.
"As far as aviation and flying goes, those goals are big and so in order for me to fulfill those goals I had to go virtual," Lexi said.
Out of all her successes this year, Lexi is most proud of winning the state wrestling title, but she is also proud of keeping balance with everything she's involved in.
"I have good grades and I'm a really good wrestler, and I love playing the cello and I'm still able to hang out with friends. Just finding that balance was a big accomplishment for me through high school," Lexi said.
Ronda and Pat have both noticed how Lexi's made many sacrifices in her decision to be fully virtual this year. She went to one football game, gave up a lot of social activities and has only done a few things with her friends.
"She's spent most of her time studying," Pat said, "and she misses a lot of social opportunities which I feel bad for her, but it's a choice, it's a sacrifice."
Both her parents can see Lexi becoming a very successful college student, who will have the ability to tackle any problems she faces, with discipline, dedication and hard work. Since they know she's going off to college soon, they are really trying to slow it down, so they can absorb and enjoy every second they can get with her.
"I'm so proud of her and love her to pieces," Pat said. "I'm really going to be sad when she goes off to college. I'm really going to miss her."
When Lexi stepped out of the plane after her first flight, she said she felt confident and empowered.
Lexi's father walked beside her, proud of her success.
"I like aviation because it makes me feel like I can do anything," Lexi said, "and it's just a lot of fun."
This story was originally published on Park Times on January 19, 2022.