La Salle Student Athletes React to New COVID-19 Requirements for Athletics
By Brooks Coleman, La Salle Catholic Preparatory High School
January 24, 2022
Many students have probably noticed a wave of cancellations across winter sports at La Salle. 10 games have been canceled so far between the girls and boys basketball teams, along with numerous practices.
These cancellations have been largely due to the new, highly infectious Omicron variant of COVID-19, and the resulting flood of positive tests and quarantined players. In response to this threat, La Salle's athletic department has implemented new rules for athletes.
First off, all athletes are now required to wear masks when on the court or actively competing.
According to Athletic Director Mr. Chris George, La Salle's protocols are based on a recommendation from the Oregon Department of Education. The department recommended that La Salle should "either pause extracurricular activities and don't play, or implement the same things we're doing during the day in classrooms," said Mr. George. That means that players have to wear masks during practices and games. "The sheer focus [is] on trying to keep as many kids in school and on sports teams as possible."
"The new mask mandate has definitely made practices and games more difficult," sophomore Eva McCaffrey said. McCaffrey is a guard on the girls varsity basketball team.
Sophomore Andrew Keller, a forward on the JV boys team, echoed this sentiment. "It's definitely more difficult, but I think the more we practice with masks on, the easier it will be," Keller said. "It's an adjustment that I can make and I feel like our team can make [it] as well."
Mr. George understands how taxing it is for players to play in masks. "It's hard," he said. "It's really uncomfortable… We're asking for kids to do their best."
These mandates are enforced in other places as well, such as on the benches and during water breaks. "For water breaks, we just space out to drink water or take a quick break," McCaffrey said. 
Both players also said that their coaches are very diligent in keeping their players in line. "They are pretty strict about it," McCaffrey said. "Our coaches always remind people to mask up, and we do it because we don't want to go on another pause." 
"Our coach personally is always on us about masks in games and in water breaks, on the bench and stuff like that," Keller said.
However, players report that the locker room is a little different. "I feel like when you're in the locker room, sometimes the rules aren't enforced as heavily," Keller said.
In addition to the mask policies, one of the newest changes announced by the county is the reduction of the quarantine period, implemented around Christmas.
"If you test [positive], you get a quarantine for five days, but if your symptoms do not improve, then you have to continue to stay home," Mr. George said.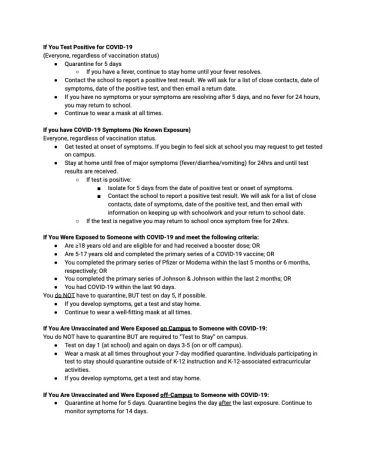 Mr. George is still unsure about vaccine mandates being implemented in the future. "That is a completely local school decision," he said. He cited the girls' recent Portland Interscholastic League basketball game against Jefferson High School as an example, where every fan was required to either be vaccinated or have proof of a negative test within 72 hours in order to attend. "I don't necessarily anticipate us deciding to do that," he said. 
Cancellations have been commonplace at La Salle. According to McCaffrey, both the JV and varsity girls' basketball teams were pulled from the PIL tournament as well as two other games because of COVID-19 issues. Mr. George says that this is solely based on whether there are enough players to field a team. 
"It's up to each school to figure out what those numbers look like," Mr. George said. "But it's around eight to nine basketball players, essentially."
"It's not fun knowing that your next game could be canceled and you might not be able to play," Keller said. Games have often been canceled the day or even the hour of. Students may remember a varsity boys' soccer endowment game last fall against Gresham that was canceled as Gresham players were on the bus arriving.
McCaffrey isn't bothered by cancellations. "Knowing games can be canceled at any time doesn't affect any of our work ethics because we always need to be in shape and prepared," she said. "Our motivation stays the same." 
La Salle has not officially announced any spectator limits. However, George expects that to change. "We expect to have some," Mr. George said. "They will largely be placed on visiting fans."
Mr. George cites big matchups like Wilsonville as an example of a game where there will be lots of possible away fans. Wilsonville is even implementing its own limits on visiting spectators. Visiting players are allowed to bring only four guests.
This isn't a problem for Keller. "It's fun having more fans and having my friends at the games but overall, I don't think it'll change much," he says. "I feel like I'm always just playing hard and trying to win the game that we're in."
"Overall, I feel like the rules are fair, and I think the majority of people can follow them," Keller said.
McCaffrey agreed. "I definitely prefer wearing masks [to] having to shut down for weeks again," she said. "I would rather make sacrifices now than have to deal with not playing the rest of the season."
This story was originally published on The La Salle Falconer on January 19, 2022.