Looks like chocolate, tastes like gold
For four-time Olympic gold medalist, the best, including BTS, is yet to come
As she stands tall with a mallet in each hand, waiting for her cue to start playing her steel drum, junior Sabine Collins sports her red and yellow 2018 Special Olympics jacket. She doesn't walk into every room announcing that she was chosen to represent the USA gymnastics team in the Special Olympics. But if asked, Collins may tell you the full story of her four Olympic gold medals.
Collins was 13 when she competed at the National Games in Seattle, originally representing Team Texas. But she didn't stop there. Collins was one of three gymnasts, picked out of 4,000, to represent the United States at the Special Olympics. While she was there to compete, her most memorable moments occurred simply mingling with other gymnasts from around the world and building what she now describes as wonderful relationships.
"I made fast friends," Collins said with a smile.
But for Collins, meeting Apolo Ohno, an American skier and eight-time Olympic medalist, takes the cake for coolest part of the trip, which isn't to say Collins is a stranger to Olympic medals herself.
"I was a four-time gold medalist," Collins said. "The medal was heavy. I thought it was chocolate!"
As she held her real gold — not chocolate — medal, Collins describes feeling surprised. As she walked up to receive her medal, Collins recalls a group of people cheering in the stands who seemed particularly excited.
"Have you met my family?" Collins says with a laugh. "My family was the biggest, largest, and loudest people in the stands!"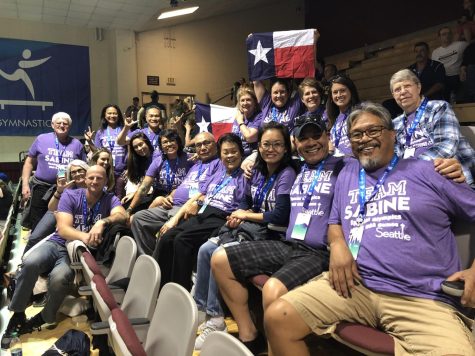 Her sister and class of '20 alumni, Ani Collins, recalls that day as dream-like.
"It was pretty surreal honestly," Ani said. "All of our family came and stayed in Seattle, and it was crazy to think she's become a real decorated Olympian."
It made Ani think back to when her sister first started gymnastics, and they would practice together.
"I did gymnastics too when I was younger, so sometimes I'd help her memorize her routines," she said.
"
I was a four-time gold medalist. The medal was heavy. I thought it was chocolate! "
— Sabine Collins
As formative as gymnastics has been for Collins, she says she's currently on a break from the sport due to the current craziness of life. But her break from gymnastics doesn't mean Collins is sitting around doing nothing. The grand list of activities includes learning the steel drums, partaking in the AISD Student Equity Council and being the student manager of Blue Brigade. Collins has enjoyed being around the other Blue Brigade members.
"I helped them a bit with the dances," Collins said. "I also make sure that they're all ready for the halftime show."
Collin's fond memories of the Friday night lights go beyond just her experience as Blue Brigade student manager. She recalls watching Ani perform as both a cheerleader and on the drum line while at McCallum.
"She was the shortest one in the percussion line!" Collins joked.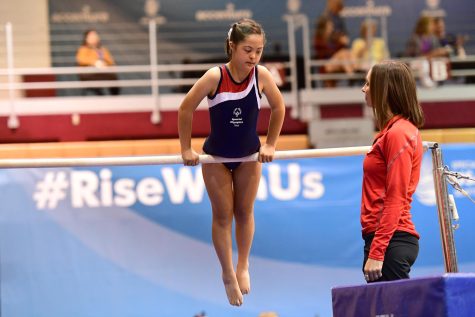 Collins is continuing the Collins' percussion-line legacy, and recently, joined the steel drums class at McCallum. Her teacher, Scott Lowe, explains that Collins brings her infectious attitude (and dance moves) wherever she goes.
"She has a really upbeat and positive personality," Lowe said. "She's always just open to whatever we tell her to do in this class. She's also doing the Samba Knights, our Brazilian group here at McCallum. She just started doing that this semester. She's just into moving and dancing."
Besides her managerial duties and steel drums stint, in search of a new form of exercise, Collins has taken a dive, both literally and figuratively.
"I'm swimming!" Collins said. "I can swim up to nine feet. I do it with another person, my aqua therapist."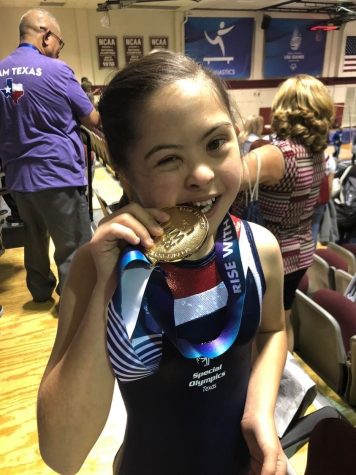 But even deep in the swimming pool, likely while swimming the breaststroke (her favorite), Collins still has her eyes on the prize.
"It gets me back on track for my gymnastics," Collins explained.
As much as Collins misses gymnastics and looks forward to her return, she's also been having a blast at school. One of her favorite parts—Collins stressed she has multiple favorites—has been spending time with her best friend senior Zoe Barrett.
"I had a sleepover with her," Collins said. "We had sushi for dinner!"
Collin's adoration for Barrett isn't one-sided.
"She's an amazing person," Barrett said. "She is funny, she's nice to be around. She just makes me happy. I love to hang out with her, we have a lot of inside jokes."
The duo spends lots of time together and have shared quite a few memories.
"We like to play Wii sports, we like to play video games, we like to make funny videos," Barrett said. "She did the splits on my carpet one time."
Collins recalls being with Barrett when she tried a new food and officially joined the dark side.
"I tried chocolate," Collins said. "I like chocolate now. At first I didn't like chocolate. When I was a baby, I used to eat chocolate a lot. Then I stopped. And then I ate it again."
When not eating chocolate or practicing her splits on Barrett's carpet, Collins is quite the avid BTS fan. Collins dreams of doing a gymnastic performance to one of BTS's songs.
"What if BTS saw it?" Collins fantasized. "Then they might let me into the group!"
"
I don't know if people are ready to see my full self. They see my full potential, but not my full life."
— Sabine Collins
Collins attributes her dancing feet to her mom, who was on a dance team when she was younger. When Collins stepped out onto the gymnastics floor for the first time, her mom was thrilled.
"She was pretty excited," Collins said. "I don't know about my dad. He wants me to do something else besides focusing on one thing at a time."
Collins, however, plans to let the influence of her parents support her not guide her.
"I want to walk in my own shoes," Collins said. "I don't want to walk in my mom's shoes. She walks in high heels!"
Whether it be representing McCallum at the Student Equity Council or representing the United States at the Special Olympics, Collins knows she has a lot of eyes on her.
"It can be a bit stressful," Collins said. "I don't know if people are ready to see my full self. They see my full potential, but not my full life."
As Collins forges her own path, decked out in her colorful sneakers—not high heels—she's got some pretty big plans for the future.
"I want to go to college," Collins asserts. "Additionally, I want to own a café. And I want to be a BTS member."
[masterslider id="94″]
It appears that Sabine's dad need not worry on her focusing on one thing at the exclusion of other things. Between managing the Blue Brigade, playing the steel drums, swimming and enjoying the occasional K-POP dance party, Sabine seems to be the most well-rounded Knight on campus. Photos by Eliza Jensen, Elly Schottman, Dave Winter and courtesy of Rachel Collins.
This story was originally published on The Shield Online on April 2, 2022.