The humans I met in New York
Spotlighting eight people I met and interviewed while wandering the city
By Krish Dev, Monta Vista High School
April 20, 2022
It had been more than two years since the last time I had been on a plane, but after finding a ticket to New York City for $70 and having some time to kill, I booked a four day adventure. I boarded the Boeing 777 that would be taking me to Newark Liberty International Airport alone, and squeezed into the window seat in row 52. To the left of me were two elderly Italian American women who were going back to their New Jersey home after visiting their grandchildren in San Francisco. Captivated by their life experiences — their childhoods, struggles and favorite memories — I knew that to make the most of my visit to New York City, I had to talk to as many people from diverse backgrounds as possible.  
Despite traveling alone in the city, I was more social than I'd ever been, constantly exchanging words with tens of strangers: librarians, street vendors, garbage collectors and even a ventriloquist. Inspired by Humans of New York, I interviewed and took portraits of New Yorkers, learning as much about them as I possibly could. Read below to learn about eight of the most intriguing people I met.
Smoky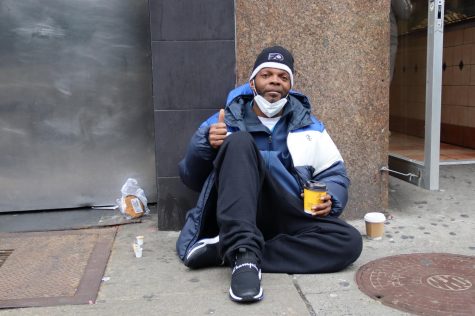 As I was walking to 34 Street Penn Station on my first day in Manhattan, I came across Smoky, a 41-year-old man asking passerbys for a cup of coffee. At first, I ignored him and clutched the coffee and pastries I had just bought closer to me, but after seeing a sign outside of McDonald's advertising coffee, I decided to buy him a cup. Rather than leaving right away, I sat down with him to drink our coffees together and talk for a bit. 
Smoky explained that he was from New Jersey and had been homeless for his entire adult life. He found that, compared to New Jersey, people in New York were more likely to help him out. Thus, he decided to panhandle in the city, despite knowing that it is against the law. Smoky believes that "money in New York City constantly runs," which helps him persevere through the immense challenges of being homeless. Before I left, I asked Smoky why he asked for a cup of coffee rather than money. He immediately pointed at another homeless man who he believed was snorting crack and said "most people don't like it when you ask them for money."
"So I said, 'You know what? I'm not going to ask you for money, I'm going to ask for a meal,''' Smoky said. "The simple fact I've been asking for a meal, and I've only just gotten a cup of coffee, it's a shame. I hope we can all learn how to get along."
Christina Hansen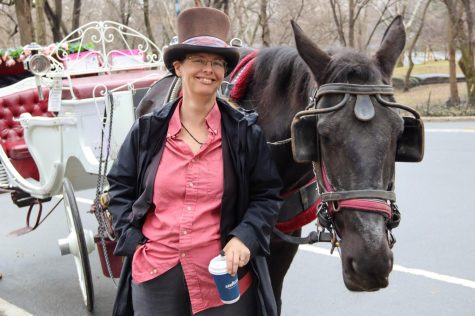 Central Park is a strange enclave within the bustling metropolis of Manhattan, serene and full of greenery. What stood out to me the most were the horse-driven carriages, which seemed like relics from a bygone era. To satisfy my curiosity, I talked to a horse carriage driver and asked questions about the job.
Christina Hansen was born in Lexington, Kentucky, which she describes as the "horse capital of the world." As a young adult, she pursued a history degree at UNC-Chapel Hill but dropped out after realizing she did not want to become a history professor. Hansen then moved north and worked as a tour guide in Philadelphia. One day, she came across an advertisement which said "Do you love history? Do you love horses? We have a job for you!" Hansen immediately applied and has been a horse carriage driver ever since, providing tourists with pre-planned historic tours. Seeking better job stability as a horse carriage driver, she moved from Philadelphia to New York City in 2011, and although she was initially apprehensive about living in such a large city, Hansen is satisfied with her decision. She currently lives in the Hell's Kitchen neighborhood with her horses and is grateful she has her dream job.
"This [carriage] is my desk and [Central Park] is my 843-acre office," Hansen said. "I get to hang out in Central Park and show people its magnificence — it was designed to be seen from the back of the carriage. I get to share that with people who come here from all over the world and get paid to hang out with horses all day. That's really awesome."
Betty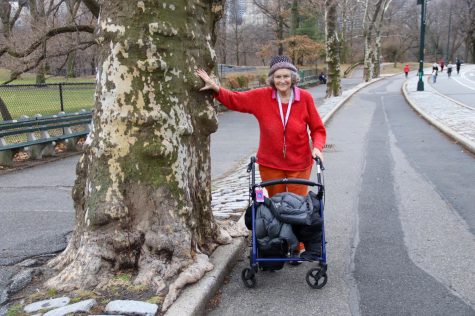 I met Betty in Central Park after she used my phone to find her way to a cafe. Betty is not a New York native — she moved to the city after graduating from college in 1966. Her parents wanted her to be safe, so she lived on a property on Fifth Avenue with a group of her friends. Betty disliked the location because it was far away from the recording studio where she worked. Still, Betty found a silver lining: every morning, she would walk down into the subway and listen to a man play the piano. She later found out he was Vladimir Horowitz, one of the most famous classical pianists in the world. Eventually, Horowitz agreed to make recordings for the recording studio where she worked, which delighted Betty. Now, she is retired and one of her favorite activities to do is to walk in Central Park, which has changed drastically since she arrived in New York more than five decades ago. 
"When I first came here, the park was just dirt and puddles because people thought it was OK to throw junk around and not treat it well," Betty said. "Then, the city and a group of very good citizens started a nonprofit company called the Central Park Conservancy. That's why it looks nice now. They made all these sports fields, and they made the streets so that there was only one big street that went all the way around the park on the outside, and only four or five streets that go across the park."
Firo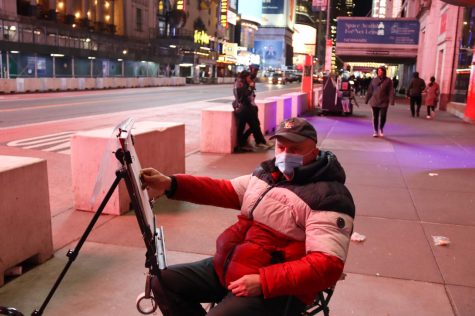 On my second day in New York, I decided to go to Times Square for a midnight walk. On the way, Firo, a street artist, offered to draw a portrait. After haggling the price down from $50 to $15, I sat down and we talked as he sketched my face on an easel. Firo grew up in the country Georgia and moved to New York just before the 2008 financial crisis. To supplement his income, Firo utilized his artistic talent and entrepreneurial spirit. Despite monetary challenges, Firo managed to generate enough money to rent out a small apartment in Brooklyn. During the peak of the COVID-19 pandemic, he stopped traveling to Manhattan due to safety concerns. However, after the city reopened and tourists came back, he returned to draw tourists from 7 a.m to 2 a.m. every day, and believes "business is better than ever." Firo enjoys the diversity of the city, and tries food from all parts of the world with his recent favorites being Bangladeshi and Cantonese and after 14 years, is proud to be a New Yorker.
"I love New York, everything about it," Firo said. "It's amazing man, anyone can be anything they want. Times Square [is especially] wonderful because it is always busy and you can see so many people from so many places."
Joy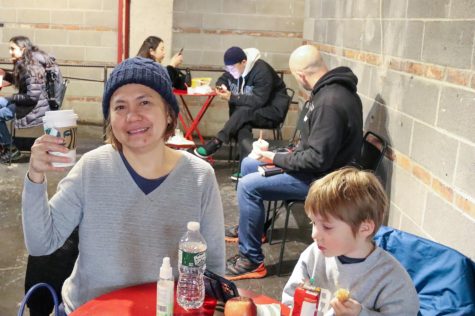 While strolling Chelsea Market in the heart of New York City's Meatpacking District, I searched for a table where I could eat brunch. Even though all the tables were occupied, I was invited to sit down with Joy, a 51-year-old Filipina-American. She was accompanied by a 4-year-old boy, Nate, who she had been nannying since he was 2 months old. Joy, who had previously lived in the Philippines in Manilla, moved to the city in 2010 "because of the American dream,"  and quickly acclimated to New York. The family she works for owns "multiple Manhattan properties" and hired Joy to take care of Nate. Joy commutes from Queens to Manhattan every day via the subway and listens to Tagalog music that reminds her of home. Joy notices that the main difference between Queens and Manhattan is that Queens had more diversity, crime and homeless people. After getting a call from Nate's parents, who instructed her to take him to the dentist, Joy left me with a quick piece of advice and shared why she loved New York City.
"You have to plan for your life," Joy said. "You have to be certain that you don't just like what you do, [you need to] love it. Once you love what you do, then here in New York, you can do anything you want. You can be whatever you want to be, and there are so many different cultures here. That's what we love and everyone's welcome. So really whether you are an immigrant or not, you feel like you belong here. So that's what will make us survive and make me happy with my life."
Sparda Deleon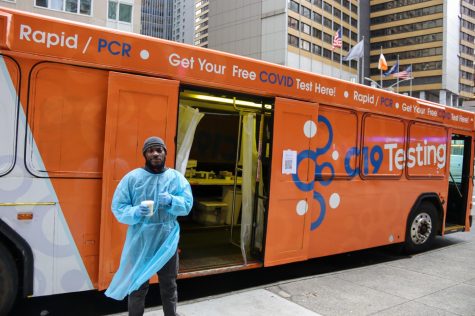 On the morning of my last day in New York, I wanted to test for COVID-19 before my flight back home. On previous days, I had noticed vans placed throughout the city offering free tests and I went out at 8 a.m. to find one of them. After only a few minutes, I found one, and Sparda Deleon, a COVID-19 testing volunteer, helped me get tested.  While waiting for the results, we had a short conversation. Born and raised in the Bronx, Deleon recognizes how the city has changed significantly throughout his lifespan. Specifically, he believes the city is more "attractive, liveable and safe." As a COVID-19 testing volunteer, he shared that the number of cases this year is significantly lower than last year and he is pleased by the increasing number of visitors to the city. Aside from being a volunteer, Deleon is also trying to be a social media influencer and currently has 7,000 followers on his personal account on Instagram. In addition, he runs a motivational post account, manages a small recording studio, is a diabetes advocate and has a podcast on YouTube titled "Sparda Speaks," where he shares self-improvement tips and life lessons and has a 50 minute retrospective interview. When asked about the biggest lesson he has learned from his life, Sparda talked about the importance of treating others well.
"My biggest life lesson is that you have to treat others with respect, with honesty and with love," Deleon said. "And always, always keep those three principles. As long as you keep those three principles first, no matter what you face in life, you're always going to come out a winner."
Hannah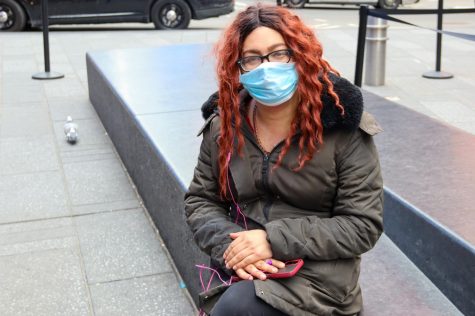 While passing through Times Square, Hannah approached me and asked a few questions about my camera. I showed her some of my portraits and she requested that I take one of her. A New Yorker through and through, Hannah grew up in Queens with an Italian father and a Dominican mother, but admitted she has not seen her family recently. She moved to a women's shelter in Manhattan this year as she felt that living on the streets was too unsafe, especially as a trans woman. She is currently searching for a job, but is happy that she has a safe place where she can sleep. In her free time, she loves partying with her friends at the women's shelter and listening to reggaeton music. Despite receiving hate due to her transgender identity, Hannah loves New York City and insists the best way to counter hate is through respect.
"I just have to be cool in New York City. I chill, relax, do my thing," Hannah said. "You should not expect good things. You meet good people and bad people but you cannot trust anyone. Just be happy where you are and with who you are and be respectful to others, then God will love you."
Nick Riguardi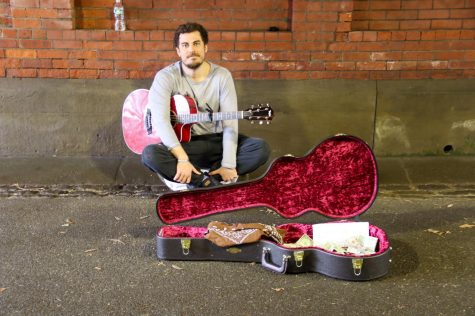 Nick Riguardi was busking and rehearsing a few songs for his band under a tunnel, and I sat down to listen to him as the ice cream I was holding started to melt. Nick started the Rooftop Trees, "a rock band from NYC," in 2018, and they play around New York City. Riguardi grew up in New Jersey and moved to the city to attend St John's University. An avid sports fan, Riguardi attended several Mets games while in college at their stadium, Citi Field, which was 10 minutes away from campus by car. Riguardi is a "follower of Jesus Christ," and his music is heavily inspired by gospel music. Riguardi says he makes sure to pray every day, as it helps him destress and keep a positive attitude. Alongside faith, music is another way Riguardi deals with the chaos of New York City.
"Music actually empowers me," Riguardi said. "It makes me strong inside, helps me process, helps me discover myself more, helps me be more vulnerable and helps me process emotions and become more attentive."
This story was originally published on El Estoque on April 19, 2022.