Home
Although some struggle to afford housing in a college town with an ever-growing population and architecture scene, community members can make a difference.
Iowa nice: the term describes the overwhelming kindness members of the Hawkeye State practice. It refers to Iowans' tendency to greet strangers on the street or make conversation while checking out at a store, whereas in other states, residents may walk past or shift focus to their phone. How far does this kindness extend, though, to people without shelter?
In the community
---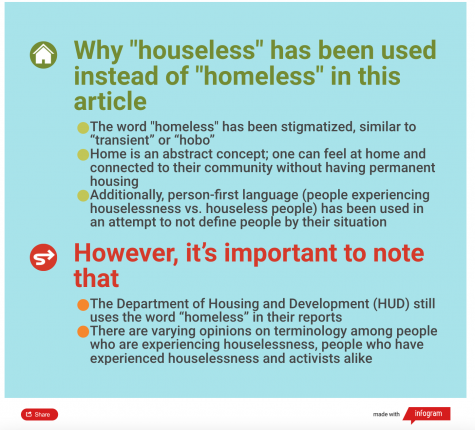 Iowa City residents Shane and Jeremy are best friends. Both experienced houselessness for most of their lives. Jeremy was battling an addiction to narcotics, and both friends currently struggle with alcohol abuse. Additionally, both faced tough childhoods — Jeremy's family members struggled with substance abuse disorder, and Shane encountered a variety of adversity early on.
"[I lived] on the street, off and on all my life — about 40 years. I'm 63 now," Shane said. "My dad died when I was 6 years old, so I had to raise myself. Then, I had to take care of my mom too. She had a bad heart."
Things started looking up when Cross Park Place opened in January 2019 and located Shane and Jeremy. The building, brought about by Shelter House, has single apartments and provides housing to individuals experiencing chronic houselessness. Cross Park Place was designed using trauma-informed design principles, including soft colors, warm materials and soothing spaces. 
"Cross Park helped us out. They're really nice people," Jeremy said. "They came and picked me up out of the woods."
Although both friends are glad to have a permanent place to reside, they agree there are some upsides to being houseless.
"Sometimes I like being houseless. It gives me the freedom that I need, the space. A lot of people don't realize that. Some people like to have their own space," Shane said.
Shelter House Director of Development and Communications Christine Ralston affirms that many people experiencing houselessness may enjoy it because it allows individualism.
"The thought of losing a freedom when you have very little individual choice, in a world that prides individual choice, [is terrifying]," Ralston said. "[People experiencing houselessness] have a reasonable and justifiable skepticism of structures and institutions because often they fail them continuously."
Still, there are challenges. Abbey Ferenzi is the Executive Director of GuideLink Center, a 24/7 urgent care facility for people who have mental health or substance use crises that would otherwise be in the emergency room or jail. Based on Ferenzi's experiences working and a 2020 piece published in Psychiatric Times, being houseless and having a mental health disorder or substance use disorder frequently arise from one another.
"Certainly not everyone who's homeless has a mental health disorder or substance use disorder, but, in my opinion, from what we see, a lot of people struggling with that are also struggling to stay housed," Ferenzi said.
Struggling with a substance use disorder himself, Jeremy takes it day-by-day.
"I'm just trying to get by," Jeremy said. "I'm trying to help myself out. I'm trying to help my brother out too because he's going to become homeless soon."
"
[People think] I am useless. People kind of look down on you because you're homeless."
— Michael, person experiencing houselessness
Michael, another Iowa City resident, has been houseless off and on for the past 10 years. Although he is originally from Iowa City, he lived in various places throughout his life. He feels there is a stigma surrounding being houseless. 
"[People think] I am useless. People kind of look down on you because you're homeless," Michael said.
Recent rises in inflation have only exacerbated troubles. According to University of Iowa economics professor Anne Villamil, pandemic-era shifts in consumer behavior, supply chain issues and U.S. fiscal policies are responsible for inflation. Additionally, the war in Ukraine has increased oil, gas and commodity prices.
"Inflation is always more difficult for low-income people. If one has an income of $1,000 and inflation is 10%, this income will only buy $900 worth of goods and services," Villamil wrote in an email.
Safety is another concern. Dieu Plus Fort is currently battling houselessness and has been using resources provided by Shelter House. 
"My experience is not too good, not too bad," Dieu Plus Fort said. "It's a place to sleep, you get something to eat. The bad thing is people stealing your stuff. They're noisy, they're fighting. I don't always feel comfortable."
The anonymous source, a fellow person utilizing Shelter House, does their best to make the environment as welcoming as possible.
"I stay busy cleaning and not complaining. People are from all different walks of life, so some people are bound to make a mess. It makes us look civil for when people come to donate or interview," the anonymous source said. "When you have cleanliness, you have more order. Plus, Covid makes you more aware and more considerate about cleaning."
The resources Shelter House provides are beneficial for the anonymous source, and they are on their way to a permanent residence in two weeks, as of press time.
"Shelter House has helped me refresh and refine life skills — being punctual is one. It all follows you through school, to work, to paying bills. Also, giving me the motivation and confidence to stay housed and gainfully employed has been valuable," they said.
Their experience being houseless has not only taught the anonymous source life skills but life lessons.
"It's been very enlightening to the conditions that people face. They become creative when it comes to survival," the anonymous source said. "I feel humbled and more in line with humanity. For example, I'm fully mobile. It makes me appreciate the minute things in life."
Rickey, having experienced houselessness for six years, however, uses a walker to get around. Even though she must use a walker, Rickey loves to walk to the Iowa City Public Library and watch Marvel movies. Although Rickey does not like being houseless, she feels her identity as a trans woman is more accepted in Iowa City than in Cedar Rapids, her childhood home.
"My childhood was really bad; I was sexually abused by my mom and dad. They didn't know what they were doing because they were using drugs," Rickey said. "[People at Shelter House and my doctors] understand me more, understand what I'm going through and call me 'she.'"
Ultimately, everyone has a different reason for being unhoused. However, there is hope.
"Success stories are possible — they're highly possible. The resources are in place to get back on the grid. A lot of people come in with barriers. It's like if you're running track, with hurdles. These people definitely help you — they help you get over the hurdles no matter how many you have. It works for people that allow it to work," the anonymous source said.
Community actions
---
Students in the ICCSD have been doing what they can to help people experiencing houselessness. Since last summer, Ana Nester '22 has volunteered for Houses into Homes, a non-profit organization that delivers furniture and household items to families exiting houselessness in Johnson County. Through her volunteer experience, Nester says she has gained a new perspective. 
"In our community, there's a lot more need than I would have ever thought," Nester said. "There was one time we brought a bed, and this kid was so excited. He was jumping up and down, and he's like, 'That's the bed I'm going to sleep in tonight.' I was really happy, but at the same time, it's heartbreaking to know these kids don't have a bed to sleep in every night, and that's what they're excited about when [for] a lot of people, that's just a given."
West High classes, such as the Seal of Biliteracy courses, have encouraged students to use their skills to give back. 
"
It's heartbreaking to know these kids don't have a bed to sleep in every night, and that's what they're excited about when [for] a lot of people, that's just a given."
— Ana Nester '22, volunteer
"Me and my classmates, we went to CommUnity, which is a food pantry. We crafted this script in French to help shoppers at CommUnity that don't speak English be able to know what to do when they go in the building and know how to shop there and all the rules," said Alice Doresca '23, a French Seal of Biliteracy student.
To help shoppers, CommUnity turned the script into an informational video, producing it in French and Spanish.
"It made me feel good to know I was doing something good to give back to our community, because none of the volunteers at the food pantry speak any other language except English. [We were] able to help these people actually understand what to do when they walk in the building," Doresca said.
The CommUnity Food Bank and other local food banks are helpful places to get food when on the verge of houselessness, currently houseless or in Shelter House's permanent housing. Otherwise, Shelter House provides breakfast and dinner, and the Iowa City Free Lunch Program provides free lunch without requiring identification or an address.
In the larger community, Iowa City South District Neighborhood Association President Angie Jordan works to connect residents to resources they need. For individuals who are unhoused, this may be food banks or programs like Shelter House. Another central goal is connecting residents — in other words, community-building.
"People realizing what's in their own backyard, what they have access to — that always makes me feel good because that connection and attachment, at least for me, really makes me feel like I'm home. And when I'm home, I'm comfortable," Jordan said.
Jordan keeps this philosophy in mind in both her volunteer work and position as Founder and Director of Banjo Knits Empowerment LLC. Her business provides many services, including but not limited to event planning and restorative justice practices used to repair relationships between victims and offenders.
"I think we oftentimes will forget that the fun that we try to create and the joy we try to create is for everyone, whether you have a home or not," Jordan said.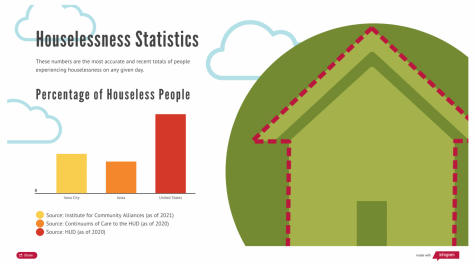 Iowa Senate Democratic Leader Zach Wahls '09 has been interested in helping individuals experiencing houselessness ever since he was a child in downtown Iowa City. In the many years since, Wahls' involvement in this issue has only grown.
"It started off as a childhood question of, 'Why is this happening? It doesn't seem fair,'" Wahls said. "[It] grew in high school, and then in college, into a better understanding of the broader structural issues around this topic."
When Wahls was in graduate school, he learned about an approach to addressing houselessness called Housing First. The Housing First method, which is used extensively by Shelter House, approaches houselessness differently than traditional methods.
Historically, housing was only provided to individuals experiencing houselessness who completed a series of steps, including accepting needed treatment and being sober. The Housing First method switches up the order in which individuals experiencing houselessness receive housing — a person experiencing houselessness is first given a home and then, they can decide if they want to receive treatment or become sober, or both. Through Housing First, no lengthy steps are needed for someone who is houseless to finally have a roof over their head.
Wahls has been working to combat houselessness in Iowa through his leadership in Iowa government since his first speech in the Iowa Legislature, where he focused on an encounter he had with a man experiencing houselessness in Des Moines while it was negative 32 degrees Fahrenheit.
"We were able to get some legislation passed that has more than doubled our state's investment into the kinds of projects that help make sure that people like him have the help they need from our state," Wahls said. "We got a lot more work to do; it's just a step in the right direction."
However, not all actions in the community are positive. Gentrification is the process of turning a community with formerly low housing prices into a wealthy area and, in turn, displacing the former residents. 
"Sometimes, yes, it's better to fix [properties] up and have them be better for people in the community. But not to the point where they're priced out of housing," Ralston said.
Anne Russett is the Senior Planner for Iowa City. She leads her team in making decisions about long-range and current city planning. Long-range city planning includes the creation of a comprehensive plan for the growth of the city that covers topics such as land use, transportation, environmental resources and more — all based on community input. Conversely, current city planning involves screening land use development applications, such as add-ons to already existing properties.
Russett has not noticed any large-scale patterns of gentrification in Iowa City. For example, although there was a rezoning of a former mobile home park, she mentioned that the city provided resources.
"The city was really worried about the displacement of those residents. We will require as part of that rezoning that individuals get relocation assistance, financial and support services and [are able to] work with Shelter House in particular to find a new home," Russett said. "[This is] not to say that there hasn't been any displacement of individuals from their residences; it may be occurring. What I'm not seeing though is residential neighborhoods completely redeveloping and resulting in displacement."
The city minimizes gentrification by being self-aware and putting preemptive measures in place. The city planning team has a group dedicated to allocating funds for affordable housing. Russett advocates for a diversity of housing types and feels, for a city with 80% of residential land being used for single family homes, this is a step in the right direction.
"Single-family homes cost more. Not everyone can afford a single-family home. Not everyone wants a single-family home," Russett said. "We went through a process recently where we created new zoning regulations that require a mix of housing types per block. So, as we're thinking about housing diversity and encouraging housing diversity, we're trying to provide some flexibility in our code."
"
If you're in our physical boundaries of our neighborhood, you're home."
— Angie Jordan, South District Neighborhood President
Besides potential gentrification, some activists have been concerned about anti-houseless architecture. Cities across the country have implemented these changes, from slanted bus benches to spikes on flat spaces that prevent people experiencing houselessness from sleeping there. Iowa City installed new benches with armrests in 2018. Later, the city council replaced 20% of the benches with benches without armrests, and donated an additional $10,000 to Shelter House.
"Nobody's wrong for getting riled up about people's comfort and accessibility in the community," Ralston said, regarding concerns about anti-houseless architecture. "It's not wrong to ask those questions as long as they don't lose sight of [the central goal that] I don't want my community to have to sleep on benches. I want to be able to connect them to a home they can afford, they can stay in and that they'll have support in."
Overall, Jordan believes houselessness should never define an individual.
"When you see someone who's houseless, whether you realize it or not, that really doesn't and shouldn't, in my opinion, matter: if you're in our physical boundaries of our neighborhood, you're home," Jordan said. "Those parks, those benches, those bus stops, the playground, the sidewalk, they should all be clean and shoveled and accessible for everyone who is home here."
Johnson County Sheriff Brad Kunkel has a similar perspective on how people should view houselessness.
"Being homeless isn't a crime and neither is having a mental illness," Kunkel said.
Building community
---
To build community and make everyone feel at home, Jordan believes a friendly greeting can make all the difference.
"Instead of avoiding eye contact and acting like [people experiencing houselessness are] not there, myself and others, we say hi. Just some of those really basic human connections for folks [make a difference]," Jordan said. "Again, whether they have a physical home or not, you're home here, and when we're home here, we acknowledge each other on these streets."
Education and spreading awareness are big components of helping for Ralston. She believes that if people experiencing houselessness do not know about the resources available to them, they cannot use them. Similarly, community members unaware of the resources are unable to provide support.
"The public support is huge. The only way you can get that is by educating our community and helping people find ways to be involved that work for them. A lot of people think you have to have a lot of time or a lot of money to be involved in making the world a better place for the people who need it — that's just not the case," Ralston said.
As one of West High's Student Family Advocates, there is one thing Annie Gudenkauf feels she can always provide.
"Really, what we can do is just be an emotional support for families that might not be getting the services that they deserve to have," Gudenkauf said.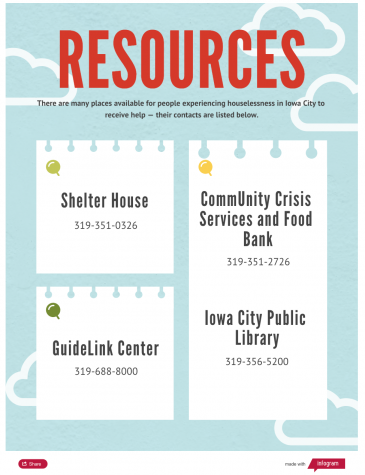 Others participate in hands-off work, including political, financial and emotional support, for people who are doing the hands-on work. If a person wants to be active in their community, Jordan believes they should find an internal connection to the issue in the form of empathy or personal experience. This process requires listening and reflecting on the issue while learning new things and preparing to be uncomfortable.
"I've oftentimes found that in most of the community work I do, if there's not a personal connection to it, some people put in the amount of work they think needs to be done, pat themselves on the back and then leave. If you really want to be involved, and you want to make a difference, this is forever and always," Jordan said. 
After firmly committing to a cause, Jordan notes there are many ways to get involved, from volunteering to writing related pieces that make people think. Nonetheless, a personal connection is important to combat the heavy toll taking on social justice issues has on an individual.
"The sustaining factor for me of doing the work is the joy, healing and excitement I get. And that's because I tether it to knitting or I tether it to my neighborhood. I tether it to people that I see every day," Jordan said. "It's personal, and it's fun."
Russett values community members voicing their opinions on city planning and potential projects. She encourages others to think about changes with empathy.
"Sometimes these rezoning meetings at city council can get really contentious. There's lots of neighbors that don't want to see certain housing types in their community. I would like people to think, not just about what's going on in their neighborhood, but what the city needs as a whole and what's best for the city in terms of providing housing to our community," Russett said. "We need multifamily units. We need duplex units. We need smaller units. We need accessory dwelling units. And we need it across the city, not just in one neighborhood."
To learn about the process of writing this cover story, listen to the podcast below.
This story was originally published on West Side Story on April 21, 2022.