Rosas defies expectations
Class of 2022 Personality Spotlight
The month of May is dedicated to raising awareness for Prader-Willi syndrome, a rare yet intense genetic condition that makes every day difficult. Many kids with this condition are forced to be in special schools and monitored at all times of the day. In some cases, they are completely reliant upon a caretaker. Prader-Willi, though life-altering, does not define senior Samantha Rosas.
Prader-Willi syndrome is a genetic disorder with less than 20,000 cases in the US per year that results in symptoms such as obesity, shortness, and intellectual disabilities. Because it's so rare, Samantha will likely be the first person with this condition to graduate from Fullerton.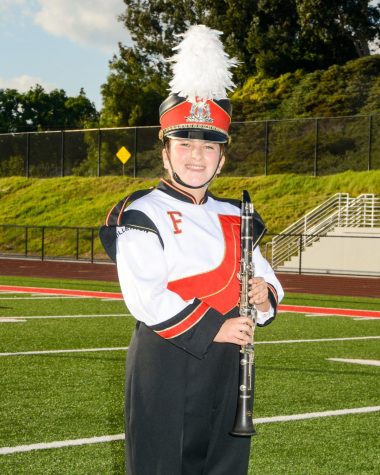 Samantha explains what it's like on a day to day for her to have this condition. "It's sometimes hard and sometimes easy. It depends on the day," she said. "I always feel hungry, some days more than others, and it's hard because there's not much I can do to fix it. There's a lot of judgment from people, but they don't understand what it's like."
Samantha has excelled in the arts programs on campus. She's performed for both marching and concert bands and has an extensive AP art portfolio, with visual themes ranging from animals to mental health. She's tried out theatre, far out of her comfort zone, because she felt it would be a good experience.
Samantha's sister, junior Sydney Rosas, has a lifetime of experience in helping Samantha overcome challenges caused by her condition.
"It's not easy to live with," Sydney said. "To everyone else, it's a lot. To us, it's normal. It's dieting. It's doctor's appointments. We're always monitoring her and how she's doing at school to make sure she's okay."
Samantha doesn't meet the expectations of what kids with this condition should be like, with most requiring constant supervision to succeed in school. Samantha, however, holds straight A's.
"The thing about Samantha is that she's so motivated," Sydney said. "She could very well have given up, anyone else would have. But she doesn't. She keeps on going with a smile on her face."
Living with a condition makes even the smallest victories feel like incredible accomplishments.
"For the longest time, she couldn't understand sarcasm," Sydney said. "Then the other day she used sarcasm for the first time. I made some joke about how I failed English and she said, 'you are totally the model English student.' We just started screaming because she'd never done that before."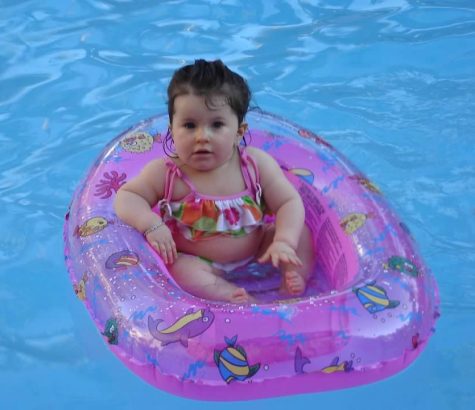 Samantha struggled with bullying growing up. "It makes me upset," Samantha said. "I've gone through so much, literally my entire life. I wish they knew how hard it was, and maybe they would be nicer."
"People tend to put her into a group of people that they can degrade because they assume that she's less than them, which is just not true and is the worst judgment anyone can make about her. She's the kindest person I've ever met and that is not an exaggeration," Sydney said.
Samantha remains an advocate for her condition. By attending awareness walks, writing essays, and volunteering to help at her church, she continues to be a voice for every student who has struggled with a disability.
"I know what it's like to struggle," said Samantha, who works in Eastside Christian's Special Ed room and is able to connect with the kids she is volunteering with by offering diversity and representation. "Some kids struggle with the same things I do, and I want to stand up for them. No one else does."
English teacher Carina Assayed has Samantha in her 4th period English class.
"I have the utmost admiration and respect for her not just as my student but also as a human," Assayed said. "She's very courteous and aware. If I knew Sam and I didn't know any of the things that she battles daily, I would think she is an awesome, amazing, top-notch, unforgettable kid."
While Assayed praises Samantha for her hard work, she also sympathizes with her and the difficulties she faces.
"I always try to remind myself that it's not as easy as she's making it seem," she said. "What she is going through, which I only have a tiny glimpse into, is something I was unfamiliar with up until this year. Meeting her and getting to know her has made me beyond proud."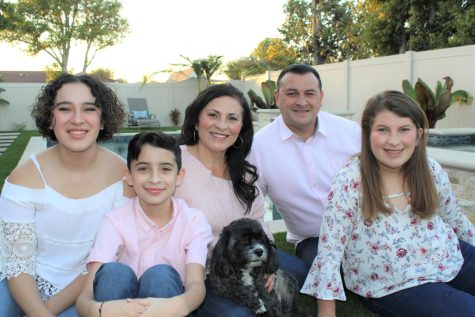 Samantha's dream is to teach in either elementary school or special education. "I think that the representation she'd be able to give students who are navigating disorders or disabilities is something that you rarely see in education," Assayed said.
Samantha will attend Fullerton College next year and plans to transfer to Cal State Fullerton to major in education.
"I have zero doubt that she's going to continue to be resilient," Assayed said. "That's a very rare feeling that you have as a teacher, when you know a kid is going to be more than okay."
Samantha's success is a beacon of hope for students. "The world has not been in her favor and yet she's still super, super loving every single day," Sydney said. "We've never pressured her into doing so well in school. My parents just tell her to do the best she can, and she has decided that her best is the very best."
Samantha says that her biggest motivator, besides the excitement that good grades give her, is her condition. "It pushes me to work harder. I want to exceed the expectations of this condition. It doesn't define me."
This story was originally published on Tribe Tribune on May 24, 2022.