Shifting opinions around SROs
Recent Student Resource Officer contract renewal sparks controversy
It took 78 minutes for the school district's police force to enter the Robb Elementary classroom in Uvalde, Texas, where 19 students and two adults were killed on May 24. The shooting exhibited flaws in law enforcement procedures, cast a spotlight on the imperfections of school safety and brought into question the role of police and security at schools nationwide.
The FUHSD Board of Trustees voted to approve a $12,000 per year contract with the Sunnyvale Department of Public Safety on July 12, providing funding for law enforcement services in the district. The contract authorizes crime prevention patrols on school campuses, additional traffic enforcement services and Neighborhood and School Resource Officer programs across the district.
According to Superintendent Graham Clark, the contract renews and expands upon FUHSD's current on-call program, in which officers are contacted as needed rather than stationed on campus. He explains that the value of the program lies in the unique relationship schools have with School Resource Officers (SROs). Unlike regular police officers, SROs are dedicated to managing school issues and are more accessible in the event of an on-campus emergency.
"When we feel we need their support, they're here right away," Clark said. "They are devoted to school issues, so they take time to investigate in a way that a regular patrol officer will not."
However, the decision to bring SROs into schools was faced with criticism from community members and the student-run Coalition for Social Justice regarding the contract's potential to bring racial profiling, police brutality and overcriminalization — issues highlighted by past student-police interactions — onto FUHSD campuses. Homestead High School senior Dan Penalosa, a facilitator for the CSJ's FUHSD branch, believes the funds allocated to SRO programs in Sunnyvale and Cupertino should be redirected to other services like mental health resources that directly benefit students.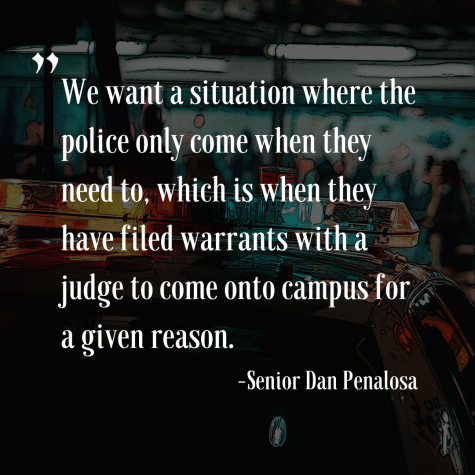 "My position and the Coalition's position is that we can do all this without [the] police," Penalosa said. "We want a situation where the police only come when they need to, which is when they have filed warrants with a judge to come onto campus for a given reason."
Currently, approximately $2 million, which includes money from the cities of Sunnyvale and Cupertino and $24,000 of district funds – $12,000 to Sunnyvale Public Safety and $12,000 to the Sheriff's Office – are allocated to the current SRO program annually, with the goal of creating a safe environment for schools within the district. According to the FUHSD website, "[SROs] assist us frequently by intervening in situations and working with students to prevent them from rising to a more serious level that would require suspension or expulsion."
For many schools in the U.S., SRO contracts involve stationing an officer on campus to supervise students during school hours, but FUHSD's on-call program with the Santa Clara County Sheriffs consists of two on-call officers for all elementary, middle and high schools in Cupertino and Saratoga.
Penalosa acknowledges that SROs could provide valuable support to schools in emergency situations but also believes "that does not necessarily warrant [SROs] doing things like crime prevention patrols" on campuses. They are critical of the contract's Hold Harmless Clause that grants "mutual indemnification" between the district and the Department of Public Safety, protecting the police from receiving legal liability for their actions.
Others remain impartial. Because of MVHS' lower transgression rate compared to other schools in the district, senior Amy Hu believes that the SRO program will not significantly affect her at school.
"Overall, I would feel safer [with SROs on campus], but not by much, because going to Monta Vista, [there are] less [crime] cases compared to other schools," Hu said. "So there won't be a huge difference."
If an issue does occur at school, Hu expresses that students may feel uncomfortable with a police presence due to a "power difference." However, she believes that as long as the police demonstrate "welcoming behavior" and "gain the trust" of students, the tension between the SROs and students could decrease.
Deputy Sheriff Jarvis Bui, who works as an SRO in Cupertino and Saratoga alongside Deputy Sheriff Aalok Patel, explains that the role of a resource officer at MVHS is to "build a community relationship." For instance, they might advise the administration on how to handle student reports, teach run, hide, defend drills and "life lessons," and interact with students and teachers on campus.
"I want to give [students] an opportunity to interact with us and let [them] know that it's OK to approach a police officer, ask them questions and talk to us [in order] to break that uncomfortability," Patel said.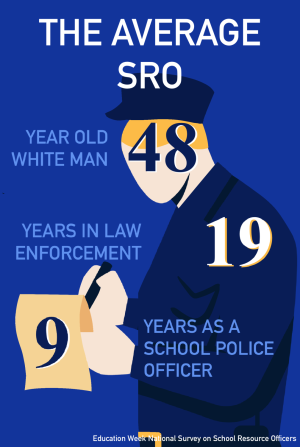 However, Penalosa believes that the presence of SROs can lead to further inequity on campuses. They acknowledge that SROs can assist students in emergencies, but maintain that the program should not be funded by the district.
"We want to eventually show up to the [city's] board meetings and request that the budget be reallocated to district funds for mental health services, or for clean energy or for supplies for schools even," Penalosa said.
Clark is aware of community concerns regarding the contract and plans to "review the campus climate data" and "comprehensive school safety plans" every March. He explains that the Board has discussed the potential consequences of the SRO program, such as racial profiling, but stresses the importance of resource officers in maintaining a safe school environment. According to Clark, they also have investigative authority in situations where a school administration does not, including incidents that take place off campus or involve multiple schools or districts.
However, Bui explains that there are often no issues to be dealt with, so resource officers sometimes show up at schools just to check in with staff or to play basketball with the kids during lunch. In cases where there is an incident, Bui believes that "not every crime needs to be handled as a crime," and instead emphasizes the importance of "[learning] a lesson [and moving] on."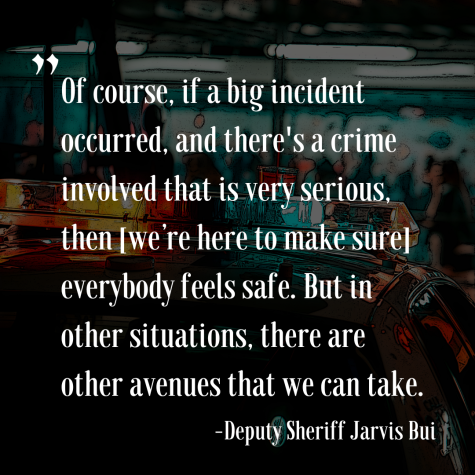 "A lot of people think that because we called the cops over, we're gonna go out there and arrest somebody," Bui said. "But that is not our job. We don't try to do that. Of course, if a big incident occurred, and there's a crime involved that is very serious, then [we're here to make sure] everybody feels safe. But in other situations, there are other avenues that we can take."
Fremont High School principal Bryan Emmert adds that during a bomb threat evacuation that occurred at FHS, SROs did "things [that] we as a school staff could never do in a situation like that," from bringing dogs on campus to conducting a search of the campus with other officers.
"I will say that [SRO] interactions with students tend to be significantly more positive than with the general beat officers," Emmert said. "[Having] someone who is trained to interact with students and knows that students are different [from] adults as a resource is important to us."
Overall, Clark expresses his trust in the district's decision and the FUHSD SROs while still keeping in mind the events in Uvalde.
"I'm saddened and horrified by what the response was in Uvalde," Clark said. "But our law enforcement partners here will respond differently, and we're confident that they're a good part in the investment of school safety."
This story was originally published on El Estoque on September 5, 2022.