Tragic event leads family to set up scholarship
When faced with a loss, families react in different ways. 
Some families come together and become stronger.
Some families suffer a break in their family.
And then other families do more. They want to take the tragedy and help others. They want to take their pain and try to change the world.
Tragedy struck the family of Garrett Spry on March 26, 2022.
Garrett, a student of Willis High School, his sister and her friend were on their way home when they were involved in an accident. Garrett was not wearing his seatbelt, and was ejected from the vehicle. He perished from his injuries.
After Garrett's passing his mother wanted to take the tragic events of that night and make a difference in the world. She has been working with the Kailee Mills Foundation to fund a scholarship in Garrett's name.
"I really wanted to turn Garrett's tragic accident into something positive," Kelly Walker, Garrett's mother, said. "What better way to do that than to offer a scholarship in Garrett's memory? Garrett had a good heart and he made a lot of people smile and touched everyone around him."
The Kailee Mills Foundation has impacted so many families and lives. The foundation started when the founder's daughter Kailee Mills died in a car accident after she unbuckled her seat belt to take a selfie with a friend. The foundation was created to educate students on the importance of seat belt safety.
"The Kailee Mills Foundation helped set up the scholarship, and it will be given in his name through the foundation." Walker said.  "They have individual scholarship funds set up in the name of each of their 'angels'."
Anyone that is a junior or senior is eligible to receive the Garrett Spry Scholarship. Every donation that is made is given directly to the student who gets chosen for the scholarship recipient. The scholarship recipient helps other students, but also keeps all the memories of Garrett alive.
To spread awareness and to raise funds the family is shirts and hoodies.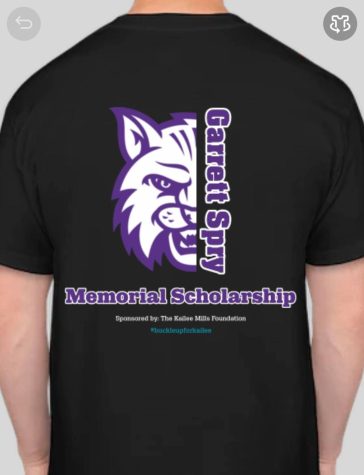 "We are selling tshirts to raise money for Garrett's memorial scholarship fund," Walker said. "We have tshirts and hoodies available. The shirts are $25 and the hoodies are $40."
The family wants Garrett to be remembered as a young man who was always living life to the fullest. He was known to be a great friend who was caring and giving to those around him.
"I want Garrett's legacy to be to live your life to the fullest, and in doing so BE KIND" Walker said. "Have a good heart , smile and #buckleupforGarrett."
to order shirts to support the scholarship contact Kelly Walker on  Zelle (9366974302) or CashApp ($kelliebaldwin39).
This story was originally published on The Voice of the Wildkats on September 16, 2022.