Local band rocks the Press Room in Portsmouth
By Kelly Egan, Londonderry High School
September 27, 2022
From the guitarist having to travel 20 hours straight from Hawaii to make it back in time, to the drummer having a concussion so severe that he couldn't remember his own name for an hour–nothing would stop the five members of the band Second to Last Minute from performing at Portsmouth's Press Room and accomplishing their long-time goal: performing their music together as best friends. Opening for a professionally recorded band was a tremendous milestone for this group of high school student musicians, two of whom are from LHS.
"It was a really big deal to play for such a well established band," drummer Elliot Lempke said.
Student-formed rock band Second to Last Minute opened up for the professional recording bands Catbite and El Grande on August 21 at the live music venue and restaurant, The Press Room in Portsmouth, N.H. The band has been together in their current form since June of 2021, after coming together to play a gig at the Auburn Pitts.
Including Lempke, the band includes five members: senior Logan Bower and junior Killian Daron, both LHS students, Emerson Carracedo and Lorelei Stahl. Lempke is a senior at Pinkerton Academy. The drums were introduced to him through watching the band Recycled Percussion. His parents took him to see their show for the first time in seventh grade, and he's been back to see them many times since then.
"I thought it was the coolest thing," Lempke said. "I wanted to be just like them."
Stahl is a junior at Pinkerton Academy. Along with being responsible for creating the band, she is the lead singer. Stahl says she was influenced to become involved in music at a young age by her father, and that caused music to "become a passion for [her]."
"I could not envision my life without music," Stahl said. "Getting to play with some of my closest friends is honestly the best thing."
Accompanying Stahl on vocals is Carracedo, a Windham High School senior. Carracedo may have started voice lessons at age 10, but she's "always loved to sing."
"When I was little, I would go out into the woods and sing to the birds and pretend to be a Disney princess," Carracedo said. "I can't remember not singing."
Bower is the guitarist for the band. Like Stahl, Bower grew up watching videos and listening to the music of bands his father would show him. After getting his first guitar at around two years old and teaching himself for a few years, his father then put him in guitar lessons in second grade.
"When I grew up, I watched a lot of old concert videos and stuff like that," Bower said. "I [remember] always being mesmerized by guitar."
These four were the original members of the band. After a month of playing together, they invited Daron to be their bassist. Daron was supposed to be a temporary fill-in on the drums for a gig Lempke couldn't attend. During a practice, Daron played a song for them on bass guitar and they asked him to be a permanent member.
"[Daron] just matched our energy really well and he played well," Lempke said.
Daron originally started out playing drums in elementary school, and became interested in bass about a year ago. Daron says music has always been a part of his life, and that he's "always wanted" to be in a band.
"When I joined, it was a really good point for me," Daron said. "If I didn't have this band, I couldn't even tell you where I'd be."
Though opening for Catbite and El Grande was a "truly unforgettable" experience according to Carracedo, the band was reminded of their humble beginnings. More specifically, their first time playing together as a group. They didn't have the most expensive equipment, or a lot of experience performing live. None of them had been in a performing band where speakers and other accessories were provided for them–the setting was completely new. Bower explained that when they formed Second to Last Minute, their main focus wasn't getting new equipment or worrying about their "lack of experience." All they wanted to do was play and create music together.
"It was more about playing than having all this fancy stuff," Bower said.
Although every member has been involved with music from a young age, it took time for all of their styles to blend together evenly. When practicing for their first gig, Lempke said he "wasn't too convinced they were the right group" because of their lack of experience. However, after their first gig, Lempke said everything seemed to "just click into place."
"Everyone is so good at what they do," Carracedo said. "When we brought all of that together, it was really special."
The reason for the band's formation was due to a Pizzastock gig. Pizzastock is a production of the non-profit Jason R Flood Memorial, created with the goal to spread awareness of suicide prevention and mental health issues through music events. They reached out to Stahl and asked if she could put together a band to fill an open spot in their concert lineup for their event at Auburn Pitts. Determined to take on the challenge, that's exactly what she did.
"I got very lucky with my bandmates," Stahl said.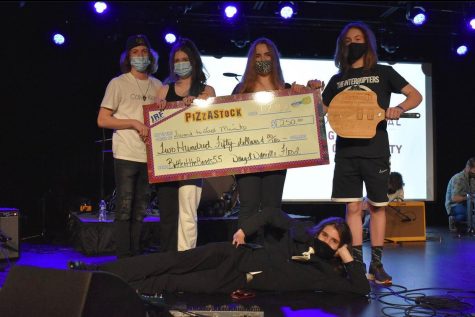 After their first gig, they continued doing various events put on by Pizzastock like their annual Battle of the Bands and other fundraisers that the foundation puts on. Playing these gigs helped the band's career move farther along and allowed them to gain experience.
Doing local gigs and events also gave them the opportunity to open for Catbite and El Grande. Stahl, being a previous fan of theirs, had already bought tickets to their exact show before knowing her band was going to be the opener. About three days before the show, Catbite reached out to Stahl's dad. They said one of their opening bands dropped out and asked if Second to Last Minute would be interested in filling the spot.
"I thought [my dad] was joking," Stahl said. "Once I realized he wasn't, I called [Daron] and he started screaming."
Since it was short notice, they had to get ready and put everything together quickly. They originally were planning on having only Stahl, Daron, and Carracedo perform. Prior to the opportunity, Lempke had gotten in a mountain biking accident and developed a severe concussion. The other members didn't think he would be able to perform, but Bower said that Lempke was "all in."
"My head was hurting a bit that day," Lempke said, "[but] I had an absolute blast."
The band was planning to get a fill in for Bower as well since he was on vacation in Hawaii with his family. He was supposed to stay and celebrate his birthday there, but he convinced his family to let him fly home to play the gig. He traveled 20 straight hours overnight to get home.
"I didn't want anything for my birthday, I just wanted to fly home" Bower said. "[My parents] said no at first, so I had to convince them for a couple hours."
Although a few conflicts were thrown their way, all five members were able to perform. The day before the show, they practiced for four hours to make sure they were prepared.
"Everyone was scrambling because it was such a huge opportunity," Daron said.
They weren't quite sure what to expect when arriving at the venue. They had no experience performing in a show that had a set opener and headliner, and weren't sure what the audience and environment was going to be like. But when Carracedo walked into the Press Room, she had a "wow" moment. Stepping onto the stage for the first time "made it all sink in" for her.
"It became real when I sang into the microphone and heard my voice through the speakers," Carracedo said. "The feeling of performing in front of an audience is an experience difficult to describe with words."
Stahl and Daron had been previous fans of Catbite before earning the gig, so it was a "big deal" for them. Stahl said both bands were super kind and supportive.  She said that performing in front of that audience and the other professional bands was "one of the coolest things they've done so far".
"We looked over [while we were performing] and saw both of the bands we were opening for in the crowd jamming to our music," Daron said. "It was really cool to see that, especially when those are the people you're looking up to."
Playing for Catbite and El Grande was a "pleasure and fun experience" as Lempke described. Being able to experience opportunities together have created close connections between the band members. They have all become each other's "second family" through being in this group according to Daron. Stahl added that this band has made her life "so much brighter".
"I get to make music with my best friends," Stahl said. "It's just amazing."
Carracedo said that her life has "really changed" through being a part of Second to Last Minute and she's met "so many amazing people because of it".
"I've gotten to experience the feeling of belonging and being a part of a group," Carracedo said. "I've made memories that I'll cherish forever."
Similar to Carracedo, Bower said he made a "ton of connections" through the band and this group of people helped him "come out of his shell".
"Before the band, I was very introverted and I was home most of the time," Bower said. "Now I get to not only go out, but go out to do something that I love."
The group also supports each other outside of the band in all of their other activities. They go to each other's games, concerts, and school events as much as they can. While supporting each other through showing up for their events, they also support each other emotionally.
"[We all] make sure one another is doing okay and offer help if someone needs it," Lempke said. "We seriously do love each other."
They are now heading towards completing another goal of theirs. Over this past summer, they recorded four original songs at Blackheart studios in preparation for the release of their debut upcoming extended play (EP) record.
"It was two days of just straight [recording] in the studio," Bower said. "[It] was a ton of fun."
The EP is entitled "Better Late Than Never." It will be released on all music platforms in early October. The EP consists of their original songs entitled Half Past Three, Lovely Days, Echoes, and Apple Pie. The band is having a party for its release on October 9th at the Press Room, in Portsmouth N.H, which is the same venue as where they opened for Catbite and El Grande.
As a band, they said they are "excited to find out what their next steps are." Their goal is to work on writing more original songs and releasing more music in the future. Each member has hopes of pursuing music in the future in and outside of the band.
"I am looking forward to seeing all of the amazing things that my bandmates will do in college and beyond," Carracedo said.
This story was originally published on The Lancer Spirit on September 16, 2022.