Black students make up 24.1% of the student body at West, the second highest percentage after white students, which is 49%. The West Side Story started this series to showcase Black students at West and their accomplishments.  
The Urban Dictionary defines Black excellence as "Someone that is Black and portrays great qualities and abilities that make the Black community proud." Though this definition is accurate, it fails to capture the true meaning of the term within the Black community. Black excellence goes beyond an individual having great qualities, it represents freedom, an illustration of someone in their community breaking barriers set by systemic racism.
"I would define black excellence as chronicling and showcasing the achievements and many contributions that Black Americans have made towards society, towards life, towards existence," said West High Principal Mitch Gross. 
Celebrating and showcasing achievements made by the Black community helps Black students see themselves in areas of success that can inspire others to strive for excellence as well. 
Story continues below advertisement
"For me, celebrating Black excellence is an opportunity to be inspired," said Amari Nasafi, African American literature teacher at West High. "I admire the achievements of all human beings, but there's a special sense of pride and motivation when I see Black folks doing great things, It's easier to imagine myself doing the same." 
It is also important to celebrate Black excellence in all fields, not just sports and entertainment. "When I taught AP U.S. History, I always made sure that I depicted the Black community in my classroom, office and that they were academic, and they were political," Gross said. "I wanted to make sure that people say 'Black excellence is even more than entertainment and athletics, it is more and beyond that.'" 
As of 2022, West High School is ranked the number one public high school in the state of Iowa and its motto has been "Where Excellence is Tradition" for years. Here are some current students and alumni who have exemplified Black excellence throughout their time at West and beyond.
Dasia Taylor '21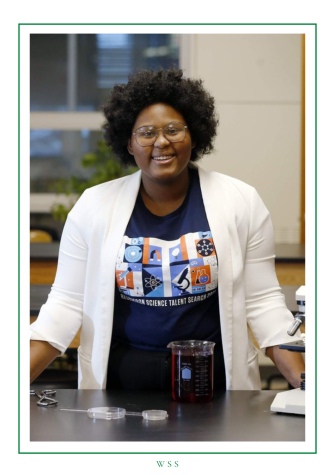 Dasia Taylor is a 19-year-old inventor who graduated with the class of '21 and is currently majoring in political science at the University of Iowa. She is most known for her groundbreaking invention of color-changing sutures. When she was 17 and attending West High, Taylor participated in a science fair, which she was in for a fun experience, never intending to invent something as influential as these sutures.
"I didn't set out to do any of this. I think that's a common misconception with my story," Taylor said. "I didn't think this was going to be my journey. But because I had the idea, I knew I had to go for it."
On her 16th birthday, her mentor gave her a book called "Goodnight Stories for Rebel Girls." It is a history book for kids that highlights "boundary-breaking women" in all fields, including Serena Williams, Oprah and Coco Chanel. Giving Taylor a children's history book when she was 16 was part of a running joke she had with her mentor because Taylor does not read for leisure. Three years later, 19-year-old Dasia Taylor will be featured in the upcoming Goodnight Stories for Rebel Girls book which releases Oct. 4.
"That's really huge for me, just because it's a full circle moment," Taylor said. "It falls right in line with what I value in terms of inspiring young people."
Dasia Taylor features in Goodnight Stories for Rebel Girls
Dasia's feature in the book is now out!
Layan Ahmed '25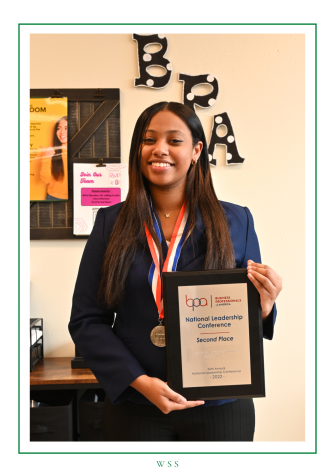 As a 9th grader in a college credit entrepreneur class, Layan stood out to her teacher, Diane Fickel, as an outstanding public speaker and deep thinker.
"I approached her about joining Business Professionals of America because she is a highly driven student, and that's the kind of member we're looking for in the club," Fickel said.
BPA is a national leading student organization that prepares students interested in business professions. Although she started BPA late, Layan was one of the few Black girls in the nation to qualify for nationals and she placed second in presentation management.
"I think that was such a huge accomplishment," Ahmed said. "Not only because it was such a nerve-wracking thing, but it was also amazing because I was the only freshman from our school that qualified for nationals and went to compete in that competition."
Outside of BPA, Layan participates in a multitude of activities. In a symphony orchestra, she is a pianist, guitarist and violist. She also enjoys reading, public speaking and baking. Layan is currently the only sophomore on the executive board for BPA, she plans to start her own business in the future.
"The idea of success and the idea of being able to motivate and inspire others motivates me. I always ask myself, 'what can I be doing more?'" Ahmed said. "The idea of myself and pushing myself forward also really motivates me and of course makes my parents and my family proud." 
Moustafa Tiea '25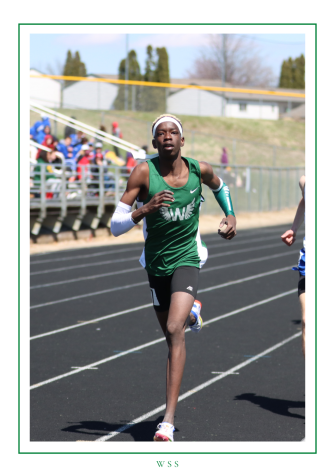 As a sophomore in high school, Tiea is a star in track and field. He discovered his potential in third-grade recess when doing a 50-meter run. As he got older, he noticed that he stood out in all of the track and field activities he participated in.
"I was like, holy crap. I'm better at this than most people. That's cool," Tiea said. "And then like third grade, fourth grade, fifth grade, sixth grade, we'd have those track and field days and I'd do pretty well at those."
Tiea has been a varsity member since freshman year and has received many awards in his high school career so far. He was the fastest freshman in the 800 and 1600 in the state of Iowa, and the only freshman under 2 minutes in the 800 in Iowa and an individual conference champion in the 800. He was a 4×800-meter relay participant in the Drake relays, a three-event conference champion as a freshman and a state medalist in the 800. He was also the outdoor state champion in the 800 for the pentathlon.
"
My number one goal is to become a pro runner, and run in the Olympics
— Moustafa Tiea
"Moustafa has a very special gift," said West High track and field Coach Josh Kidman. "He is very naturally talented and has the drive to be the very best. As Moustafa matures and gains more experience racing he will be very competitive at the highest level. Moustafa makes friends easily and loves to be goofy which attracts lots of friends and plenty of good times."
When he is not running, Tiea loves to spend his time learning about science and aerospace. He excels in his classes and particularly enjoys his chemistry honors class.
"I want to major in aerospace in college. I really like how aerodynamics work," Tiea said. "You'll always see me take a pencil apart or like pens, and make little rockets. It's fun."
Tiea finds his inspiration from his coaches, he credits them for helping him with his confidence while running. During a conference meet, his coach unexpectedly put him in the 800 where he thought he only had one competition. A runner with a personal record of 1:56 whereas Moustafa's was a 2:02. He was unsure if he would beat him at the race so his coaches gave him courage through advice and motivation. He ended up winning the race and later on, Tiea found out the same runner had committed to the University of Iowa for track.
"They didn't tell me that before. Because like … I probably would have given up," Tiea said. "They're the best coaches in the world I've ever had. And honestly, they're the reason why I'm in the spot I am in right now."
This story was originally published on West Side Story on September 23, 2022.