Senior equestrian gallops her way into national standings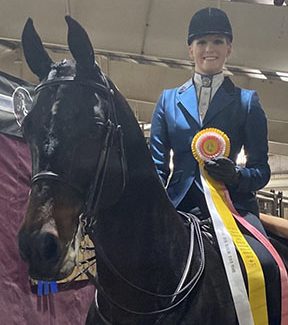 Hoofbeats of galloping horses compete with the booming sound of music in one ring while judges inspect every detail of horse and rider in another ring at the Morgan Grand Nationals, the world championships for the Morgan horse breed.
Senior Natalia BarNoy and her Morgan horse Laing Hill Atha, (or Atha for short) spent the beginning of October in Oklahoma competing in a Road Hack class and three different Hunt Seat classes (see sidebar).
"It was a dream come true," BarNoy said. "Being there in that atmosphere with all the other amazing riders was just breathtaking."
In total, BarNoy won two ribbons: third in her Road Hack class and eighth in her Hunt Seat equitation. At horse shows, typically only the top riders in a class get ribbons. In BarNoy's classes, Road Hack had about 20 riders and in hunt seat for 17-year-olds there were ten.
Unlike casual horse shows, there was a panel of three judges, with one known as the call judge, who was tasked with calling out directions to the riders. All the judges put their top 12 riders on their scorecard. After the class, the judges joined together and the placings were determined from where each rider stood with each judge. BarNoy had a first place vote, eighth place vote, and fourth place vote, with the lowest vote not being used.
"Overall I got third because of my placings on the cards," BarNoy said. "But, the call judge had me first."
BarNoy's friends and family were there to support both her and Atha, including her mother, Linda Swan BarNoy, who also rides horses.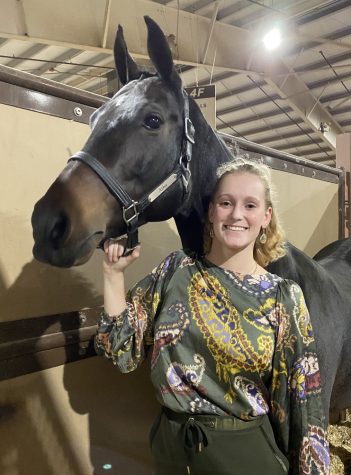 "It was really cool," Swan BarNoy said, "And the thing is, once you're there, you're caught up in that energy and you're like 'Well now we have to go back'."
Despite how seasoned BarNoy is in riding, she still gets nervous, especially with the pressure of nationals on her shoulders. Atha also had some show nerves, with her signature anxious lip flapping going in all the classes.
"I was really stressed, like I almost cried," BarNoy said. "I remember just looking at my friend, her name is Anna, and being like 'This is so stressful' and she just gave me, like, the biggest hug."
When the two long weeks of riding and dedication came to an end, BarNoy ended the show with a third place, eighth place, and a first- timers ribbon added to her collection.
"At the end of the day I had a lot of fun," BarNoy said, "And that's all that matters."
This story was originally published on The Lancer Spirit on November 28, 2022.