Content warning: This article mentions suicide.
For free and confidential support, call the Suicide and Crisis Lifeline at 988.
Discussions of concerns circulate the room as anticipation rises for the teacher to pass back tests. But out of the myriad thoughts and remarks, one in particular passes by constantly without consideration. 
"If I don't get an A I'm gonna —"
Story continues below advertisement
We've all heard this comment before. Maybe you've even been the one to say it. These jokes dismiss suicidal thoughts as unimportant, making it difficult to distinguish whether the person is trying to be funny or actually needs mental help. With suicide in the top three leading causes of death amongst teenagers, it's alarming that we are so used to hearing these words that we don't notice them anymore. These jokes trivialize suicidal thoughts and imply that this problem is commonplace, normal and even insignificant.
According to a 2020 University of Tennessee study, people who make suicidal jokes are often those who are suffering from suicidal thoughts themselves. So, for people who use these comments as an outlet, there are concrete ways to address these feelings in a healthier manner, including, for example, suicide hotlines to talk to health workers or genuine conversations with friends or trusted adults. 
Students telling such jokes during school meetings, or worse, teachers joking about similar situations in class, only magnifies the issue. 47.3% of 182 Harker students and faculty, roughly one-fourth of the community, who responded to a multiple-choice survey say that they or their friends make jokes about being suicidal "often." Regardless of people's true intentions, jokes about suicide or other mental health issues treat these topics as punchlines for a quick laugh rather than serious problems that require discussion and potentially professional help.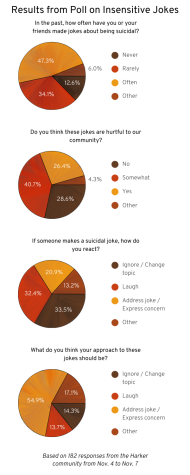 Additionally, people on the receiving end of the humor often respond in ways that are unintentionally uncaring. Based on the same poll, out of the respondees, 32.4% said they would laugh in response to a suicidal joke while another 33.5% said they would ignore it or change the topic of discussion. However, when asked about what the proper approach to suicidal jokes should be, 54.9% chose the option "address the joke or express concern," with only 20.9% actually doing this in a real situation. When presented with such situations, seek to understand first and then lend an ear to the person making the joke in order to foster a safe and empathetic environment for those around us.
Considering that half of all lifelong mental health illnesses start by the age of 14, the age when many students start high school, our community should strive to maintain respect and demonstrate care when discussing these issues, especially in the years significant to our development.
We need to hold these discussions with our friends. Being mindful of others' feelings means holding friends accountable for these jokes — as well as ourselves — with kindness and understanding since they could be struggling with suicidal thoughts.
These steps are small actions to take but can go a long way in making people in our community feel less uncomfortable and more willing to come forward about struggles with mental health.
This story was originally published on Harker Aquila on November 30, 2022.