Cabaret 2022 succeeds in bringing the 'Light'
Annual choral concert features vocal performance variety
Last weekend, McCallum's choir held its annual cabaret show, 'THIS IS THE MOMENT: Be a light.' The showcase provided students an opportunity to perform an entire semester's musical work for friends and family.
The performance was comprised of two acts, which included a mix of solos, duets, and full-cast ensembles. Together, the choir performed 44 songs, many being popular classics and like "Fly Me to the Moon" by Frank Sinatra and "Girl on Fire" by Alicia Keys.
We are delighted to share some of the choir's shining light in this week's Tuesday Top 10.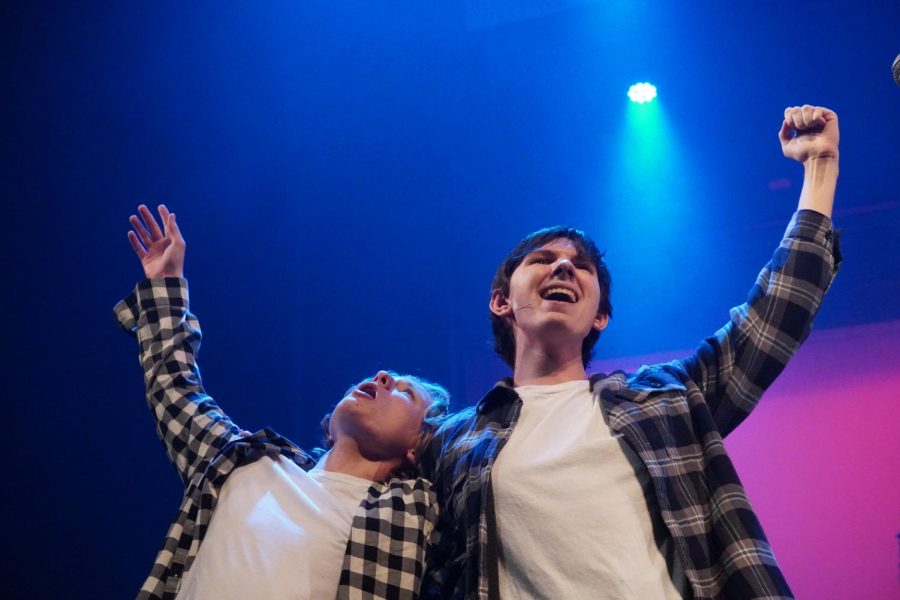 GIG 'EM TENOR-BASS CHOIR: Sophomore Sasha Grapko and junior Marshall Clifton pose together at the end of "The Aggie Song." The number, originally from The Best Little Whorehouse in Texas, was performed by the tenor-bass choir and is a comedic and satirical take on masculinity. The piece was high intensity as it included choreography that involved the performers standing on benches and waving their flannel shirt props.
"The choreography was fun and energetic," Grapko said. "It has a ton more energy and spirit than the other numbers. I think it turned out well."
Reporting by Alice Scott. Photo by Francesca Dietz.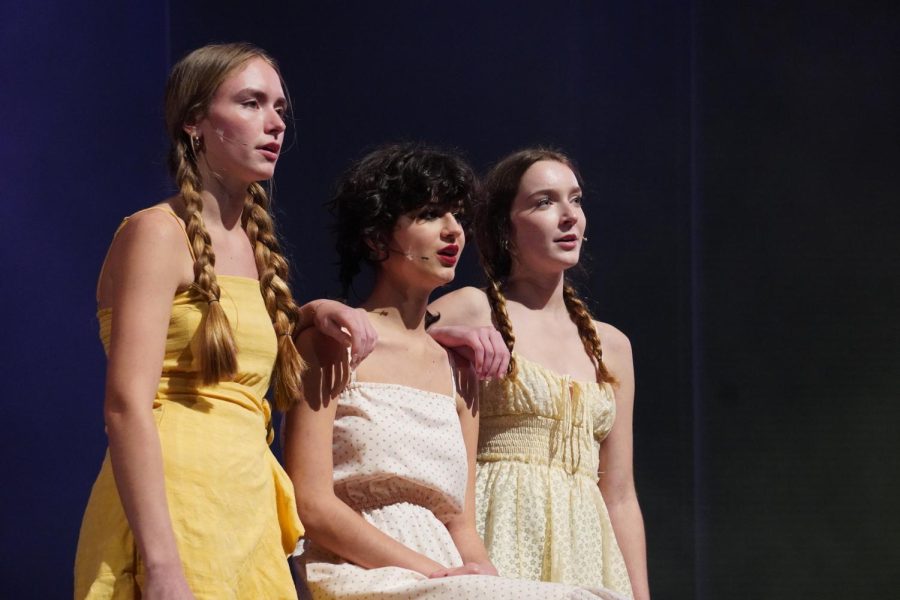 LAST TIME FOR THE TRIO: Seniors and chamber choir members Cate Thomason, Georgiana Murray and Stella Pitts perform "Landslide" in the style of The Chicks during a performance of the annual choir cabaret. This year's Cabaret production, themed "This is the Moment… Be a Light," featured songs about the choice humans face to build someone up or break them down. Thomason said after four years of performing together, the trio's personalities blend as well as their voices. For the trio, this Cabaret was bittersweet.
"We weren't that nervous this year because we've been singing together for so long," Thomason said.  "We were mainly just excited and sad that it was our last year singing together."
Former choir directors Malcolm Nelson and Cheryl Lindquist returned to Mac to put on Cabaret this year. Thomason said Nelson and Lindquist's fun taste in music made the experience even better.
"Cabaret is a lot of work but it's a lot of fun music and an exciting experience," Thomason said. "We are really fortunate to have Mr. Nelson and Dr. Lindquist coach and help us with everything. I think they're really good at picking fun songs and putting so much together in such a short amount of time."
Reporting by Ingrid Smith. Photo by Francesca Dietz.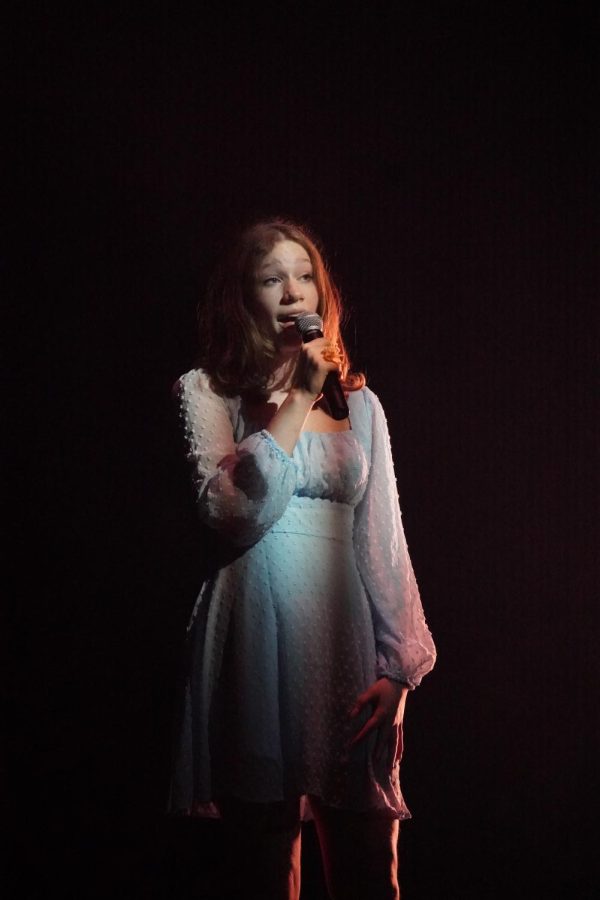 BETTER THAN A DREAM: Sophomore Ella Piston sings the iconic Disney theme "A Dream is a Wish Your Heart Makes" during the Saturday cabaret show. This performance was Piston's first solo in a Mac choir concert.
"It was a good experience to have a solo outside of a stressful competition environment," she said.
Piston also enjoyed being able to work with former choir director Cheryl Lindquist.
"She's an amazing musician and she cares so much about the students and the show," Piston said.
Reporting by Francie Wilhelm. Photo by Francesca Dietz.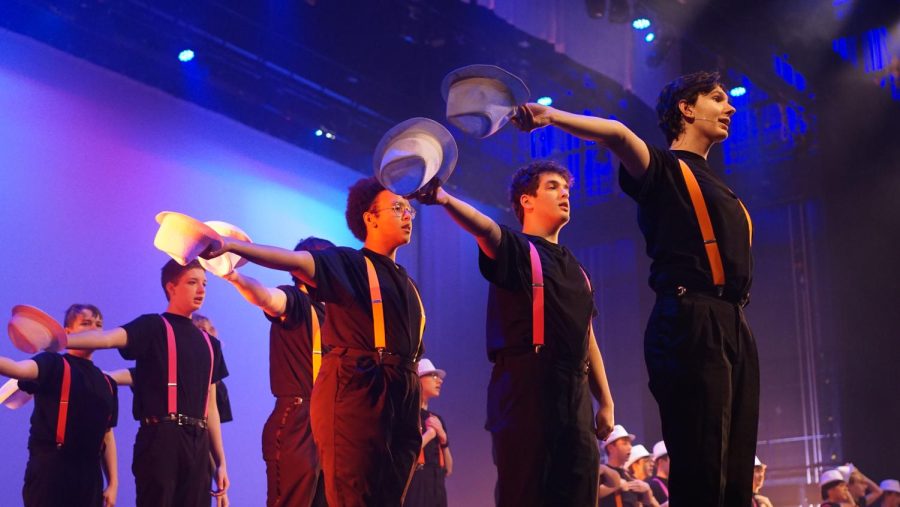 LUCK WAS ON THEIR SIDE: Sophomore Robin Kulhanek (middle) performs "Luck to be a Lady" on Cabaret's opening night. The upbeat number was one that Kulhanek described as a highlight of the concert.
"I really enjoyed making the number," he said. "And the end of the song when we did a ripple effect with our hats."
Kulhanek was one of several students who were involved in the choreographing process.
"I feel like the show really got together when we added the movement," he said.
According to Kulhanek, one of the biggest challenges, when it came to the dance elements, was the deadline.
"Our time crunch was a really big obstacle because we only had about three weeks to put the show together," Kulhanek said. "Also trying to teach to choreo to some of my peers since not everyone is a mover."
Caption by Francie Wilhelm. Photo by Camilla Vandegrift.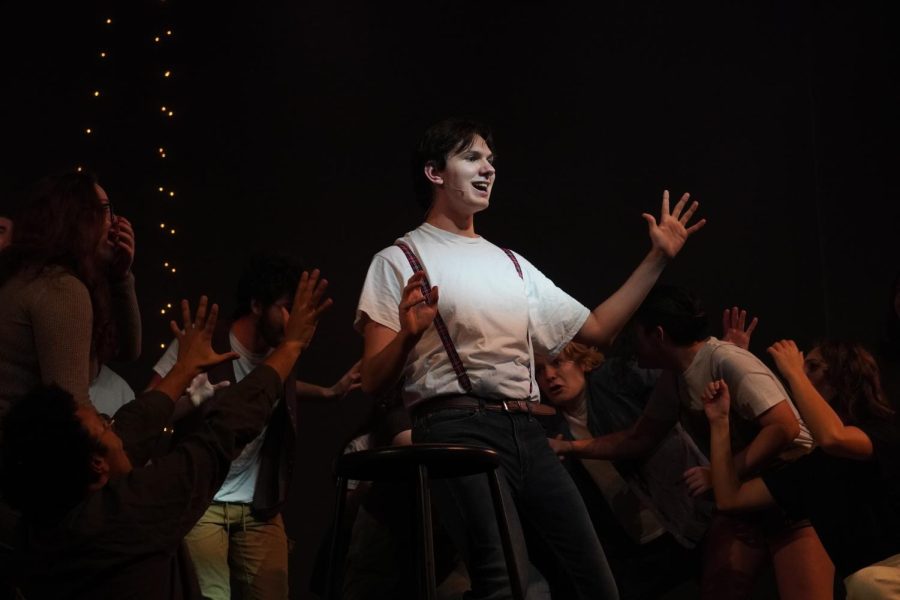 Junior Marshall Clifton inspires his fellow performers to run away from their problems and towards freedom in their piece, "Run Freedom Run." The song came with many challenges, including a high note finale that Clifton found difficult, but was able to achieve with hard work and effort.
"The last note of the song was the hardest part of the performance for me," Clifton said. "But I worked a lot with my voice teacher to get that note in a healthy place."
Another aspect of the show Clifton found just as difficult was keeping up with the demanding energy of the number.
"Keeping that exciting, infectious energy while singing some really difficult harmonies was quite a challenge," Clifton said. "I found keeping the balance to be a learning curve, but I feel like I figured it out."
The showcase also gave members of different choirs to interact with one another. As a member of the tenor-bass choir, Clifton got a chance to sing with treble voices, and interchange with other choir members who he would not usually perform with.
"My favorite part of the show was working with all of the other choir members," Clifton said. "I only see the other members of the tenor-bass choir, but working on these numbers, I got to see people from all the choir periods, and see what it was like to work with people who I don't normally get to work with."
Caption by Jojo Barnard. Photo by Francesca Dietz.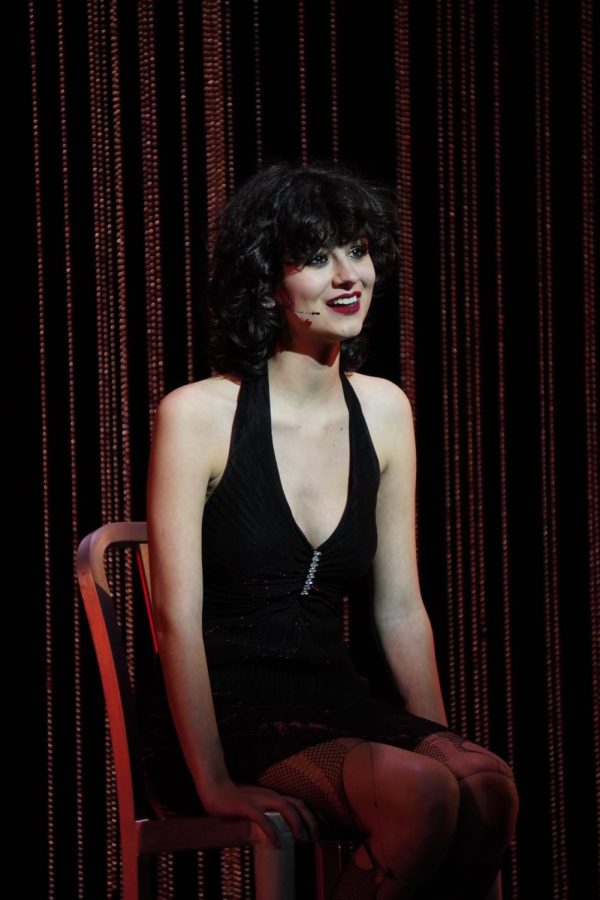 CABA-CEPTION: Senior Georgie Murray performs her solo "Maybe This Time" from the Broadway musical Cabaret at the McCallum choir's annual winter cabaret. The classic Minnelli tune was a bit out of Murray's traditional vocal style, but she enjoyed the opportunity to sing out of her comfort zone.
"I just had a lot of fun with it," Murray said.
One of Murray's personal highlights of the concert was her trio performance of "Landslide" by Fleetwood Mac with her longtime trio partners, seniors Cate Thomason and Stella Pitts. The three have performed together at almost all of their past cabarets.
"Our trio this year is going to be our last official one," she said. "But 'Landslide' was the perfect senior year song. It was so fun."
Sunday's matinee show may have been Murray's last time on the cabaret stage, but she didn't let sentimental emotions get in the way of having a good time.
"I was really happy to have one last final show with all my choir friends," she said.
Caption by Francie Wilhelm. Photo by Francesca Dietz.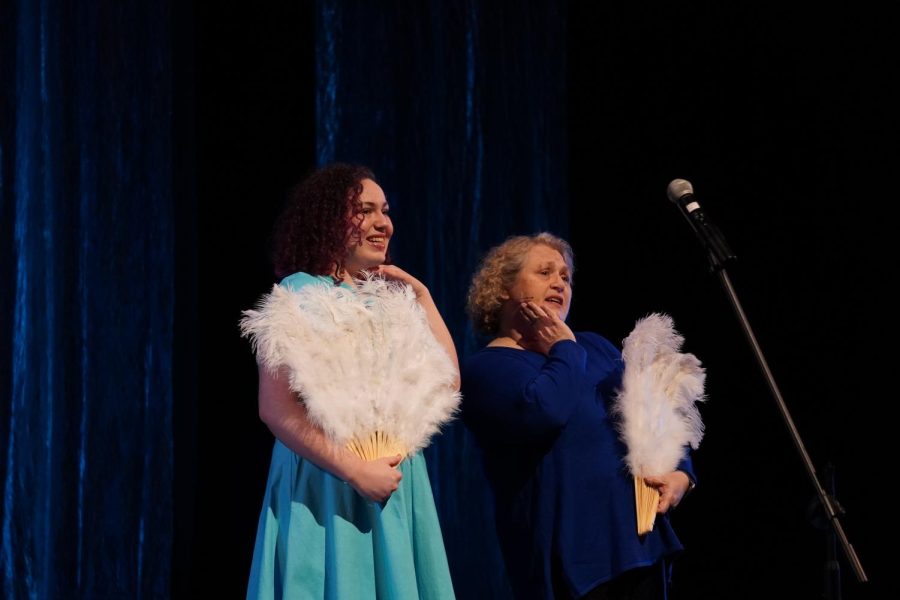 MOTHER-DAUGHTER DUET: Senior Lily DaMommio and her mother, Tanya DaMommio, perform "Sisters" at the Saturday Cabaret show. Lily's original duet partner, senior Kendall Shenoda, fell ill, causing her mother to step in and perform with her during the weekend.
"A few hours before the show we decided to have my mom fill in," Lily said. "We would have cut the piece entirely if not for the tech issues that would have caused."
Tanya gained musical appreciation from her own mother, who grew up singing around her. In high school, she was in the LBJ marching band. Even without formal choral training, this past musical experience helped the spur-of-the-moment performance go on without a hitch.
"She's a big fan of the song we performed and is great at pitch matching," Lily said. "So it wasn't hard to whip up a good show."
Caption by Francie Wihelm. Photo by Francesca Dietz.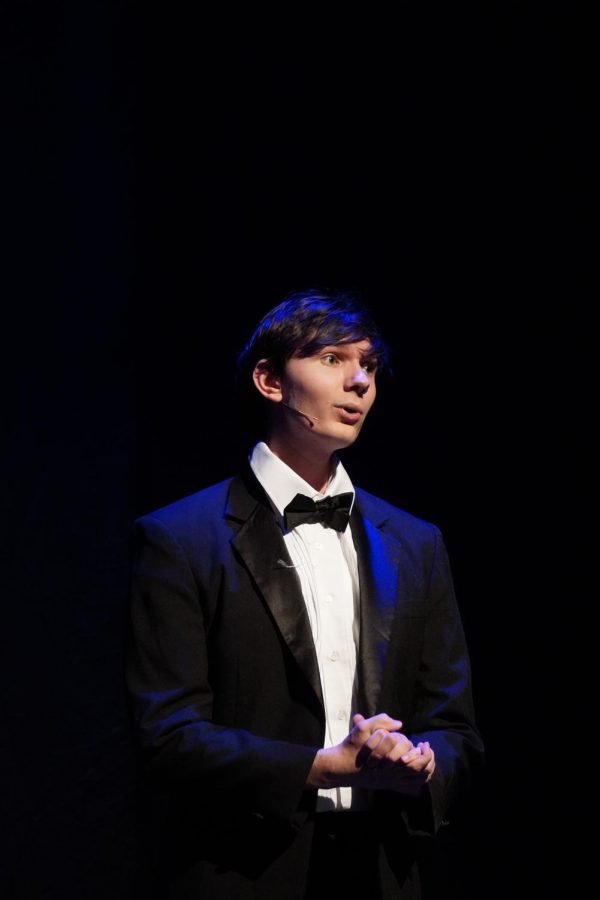 FLYING SOLO: Junior Marshall Clifton performs "Fly Me to the Moon" during his second choir cabaret. Clifton was assigned the solo in October and has been working on it with the choir directors to get it ready for the concert.
"Mr. Nelson and Dr. Nelson made the song into real music," Clifton said. "They told me the best way to sing it for my voice, told me what to wear, and all of the things that turn a song into a performance."
For Clifton, the number was nerve-wracking, but also a great opportunity to expand his skills in singing and performance.
"At the end of the day, I was able to make the song my own," Clifton said. "Having a live pianist gave me so much freedom to do what I wanted or needed to do in order to give my best performance, and that freedom was really invigorating."
Reporting by Alice Scott. Photo by Francesca Dietz.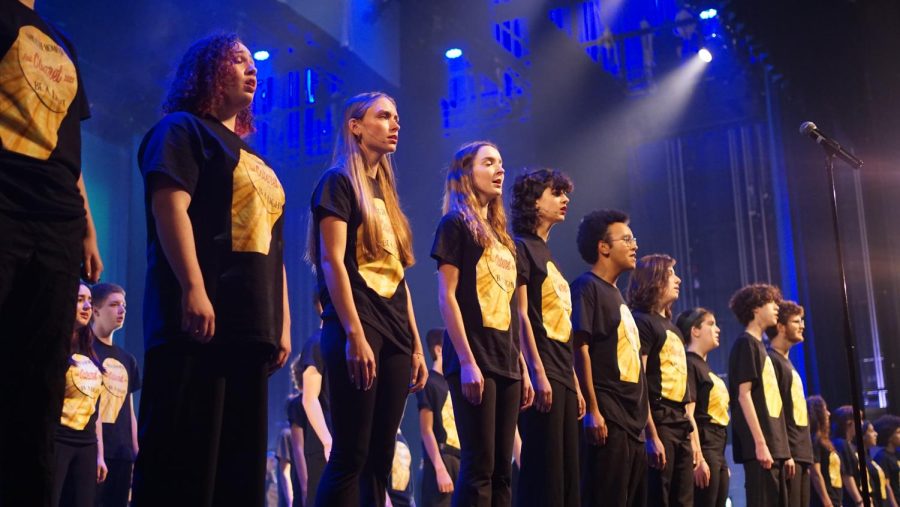 SINGING THE NIGHT AWAY: After nearly a month of preparation, coordinating costuming, and perfecting the choreography that went with each number in the show Cabaret hit the stage. Students from all four grades came together putting together solos, duets and group acts.
For sophomore Robin Kulhanek the stress of the production, and time spent creating a polished Final Product was worth it.
"My favorite part of production was working with the boys choir and small group choreography," Kulhanek said.
Kulhunek, accompanied by the boys choir, got to perform "Luck be a Lady" and "Run Freedom Run" as just part of the show.
"I sang about nine songs in the show including my solo," Kulhunek said. "We spent about a week learning the songs, and then adding movement to them in the following two weeks."
Although this is Kulhunek's first performing in the show as a sophomore, it's not their first time getting to be a part of the production at McCallum, participating in a total of 13 numbers. Although this year's version was different, including a variety of songs, dances, and costumes it followed similar guidelines as last year's production.
"​​I enjoyed adding the choreography to everything and seeing my vision become a reality on stage," Kulhanek said. "It was just so cool to watch."
Reporting by Chloe Lewcock. Photo by Camilla Vandegrift.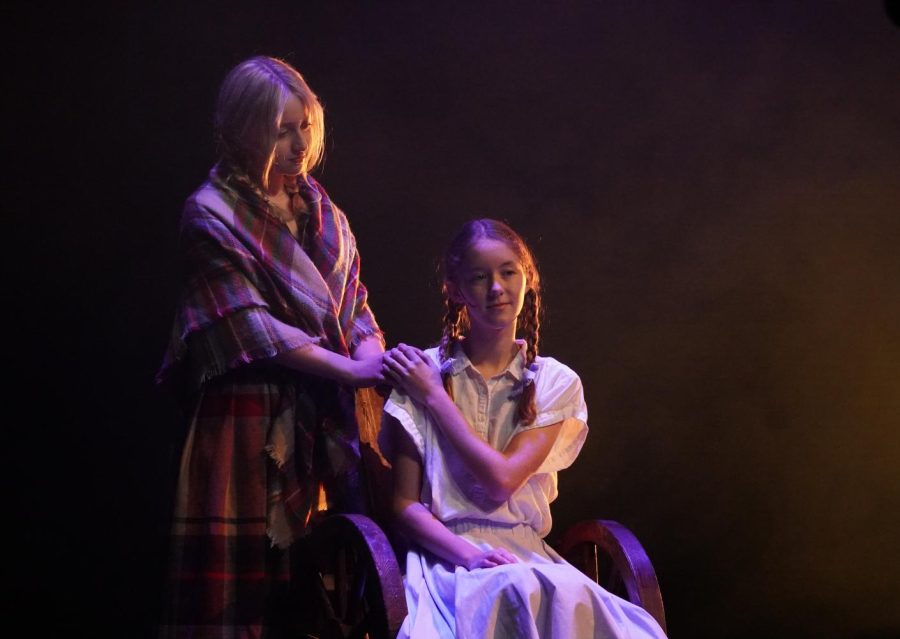 SOME DUETS ARE JUST MEANT TO BE: While a part of several group numbers, sophomores Lucy Gennrich, and Sadie Swinney got a unique opportunity to perform within the show.
The duo was given the song "Some Things are Meant to Be" from Little Women and got costumed according to their roles.
"I have never done something as small as a duet for a show before," Swinney said. "It was kind of surreal to be able to perform it."
Unlike most other costuming for the show, Swinney was tasked with creating her own that suited the role for her duet.
"The whole process of extra rehearsing, and making my costume was really cool and different for me," Swinney said. "I loved working through the song and collaborating with Lucy on it. She's a great duet partner and it was a lot of fun to learn with her."
The task, however, was not simple. On top of the other numbers that both Swinney, and Gennrich were a part of, they had to work double time together to make sure it was ready on time.
"We worked on the music and choreography for about four weeks and then had a whole week of extra rehearsals," Swinney said. "It was a short time span, but it was a lot of work packed in."
For Swinney, the whole Cabaret experience matched up with her vision of the performances.
"My favorite part of Cabaret is always performing it after we worked so hard to get it where we wanted," Swinney said. "But this year especially it was amazing to be able to perform my duet."
Reporting by Chloe Lewcock. Photo by Francesca Dietz.
This story was originally published on The Shield Online on December 6, 2022.