Performers unveil work in the arts during Student Directed Showcase productions
A misshapen blob of students, dressed in costumes ranging from floral shirts to ski boots to construction vests, gather onstage. Wrapping their arms around each other, they squat down, heads bowed in anticipation. Samvita Gautham (12) steps into the center of the ring. She reminds the actors of the work they have put into the show, tells them to breathe and urges them to savor this moment. The group rises and, with a cheer, disperses into their positions. And so the show begins.
The Student Directed Showcase (SDS), performed on Jan. 6 and Jan. 7 for Harker students and families at the Rothschild Performing Arts Center at 7:00 p.m., consisted of four plays directed by four seniors.
From the past summer to the start of the school year, senior directors Samvita, Harper Brada, Aastha Mangla and Zubin Khera worked on script selection. Some found the perfect one after one or two scripts in, while others read up to 30 scripts before finding the right one. The directors eventually settled on their plays, creating a diverse and enthralling setlist.
"I think all the shows overall have a really great perspective that the audience will love," Aastha said. "I couldn't have imagined a better lineup of shows that we have this year."
Opening the showcase was Samvita's musical "Working," written by Stephen Schwartz. A medley cast consisting of a delivery boy, Ian Ogden (11), a waitress, Avayna Glass (10), a mason, Luke Zeng (10), housewives and more, celebrates the underappreciated laborers of society. The show started as a series of solo songs characterized by fluid formations, closing in the rousing number "Something to Point To."
An abrupt change from "Working," Harper's "The Potman Spoke Sooth," written by David Fulk, is a suspenseful whodunnit full of murder, deception, packing peanuts and voices from above. In their isolated home, Beatrice, Austina Xu (12), her husband Wiggins, Richard Zhang (12) and their stoic butler Miles, Sathvik Vemulpalli (9), meet eccentric detective Gallagher, Mariana Rai (11). Together, they unravel the mystery of a serial killer and of the theater as a whole.
After a brief intermission, Aastha presented Steve Martin's "Picasso at the Lapin Agile." Picasso, played by Selina Xu (11), debates Einstein, played by Iris Fu (11) about the relationship between art and science. They congregate at the Parisian bar, Lapin Agile, manned by Grant Yang's (10) Freddy and Lucy Feng's (12) Germaine. Genius, insanity and ego come together for a provocative performance.
Zubin's "Actor!," written by Frederick Stroppel, closed the show. Both his lighting choices and script are vignettes of the title Actor's life, played by Jacob Fernandez (12). The play traces Actor's journey from childhood surrounded by Mom, Hannah Streeper (10), Dad, Jeremy Ko (12), and big brother Nell, Leo Sobczyn (10) to a tumultuous career working under director, Daniel Miao (9), and Terrible Triplets Elie Ahluwalia (9), Divya Venkat (11) and Sukrit Kalsi (12) to Oscar success and lonely death in a care facility.
Sophomore Vika Gautham, who attended the Saturday performance, enjoyed how unique each play was in its respective themes and direction styles. From being behind the scenes of her sister Samvita's play, she recognized the time and commitment needed for each production.
"I really enjoyed all the plays; it definitely wasn't what I was expecting," Vika said. "They're also definitely very different from each other, but variety is good. Since my sister was an SDS director, I got the chance to see the process of her musical, so I saw the beginning, and I saw how much the cast progressed, and that in and of itself was like a performance to me."
All four directors have been involved in the Harker Conservatory since freshman year and were selected for their leadership skills and creativity. The directors underwent hours of preparation in casting and writing to prepare for these plays in their semester course. Casting, in particular, was a notable point of preparation as it required compromising between all four directors.
"The four directors don't really fight, but we decide over which actors we want, and if the actors we [wanted overlapped], we [made] compromises," Aastha said. "But I think even with those compromises, we've all grown to love our cast."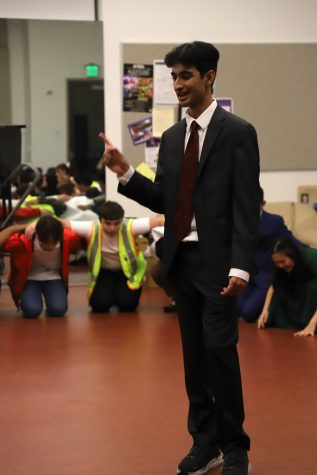 Led by K-12 Director of Performing Arts Laura Lang-Ree, the four directors, selected in the spring, learned from a course Lang-Ree took when she was first starting out, as well as the practical experience of directing. The SDS of today is vastly different from the early stages of the program, which began in the third year of the upper school.
"The first year [of SDS], we didn't even have a space to produce it," Lang-Ree said. "There was a restaurant half a block down, and it was vacant and abandoned. We did all the rigging and set up a stage, and everybody came to see the shows. There were seven [shows], and it lasted for hours. It was such a great time."
Tech 3, the technical theater equivalent of the SDS course, worked with the directors to put together Harker's first completely student-run performance. When Lang-Ree first launched the course, the goal always was for the students to take charge of the entire production. She aims to continue this tradition in the following years.
For the directors, assembling the show has been an unforgettable experience, as not only did they shoulder the responsibility of director, but they also forged deep bonds with their casts.
"I think it's really been [great] watching my cast grow and being able to bond with them on different levels," Samvita said. "I've seen them grow as actors, but I've also seen them grow as people, and I think it was really cool to see that not only from a director's perspective but to also be a part of that bonding."
The students who perform in SDS recognize the opportunity that SDS provides to expand their acting skills and explore different aspects of theater. Many performers appreciate SDS because of its flexibility and the tight-knit community it inspires.
"[I auditioned for SDS because] I wanted a different theater experience, because I've mostly done more traditional theater stuff," Ollie Masoni (9), who played Announcer in "Actor!" said. "And being in SDS and having a director that's closer to your age, they ask more for your opinion on things, so you're able to do a lot more in-depth characterization because they've worked with you on a personal level."
The showcase collectively amounted to the work of around fifty students. While student directors were able to experience the opportunity of directing and planning an entire show, student actors were also able to have the chance to step outside of their comfort zones and participate in a widely cherished showcase that has been running for years.
"Anyone can act regardless of your experience, because I have kids where this was their very first show," Samvita said. "I [also] had people who had done shows a million times, and I think it's really just being able to put yourself out there but also trusting yourself and letting yourself fly."
This story was originally published on Harker Aquila on January 18, 2023.